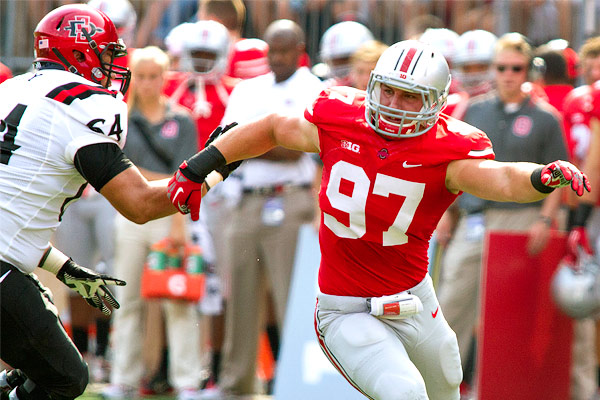 Joey Bosa had a phenomenal freshman season for Ohio State and was rewarded by college football outlets for it. He made the first team for both the Sporting News and College Football News.
True freshman defensive lineman Joey Bosa, from Fort Lauderdale, Fla., and St. Thomas Aquinas High School, has been named a freshman All-American today by two organizations: The Sporting News and College Football News.

Bosa, a physical and talented performer who has started nine times this season, has registered 39 tackles for the Buckeyes including 12.5 tackles-for-losses totaling 62 yards. He ranks third on the team in TFLs and quarterback sacks (6.5), and he boasts a team-high total of six quarterback hurries. He is tied for sixth in the Big Ten in sacks and he ranks 11th in TFLs.
Cameron Johnston, Ohio State's 21-year-old true freshman punter, was selected to the second team of the College Football News Freshman All-American Team.
Congratulations are in order to Joey Bosa, who we hope will graduate from Freshman All-American in 2013 to All-American in 2014. His future is very bright.