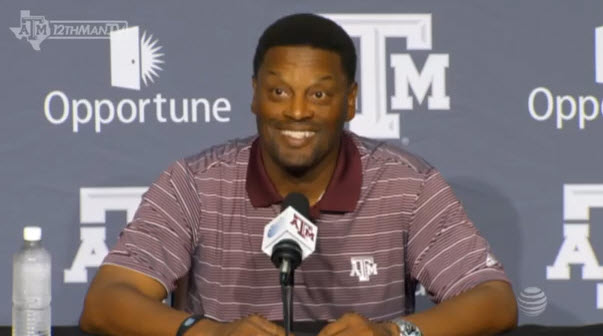 From USA Today:
Texas A&M's Kevin Sumlin will become college football's third $5 million-a-year coach under a six-year contract extension that was approved by the university's board of regents and executed Thursday, according to a release from the school's athletics department.

The deal runs through Dec. 31, 2019, and includes a $5 million buyout if Sumlin decides to terminate it without cause.

Sumlin joins Alabama's Nick Saban and Texas' Mack Brown as coaches with recurring compensation from their schools of at least $5 million.
What was it philosopher-king Juicy J said? "Now that's paper." There's also a five million dollar buyout attached to the extension, which would be a hefty fee for any NFL franchise looking to pry Sumlin from College Station.
For comparison's sake, Ohio State's Urban Meyer makes ~$4.6 million as a base salary. He is the sixth highest paid coach in country, according to USA Today's head coaching salary database. (Assistant salary database can be found here.)
Regardless, college coaching salaries are back on the rise, and this is even before Texas would presumably make a Godfather-offer to Nick Saban if the Horns are able to "rid" themselves of national title-winning coach Mack Brown.