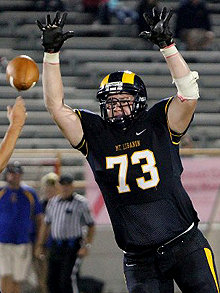 Welcome to another edition of the Ohio State football recruiting notebook. We'll wrap the week up for you and give a preview of what's coming up next.
With Buckeye football on hiatus for about a month, the attention has turned back to recruiting for the coaching staff, who was all over the country this past week visiting future Buckeyes and planting flags. We'll take a look at where the coaches went, who they were talking to and how the visits went.
The Ohio State coaching staff made several new scholarship offers as well as they begin to hit the 2015 and 2016 recruiting trails hard. Eleven Warriors got a chance to speak to a few of the prospects, we'll take a closer look at the recently offered prospects and how the early recruiting process is going for them.
Lastly, it's going to be another huge recruiting weekend at Ohio State as several big time targets for the 2014 class will be in town, along with many current commits. We'll preview the weekend for you and talk about what it means for the rest of the 2014 class.
Join us after the jump for the latest Buckeye recruiting buzz.
Coaches planting the flags
Buckeye coaches were all over this past week, visiting a couple key 2014 targets and building relationships with 2015 and 2016 kids as well.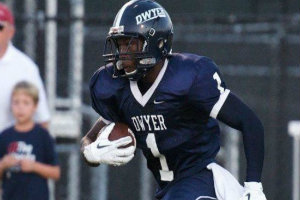 On Tuesday, Urban Meyer made his in-home visit with Johnnie Dixon. There isn't a lot of information about the visit right now, but it sounds like it went very well. Dixon is beginning to trend heavily towards Ohio State among the "experts." Dixon is a guy the coaching staff has been confident about for months, though Miami has always been thought of as the favorite by most.
So why did Dixon delay his decision? Hard to say, but reading between the lines of his tweets, it sounds like his parents may not be thrilled about him going so far from home. It seems Dixon really wants to play for the Buckeyes, though.
Perhaps the most telling tweet came on Tuesday morning (most likely before Urban visited him), saying "if you think my mom is making me stay in Florida you're wrong she wants what's best for me." It sounds like Dixon may be announcing his decision as soon as this Saturday, and we'll have more information as the situation develops, but for now it looks like Dixon may very well be a Buckeye. Birm, Jordan and myself all have Dixon to Ohio State in our crystal ball predictions.
Mike Vrabel stopped by to check in on another top 2014 target – Solomon Thomas. From what I have heard, the visit went very well for the Buckeyes, with Thomas deciding to schedule an official visit to Ohio State, Jan. 31. The visit to Ohio State will be Thomas' last to any school, a great position for the Buckeyes to be in just a few days before National Signing Day. With the turmoil surrounding Texas, Thomas really looks to be primarily considering Stanford and Ohio State, with Stanford seemingly having a small lead. Thomas is visiting UCLA, this weekend, Stanford, Jan. 18, and Arkansas, Jan. 25, before visiting Columbus.
In addition to visiting Thomas, Vrabel made a trip to Michigan with assistant Kerry Coombs, visiting Cass Tech's Mike Weber and Joshua Alabi, as well as top Michigan target Malik McDowell. Despite the strong efforts with Weber and Alabi, it is very unlikely that they wind up at Ohio State, with both likely bound to be Spartans. Interestingly enough, Weber is currently listing Michigan State as his college on Facebook.
Their teammate, QB Jayru Campbell, has already committed to Michigan State as well. It looks like the Spartans (not the Wolverines) are going to go three for three at Cass Tech in 2015.
With commitments already from 4-stars Kyonta Stallworth and Tyson Smith, as well as being in a great position for Brian Cole, Michigan State could likely gain commitments from the top six players in the state of Michigan in 2015. As for Malik McDowell, the Buckeyes were able to schedule an official visit with him for Jan. 31, which is shaping up to be a big weekend. While the Wolverines are still considered the most likely landing spot for McDowell, his recruitment is starting to become a little more national.
McDowell is planning to make official visits to Florida, Florida State, LSU and Ohio State in January, and visited Alabama officially last weekend. Notice that Michigan is not listed as one of his five official visits, though he did visit them for the Notre Dame game (unofficially). McDowell's recruitment is going to be interesting and could go down to the wire, with the Buckeyes having a chance to be right in the thick of things come signing day.
Coombs recruited a bit more in the northern Ohio area, visiting current Michigan commit Shaun Crawford (Lakewood, Ohio), as well as Michigan products Brian Cole and David Moorman. A lot of Crawford to Ohio State rumors have been swirling, but Crawford remains solidly committed to Michigan. Crawford is making an unofficial visit to Michigan, this weekend, although he is trying to set up a visit to Ohio State some time this winter.
As I mentioned above, Michigan State looks like the early favorite for Brian Cole, the top player in the state of Michigan for 2015. Ohio State is in the mix too, along with the Wolverines. David Moorman camped at Ohio State for Friday Night Lights in the spring, and told 11W this summer that if the Buckeyes were to offer, they'd be on the top of his list. Moorman is a composite 3-star and visited Ohio State for two games this season.
Ed Warinner was busy this week as well, visiting high school teammates Brandon Wimbush and Minkah Fitzpatrick, as well as Steven Gonzalez in New Jersey. 11W got a chance to talk with 4-star offensive guard Steven Gonzalez this week, who said that the visit with Warinner went "well as always" and that "it's always good to know that Ohio State has you as a very highly rated recruit on their board." The Buckeyes really like Gonzalez and he really likes them, I currently have him predicted to Ohio State along with 82% of "the experts," while 18% have him going to Rutgers. Brandon Wimbush is expected to commit to the Buckeyes in the next month or so, and will hopefully bring 5-star cornerback Minkah Fitzpatrick with him. The duo visited Ohio State for the Penn State game and are very high on the Buckeyes, while Minkah is also favoring South Carolina.
Tom Herman took a trip to Texas this week, visiting QB Jarrett Stidham and RB Chris Warren. I wrote a bit more about Stidham a few weeks ago when he received his scholarship offer, but he's one of the top dual threat QB's in 2015 and the Buckeyes are very interested. I think Stidham is probably headed to Baylor, as they have been recruiting him very hard but he does like the Buckeyes as well. Chris Warren has declared a top three of Baylor, Texas Tech and Alabama, but likes Ohio State too and is hoping to visit Columbus in the spring.
Lastly, Urban Meyer himself was quite busy this week as well, making several stops in Florida. Meyer visited Torrance Gibson, Jacques Patrick, Shawn Burgess-Becker, Nick Bosa and Devante Peete. Nick Bosa is Joey's little brother and will most likely be a Buckeye when it's all said and done, with many saying he's a better player at this stage in his career than Joey was (which is scary). Nick's teammate, Devante Peete is one of the top receivers in the 2015 class, and at 6-foot-5 and running a 4.5 forty yard dash, it's not hard to see why. Peete is high on the Buckeyes, along with Miami, and having the Bosa family helping with recruiting him certainly couldn't hurt. With the Bosas and Peete, Urban could be starting a pipeline from St. Thomas Aquinas to Ohio State, which would be huge. Torrance Gibson is ranked as the composite No. 1 dual threat QB in the country, and Meyer really likes him. Gibson also likes Miami quite a bit, and it's hard to see Gibson coming to Ohio State if Wimbush commits first, though the Buckeyes could be interested in taking two QBs in this class. Jacques Patrick is a 4-star RB/ATH from Orlando, and visited Ohio State in October. Florida and Florida State are the early leaders for Patrick right now.
New scholarship offers
Several new 2015 and 2016 scholarship offers went out this week. Picking up Buckeye offers this week were: Shawn Burgess-Becker, James Daniels, Adonis Thomas, Iman Marshall, Darrion Daniels, RayRay McCloud, Tavares Martin, Demetris Robertson and E.J. Price.
Shawn Burgess-Becker is a 4-star athlete from Pompano Beach, Florida. Already holding offers from Alabama, Florida State, LSU, Florida, Miami and others, Burgess-Becker is favoring the Hurricanes the most. Zach Smith is handling his recruitment, but Urban Meyer paid Burgess-Becker a visit to make the scholarship offer. Ohio State may be getting in a little late with him, though he is planning on trying to get to Columbus this summer. Check out his highlights here.
Warren, Ohio product and Buckeye legacy James Daniels picked up a Buckeye offer this week and odds are he will be Ohio State's center in the 2015 class. Daniels is a composite 3-star, and is ranked as the number 5 center in the country. Daniels has a pretty long offer list that includes UCLA, Michigan State, Iowa, Penn State, Northwestern and others. Iowa is the other school that Daniels likes a lot, as his brother Leshaun plays there. Ed Warinner is handling his recruitment, check out his film here.
Adonis Thomas is a 3-star athlete from Lawrenceville, Georgia, and has blown up the past couple of weeks - picking up offers from Florida State, Ohio State, Notre Dame and Oklahoma in December. At 6-4, 206 lbs, Thomas projects as a linebacker in college. Coach Withers is handling his recruitment, and the Buckeyes are currently standing out as an early favorite, though Thomas is very early in the process. Check out his film here.
Iman Marshall is a 5-star CB and top 20 overall player for the 2015 class. Hailing from Long Beach, California, USC has been the favorite for Marshall for months, though Stanford has gained some momentum since offering earlier this week. Marshall is a stud, holding offers from nearly every major program in the country - Alabama, LSU, USC, Notre Dame, Michigan, Stanford, Florida State and many more. Marshall appears to like the Buckeyes, but we don't have a lot of info on his recruitment right now. Check out his highlights here.
Darrion Daniels is a large defensive tackle from Dallas, Texas. Daniels is a composite 4-star and holds offers from Baylor, Oklahoma, Notre Dame and others. Baylor is his early leader, as they continue to build on their success on the football field. Herman is recruiting Texas hard though, so the Buckeyes could work their way into the mix for his services. Check out his highlight film here.
RayRay McCloud is ranked as a 4-star RB from Tampa, FL. Kentucky is actually his early leader, though he holds offers from Clemson, Wisconsin, South Carolina, UCLA Florida and others. McCloud is a little undersized at 5-9, 175 lbs, and is a little under-the-radar despite the solid offer list. Check out his film here.
WR Tavares Martin (Lake Worth, Florida) is a composite 4-star with a solid offer list that includes Florida State, Miami, Florida, Michigan State and others. Martin really prefers Oregon, though the Ducks have not made a scholarship offer to him. At 6-2, he's another bigger receiver that Meyer is looking for, while still running a 4.5 forty yard dash. He's very early in the process, but named a top of Oregon, Florida State, Ohio State, West Virginia and USC back in August. Check out his highlights here.
2016 prospects Demetris Robertson and E.J. Price picked up offers this week too. 11W got a chance to talk with Demetris Robertson, the top WR in Georgia for 2016. He told us that Ohio State, Clemson and Georgia are his top three (in no order), and that he plans to visit Ohio State over spring break. Withers is his primary recruiter, and Robertson said he and Withers "hit it off pretty well," comparing Withers to his uncle. Robertson also competes nationally in track and boasts a 3.4 GPA.
E.J. Price is a top offensive lineman for 2016, with excellent height and length at 6-6, 260 lbs. He holds offers from Florida State, Georgia and others already, also showing interest in Michigan (he's originally from Michigan) and Florida. Price figures to be one of the top OTs for 2016 when it's all said and done, check out his highlights here.
looking ahead
It's another huge recruiting weekend for Ohio State. Here is a complete list of visitors for this week. The list may still change between now and tomorrow, so be sure to check the forums and follow the Eleven Warriors team on Twitter for updates.
Some of the visitors this weekend include top OT Alex Bookser, Erick Smith, Marshon Lattimore and Danny Clark, along with many current commits. Bookser looks to be leaning toward Pittsburgh, but the Buckeyes will be looking to gain some ground on him this weekend, while hopefully locking up the duo from Glenville.
Johnnie Dixon could be announcing his decision this weekend as well, and Raekwon McMillan should be making his decision in the near future as well.