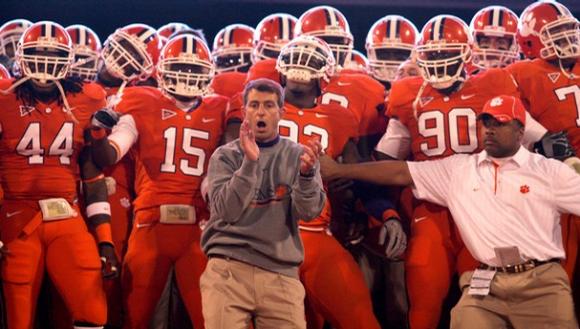 On the first Saturday of the college football season, Clemson beat a fully healthy Georgia team, ranked fifth in the nation at the time, to stir belief among the Tiger faithful that 2013 could finally be the year. There would be no more "Clemsoning." In mid-October, No. 3 Clemson welcomed fifth-ranked Florida State to Death Valley in what was billed as one of the biggest games in ACC history.
It was over before it even began.
The Seminoles took command from the outset and won 51-14 on the way to an undefeated season. The Tigers' second loss came to another top-10 foe in archrival South Carolina. So Dabo Swinney knows what makes up a good football team. After all, he watches one practice every day. To hear Swinney talk, though, Clemson will be facing its stiffest test of the year in Miami on Jan. 3.
"They're just a balanced football team that is really complete in all facets of the game," he said of Ohio State. "They have a quarterback, they're good in the trenches, they've got skill guys that can beat you. Again, they're 24-1. That's almost unheard of. To be honest with you, they very well could be the best team in the country. They're maybe two plays away from sitting on the other coast right now. This is a great football team."
Ticket demand may be low, but there's no mistaking the quality of the matchup. Ohio State and Clemson are a combined 22-3 and the national media has already anointed the Orange Bowl as one of the most anticipated games of the postseason. The main factor in those opinions rests on the quarterbacks and offensive pizzazz. The over/under is 68. 
Braxton Miller and Tajh Boyd play an exciting brand of football that includes some razzle-dazzle. Miller is the two-time defending Big Ten offensive player of the year and Heisman Trophy candidate, while his counterpart has broken numerous school and ACC records during a memorable four-year career.
This season alone, Miller threw for 1,860 yards and 22 touchdowns, and rushed for more than 1,000 yards and an additional 10 touchdowns. Boyd passed for 3,473 yards and 29 touchdowns with 273 yards rushing and nine scores on the ground.
"I've been watching Tajh Boyd play for many years now and I think he's transitioned from a good player to a great player," Urban Meyer said. "He's a dynamic thrower and, as with most excellent quarterbacks, his surrounding cast might be the best in America."
What every coach wants in a quarterback is a winner, and that's the finest characteristic Swinney sees in Miller. But there's more than just W's in describing what Miller brings to the Buckeyes.
"Man, is he a special player," Swinney said. "When you can count on one finger the number of losses you have as a starting quarterback [under Meyer], it's pretty good. He's got a great cast around him. They do an excellent job with their scheme. He's a 1,000-yard rusher and he missed three games this year."
It's not just a month-long preparation for Miller, though. The Tigers also must contend with running back Carlos Hyde and his 1,400 yards rushing. Stopping the run isn't always a game plan Clemson writes up. In the pass-heavy ACC, limiting yards through the air is the top priority.
The numbers are certainly pleasing to the Buckeyes' eyes, namely Miler, Hyde and five offensive linemen. The Tigers rank 51st nationally in stopping the run, allowing 152.5 yards per game and 3.7 yards per carry. Clemson also has surrendered 19 rushing touchdowns.
"We're playing a team that's rushed for over 4,000 yards. Just a very, very powerful offense that's going to be a tough challenge for us to prepare for," Swinney said. "We'll have a good plan and try to strike a balance between preparing for Ohio State but also continuing to develop our football team."
A tinge of disappointment will remain with the Buckeyes, but for Clemson, the Orange Bowl presents an opportunity to elevate the ACC and the Tiger football program to a new perch. Since winning the national championship in 1981, Clemson has continually come up short on the big stage.
The latest sour taste was the fifth consecutive loss in the Battle of the Palmetto State. Swinney's 1-5 against South Carolina, which doesn't go over well with the locals. But ending the season with a win over Ohio State in a BCS bowl would not only boost his job approval but also give rise to Clemson's national standing.
"The opportunity to play Ohio State, they represent the best of the best," Swinney said. "For us, we're very proud of the things that we've accomplished and the consistency that we've developed. We're 21-4 since we were down here the last time [2011], with four losses to four good teams. We've grown a lot.
"This is a chance to measure up with one of the best teams in the country."