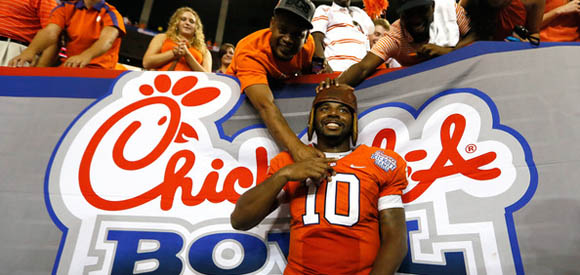 The last time Clemson played in the Orange Bowl it surrendered 70 points to West Virginia. It marked the most points in a Bowl Championship Series game and the Mountaineers' 37-point margin of victory remains the largest in BCS history. In the Tigers' return trip to Miami, they could give up 70 again – and win.
That could be considered hyperbole, but even Orange Bowl CEO Eric Poms admitted the high-powered offenses factored into the decision-making process when selecting teams. Ohio State ranks fourth nationally in scoring offense and seventh in total offense, while Clemson is 11th and 12th, respectively, in both categories.
"We expect a game featuring offensive fireworks, since both teams average more than 40 points a game," Poms said.
The two teams might have similar results on the scoreboard, but they go about their business differently. The Buckeyes use dual-threat quarterback Braxton Miller and prolific running back Carlos Hyde to engineer a bulk of the offensive production. Behind one of the top offensive lines in the country, Ohio State averaged 46 points per game and 317.5 yards rushing.
For the Tigers, most of the work has been done through the air. Quarterback Tajh Boyd and wide receiver Sammy Watkins form one of the top passing connections in the country. Watkins has 85 receptions for 1,237 yards and 10 touchdowns on the season.
"There's certainly things we've got to get fixed, and get fixed in a hurry. Look what's coming down the road here," Ohio State head coach Urban Meyer said. "Their athleticism at receiver is ridiculous, and their quarterback. The element of the quarterback run and the throw is something we've lived on for years. Their scheme is terrific."
The similarities don't stop on offense. If you move to the other side of the ball, inconsistent defenses appear. Plagued by poor play in the secondary, among other issues, Ohio State's school-record 24-game winning streak came tumbling down last Saturday. Initial opinions on the Orange Bowl seemed to point to another long day for the defensive backs and safeties wearing scarlet and gray. Then the image of Clemson allowing 51 points to Florida State reappeared.
"We expect a game featuring offensive fireworks, since both teams average more than 40 points a game," – Orange Bowl CEO Eric Poms.
But how will the Buckeyes respond to their first loss in 705 days? According to Meyer, it won't be a problem. National title or not, they know finishing the season off in the right direction means winning the Orange Bowl. The senior class has been through more than any others that came before them. To completely wilt in the face of adversity, something Ohio State did not do even as the program swallowed itself in 2011, isn't in their DNA.
"They're heartbroken, but they are also competitors," Meyer said. "And I think the fact we are playing in a BCS bowl game against Clemson, that's going to wake you up real fast. There's no doubt in my mind we'll be excited to go play in this bowl game.
"Momentum is an extremely valuable thing, and when you lose a game, it's difficult. I have great confidence. A lot of these players have been through a lot of stuff. Last year they went 12-0 and were unable to got play in a bowl game. Now their first chance to play in a bowl game, they're in a BCS game against a great team."
Why some would ponder a letdown is certainly founded in facts. Teams often experience uneven bowl performances when it was national title or bust. The Chase started nearly a year ago with the end goal of winning the championship in Pasadena, not lifting a trophy filled with oranges on the other side of the country. 
Meyer's been here before, though. Expectations at Florida didn't differ from the set of circumstances he finds in Columbus. Meyer won all but one bowl game during his six seasons with the Gators.
Count Clemson head coach Dabo Swinney among the contingent that sees a completely different Ohio State team.
"You're playing very possibly the best team in the country," he said. "We look forward to a great game against Ohio State. There are a lot of great players heading down to South Beach to compete in a good one, I'm sure."
In the only previous meeting between the schools, Woody Hayes' infamous punch to Charlie Bauman ended his coaching career. It's an act that will be replayed on TVs for the next month.
Sure to receive far less attention is the last – and only – time the Buckeyes played in the Orange Bowl, New Year's Day 1977, when they defeated Colorado 27-10. Thirty-seven years later, Ohio State hopes it can mirror that result to put a period on a proud season and jumpstart another chase in for 2014.
"Not many teams get a chance to win 13 games in a season and obviously finish ranked very highly," Meyer said. "With a lot of these players and what they've gone through the last two years, they're very disappointed, but they understand the opportunity that's been given to them."