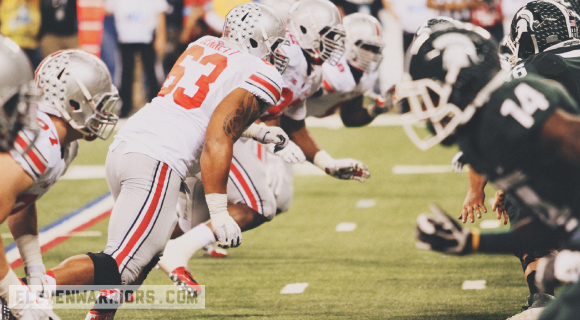 So, we lost. For the first time in the Urban Meyer era, Ohio State dropped a game, losing in the Big Ten Championship 34-24.
Michigan State struck early, going up 17 before Ohio State even had time to blink. Braxton Miller and Hyde responded by putting the team on their backs and playing as they've played for the past few months, ringing up 24 unanswered points. Sparty counterpunched however, and broke the backs of the Buckeyes with another 17 straight to put it away.
Mistakes, mental and physical, caught up with Ohio State. Mark Dantonio finally got one over on Urban Meyer, and a freaking Jim Bollman offense put more points on the board than a Tom Herman offense did.
That sucks, but this has been a team living on the edge for several games this season, and once opponents started figuring out that the Buckeyes never really had a functional secondary after Christian Bryant went down, it was a matter of time before a series of blown coverages and big plays cost Ohio State a game. It hurts that it happened in a game that would've opened the door for a national championship, but it happened, and we'll deal.
This is the first time we've had to write one of these in two years.  This is the first time you, the fan, have had to digest a loss in two years. Here's what we suggest: use this thread to vent, but vent like you been there before. Relax, talk about which coaches you want fired or which players you want benched, but above all else keep it civil.
And maybe read this.