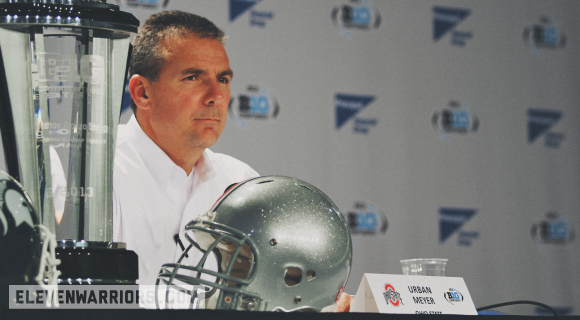 INDIANAPOLIS — The Ohio State offense hasn't faced this stiff a test in years. On Saturday night, the Buckeyes' nearly point-a-minute offense will battle the nation's best defense in a game that matches crystal against roses. If Ohio State wins, it plays for the national championship. At stake for Michigan State is its first trip to the Rose Bowl in more than a quarter century.
Confidence is a trait that the Buckeyes do not lack. But when you're putting up historic numbers – 48 points and 530 yards – why would there be concerns? This is a team that's won 24 games in a row and is yet to experience a loss under Urban Meyer.
Both top-10 defenses Ohio State encountered this season held the Buckeyes below their season averaged, but the final result was a W. Ohio State finished with 390 yards and 31 against Wisconsin's sixth-ranked defense and 495 yards and 34 points against Iowa's No. 9-ranked unit.
Going head-to-head with the No. 1 defense presents new challenges, especially against a group as disciplined as the Spartans.
"They've got a bunch of tough guys," senior center Corey Linsley said. "Their scheme up front, the things that they do, the level of how sound they are on defense to their principles, it's something I haven't seen all year."
Meyer said Marcus Hall will not start on Saturday. From there, Meyer didn't say what Hall's status will be. Meyer's reasoning for not starting Hall was disappointment in his actions.
Pat Elflein is the top backup on O-line, Meyer said. Coaching staff has lots of confidence he can play well on the line.
Michigan State is very similar defensively compared to last season when OSU won 17-16 last year, Meyer said. But he added OSU played poorly.
Curtis Grant and Philly Brown are banged up, Meyer said, but both will play.
"As of Friday afternoon, I'm happy with our focus." -Meyer
Playing indoors could help OSU's offense, but Meyer said it won't make the game plan any more aggressive for the Buckeyes.
On MSU offense, Meyer said the O-line is "rugged", passing game much improved from beginning of season to now. He's impressed with Connor Cook.
Meyer lauds Guiton for improving Braxton's preparation. Said Miller did not practice well last year, totally different 12 months later.
"I am anticipating one of the best environments in college football." – Meyer
Meyer said he saw a team that worked hard this week, worked together. It trickles down from the top with a staff that works well together.
Christian Bryant's injury had a galvanizing effect on OSU, Meyer said. Mentioned Ryan Shazier specifically as a player who grew as leader.
"I think Josh Perry has solidified himself as a Big Ten linebacker." -Meyer
SEC is known for their great defenses during Meyer's time in the south, but he said Michigan State's unit is top 3 he's ever faced.
Preparing for Tressel and Dantonio is similar, according to Meyer. I think we all know what he did against that Tressel-coached team.
Meyer credits his team for not talking about the national picture at all this week. "Everybody gets it. We have a very smart team."
"Appreciate that," -Urban Meyer to reporter who said at some point Ohio State will lose.
Meyer said the negatives of watching last year's film is seeing how bad the offense was a year ago. "Much improved this year."
Meyer said he doesn't sleep well before games. Said he'll be up and down all night.