Craig Krenzel takes the snap from Alex Stepanovich and hands to freshman sensation Maurice Clarett. Following a Shane Olivea block, Clarett plows ahead off right tackle for four yards before being stopped by…Ryan Shazier and C.J. Barnett?
Yeah, that's what it's going to be like this Saturday night.
Ohio State worlds will collide when Mark Dantonio brings his brand of Tresselball into Indianapolis to face Urban Meyer's power spread.  Michigan State has borrowed heavily from Jim Tressel's Winner's Manual since Dantonio took over in East Lansing in 2007, and that philosophy is paying dividends in this latest era of Spartan football.
Dantonio, the architect of Ohio State's championship defense in 2002, again has his team playing lights-out on that side of the ball in 2013. The Spartans boast the nation's best defense and therefore the biggest obstacle Meyer's offense will face this season.
In fact, this Spartans team looks eerily similar to that 2002 Ohio State squad, minus an early season loss to Notre Dame. Michigan State plays tough, hard-nosed football on both sides of the line of scrimmage. They swarm and attack on defense and take care of the football on offense. They have an efficient quarterback who finds ways to make enough plays and rarely turns the ball over, and a workhorse running back.
Sound familiar?
Tresselball, with the occasional riverboat gambler play mixed in (Little Giants, anyone?), is what the Ohio State defense will face in Indianapolis, because Dantonio learned well under the sweater vest-clad master.
Dantonio even added Jim Bollman to his staff this year. Bollman was the offensive line coach on that 2002 National Championship squad. Today, he is Michigan State's offensive coordinator. We've had a lot of fun at his expense, but Bollman's offense has blossomed this year in East Lansing. Sparty is averaging 31.2 points per game over the last five contests.
Bollman's offense features running back Jeremy Langford, who has rushed for 1,210 yards and 16 touchdowns, with 119 receiving yards and one TD reception. Compare that with Clarett's 2002 campaign: 1,237 yards rushing with 18 scores and 104 yards and two touchdowns receiving.
The similarities continue on offense. Connor Cook has thrown for 2,119 yards and 17 touchdowns for the Spartans in 2013. Krenzel tossed for 2,110 yards and 12 scores in 2002. Krenzel ran for 368 yards and three touchdowns to Cook's 91 yards and one score. Tony Lippett's receiving stats (35 catches for 454 yards) bear striking resemblance to Chris Gamble's 2002 marks (31/499), but this year's Sparty has no match for Michael Jenkins (61/1,076 with six TDs).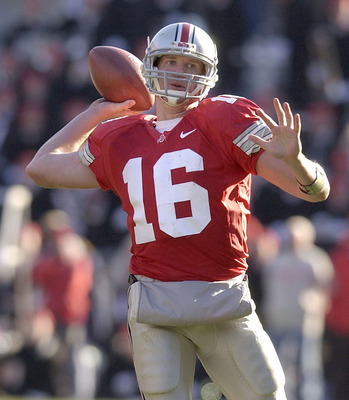 Like that 2002 team, Michigan State's current squad boasts a punishing defense. It has allowed no more than 28 points against all season, and has held 10 of its 12 opponents under 20 points. While it's true that it has not yet seen an offense like Ohio State's, it's still very impressive that it has kept half its opponents out of the end zone.
Six Michigan State defenders made the coaches' first- and second-team all-conference squads and five made it to the media's All-B1G team. It's a defense that compares well with that 2002 Ohio State squad. Shalique Calhoun is their Will Smith; Max Bullough their Matt Wilhelm; Darqueze Dennard their Gamble (on defense, anyway).
Braxton Miller takes the snap out of the pistol and gives to Carlos Hyde. El Guapo blasts through a hole created by Jeff Heuerman and Jack Mewhort for a gain of five before Matt Wilhelm slams him to the turf.
You'll want to prepare yourself for the cognitive dissonance of cheering for Urban Meyer's speed against the Tresselball you supported for a decade. Meyer, so far, has been unable to replicate the defenses he had during his most successful seasons in Florida. But his current offense is doing things that eclipse even what his national championship teams were able to pull off. Part of that is the magic of Miller and part is having a charging rhino of a tailback in Hyde.
With Michigan State's offense on the upswing and the unpredictability of Ohio State's defense, it could come down to whether Meyer's offensive attack can score more against the Spartans than any previous offense in 2013. The Buckeyes may very well need to score more than 30 to win for the second week in a row.
Tom Herman's group has shown the ability to do that (scoring 31 and 34 against the defenses that most closely resemble Michigan State's — Wisconsin and Iowa, respectively), but Ohio State must be sound both in the passing and running game and avoid the turnovers of the past few games to be successful.
Field position will also be important. Andy Groom was a wizard at pinning teams deep in 2002, much like Michigan State's All-Big Ten punter Mike Sadler.  Cameron Johnston has also been good at that this season, and in fact it might be the punt teams that ultimately decide a close game. What's more Tresselball than that?
So don't adjust your set on Saturday. The team in green may be playing the style of football you're used to, but just like in the old movies, the good guys will be wearing white.