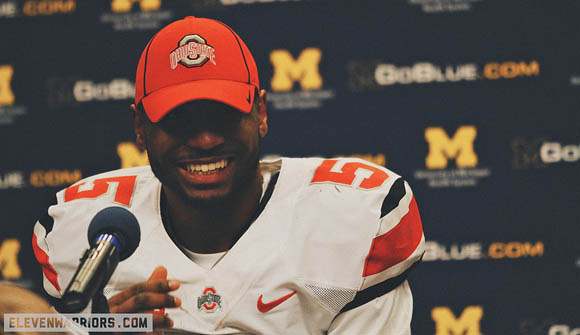 For the second consecutive season, Ohio State quarterback Braxton Miller has been named the Big Ten's offensive player of the year. Miller has been the catalyst for one of the nation's most prolific offenses, accounting for 2,650 total yards and 29 touchdowns.
Miller, a first-team All-Big Ten selection and the conference's quarterback of the year, has completed 65.7 percent of his passes for 1,759 yards with 21 passing touchdowns and five interceptions. An additional 891 yards and eight touchdowns have been gained on the ground.
All that has been done in nine games as Miller was sidelined for three games in September with an MCL sprain. He's just 166 total yards shy of 8,000 for his career and he needs 44 passing yards to surpass 5,000 passing yards for his career.
Miller leads the Big Ten in passing efficiency with a 164.3 rating and is also atop the conference in total offense per game at 295 yards.
The last repeat winner on offense was Indiana running back Anthony Thompson in 1988-89. Ohio State linebacker James Laurinaitis, in 2007-08, is the last to repeat on either side of the ball.