We're deep into the "stretch run" of Ohio State's 2014 recruiting class, and within the next two weeks we could see as many as three of Ohio State's (assumed) final six spots filled as key targets Chad Mavety, Johnnie Dixon and Raekwon McMillan are set to announce their college choices. Ohio State finds themselves in the final three for McMillan and Dixon, and the final two for Mavety, the Nassau Community College star.
Tonight's mailbag will of course take a best guess at how the Buckeyes' 2014 class will finish out as well as questions about new 2015 commit Jamel Dean and who could join him in his class. Overall, I'll try and attack as many of your questions as I absolutely can. So, you know, enjoy it or something.
On with the show my friends. On...with...the...show.
2015 - Baker, Hilliard, and Crawford - can we land all three? Also chances with JD Crabtree from Massillon if he gets an offer? - Odeez330
Absolutely the Buckeyes can land all three, but they could just as easily land none of the above (the main three.) Jerome Baker is the closest to a "sure thing," but even he's still got questions about his recruitment, namely what position he'll play and he has questions about the numbers of linebackers Ohio State is taking in 2014 and beyond. Justin Hilliard's recruitment has been uphill from the start, but the Buckeyes have made up a ton of ground, almost to the point where I'd call them the favorite at this point. Ohio State's competition for Hilliard is wide and varied, Michigan, Iowa and Notre Dame as well as — of course — Alabama and LSU will be a factor in things before it's over for him. He's not a native Ohioan, so there's a bit more of a struggle there than they would "normally" have. Shaun Crawford, who has been a Michigan commitment for a few months and picked up a Buckeye offer two weeks ago, states publicly that he's a "100-percent committed" to Michigan, and you should not expect him to ever say anything else. If he visits Ohio State, ever, then things change in a big way. If the visits, it's pretty commonly thought that he'll flip to Ohio State.
If J.D. Crabtree were to camp or play himself in a Buckeye offer, he'd commit before the coach offering could finish the sentence.
What is the upshot of the Glenville Three's visit to Alabama? - Sharks
I know there have been a few surprises in the past few years regarding Glenville guys (Cardale Scott, Aundrey Walker) who have spurned the Buckeyes for what they perceived as greener pastures, and while it's reasonable to worry about such madness with Lattimore, Smith and Jones, I truly don't think the three are going anywhere other than Ohio State. Yes, they speak glassy-eyed and emotionless, yes they talk about all schools being even and yes they don't outwardly express affection towards Ohio State. In some cases it honestly feels like they genuinely despise people who assume they'll be all be Buckeyes, and honestly I'd probably be pretty ticked off too if people kept putting words in my mouth and assuming they know my thoughts better than I do. Bottom line, it'd be a surprise if they ended up anywhere but Columbus, but people really should try and stop stealing a kids thunder, and more so, stop assuming they're incapable of thinking or making decisions for themselves. If they want to go somewhere other than Ohio State, they've got plenty of options. 
Would a national championship bring on any unexpected recruits for the 2014 class or do you see it having more effect on 2015? - Killer Nuts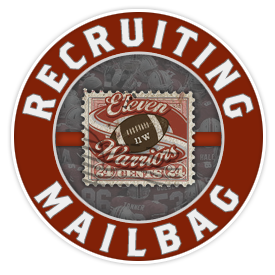 Definitely could have a bigger impact on 2015 because the majority of 2014's remaining targets have been identified and recruited for months, those relationships are already existing. Could a player like Quin Blanding take a renewed look at Ohio State if they win the national title, have a serious need a defensive back and Virginia were to fire Mike London? Sure, but that's not going to happen. The real benefit is from the 2015 and 2016 crop, especially nationally, who have seen a Buckeye football program that hasn't lost a game in two years.
Johnnie Dixon seems pretty close with some of the current Buckeye players; does your gut still say that he's a Buckeye? - BuckeyeGuy0615
Johnnie Dixon is a really, really talented player and a really good kid. Friendly, personable and loyal to his friends and family. Johnnie has developed some pretty good relationships with Buckeye players, notably Michael Thomas, but I don't know if that's enough to draw him to Columbus when he decides this Sunday (the 8th). Ohio State has had him as their top wide receiver target for a long time, and he proved them right in June when he dominated camp at Ohio State. They are head-to-head with the hometown favorite Hurricanes and the machine that is Alabama. No one, and I mean no one, believes Johnnie Dixon will choose Ohio State on Sunday.
But I do. I'll ride this one out and take the hit if I am wrong, but my best sources on Dixon think Ohio State's chances have been widely understated, and I will ride it out with them. If Dixon says no, the Buckeyes will look elsewhere for another wide receiver, and at that point I think North Carolina's Trevion Thompson becomes a favorite in the clubhouse.
What's Plan B if Raekwon McMillan decides to go elsewhere? - 1MECHENG
This is the plan-B that no Buckeye fans really want to consider, but it's important to prepare for the possibility that McMillan, every Buckeye fans' choice for the most important recruit left on the board, could end up committing to Clemson or Alabama on December 16th. There are plenty of reasons for McMillan to choose the Buckeyes, and there are plenty of reasons for him to choose Clemson or Alabama, but ultimately, right now, I think it's an Ohio State and Alabama battle. I know the consensus nationally is Clemson, Clemson, Clemson, but this has all the makings of a class Urban Meyer vs Nick Saban battle and even though I will not change my pick to Alabama, it's my belief that if he chose today, Raekwon would end up in Alabama a la Da'Shawn Hand.
If that happens, I think that Cincinnati Colerain linebacker Tegray Scales could be the next guy the Buckeyes have a serious chance at, although I'd not be surprised if they made a run at Nyles Morgan from Crete-Monee, Illinois, as well. They've always held him in high regard, but it would be a serious long-shot at this point in the game. Scales is a bit undervalued in my opinion, he's an excellent linebacker from an excellent program in one of the country's most challenging football conferences, yesterday he was named co-defensive player of the year in the state of Ohio. 
General thoughts on Jamel Dean? - TheBadOwl
Dean told me last Friday, the eve of Ohio State's game with Indiana, that he wanted to make his announcement at the end of the month, following "The Game," versus Michigan. He's a very cerebral, steady kid who plays big-time football in a very difficult area in Florida. He's blazing fast, running a 10.58 in the 100-meter dash as a sophomore and he's got ideal size (6-foot-1, 180 pounds) for a cornerback in Ohio State's defense. Being committed this early means that he likely won't get much "run" in the recruiting databases and camp scenes, but if Dean wants to get more "love," he'll go out and participate just for the thrill of competing. Overall, the Buckeyes got a really good player early in the process, but his offers and interest from other schools might not reflect it because he knew where he wanted to go and didn't invite other contact.
Hjalte Froholdt to Arkansas. Huh? - JedKat
This was definitely a surprise, but not because Hjalte Froholdt didn't choose Ohio State, of course. The Denmark native recently made a trip — from Denmark  — to visit one school in the United States that he had visited over the summer, and that was the University of Michigan, so him choosing the Hogs over the Wolverines caught everyone by surprise. He's a top 100 player in the 2015 class and despite the fact that he won't be back in the US until who knows when, you lose nothing if you're a big time program by recruiting and accepting his commitment now. Arkansas could potentially have another long year ahead of them, so this commitment will be tested by many factors, especially if Bret Bielema's rope isn't as long as you'd think after a winless SEC campaign.
Everybody seems to think Solomon Thomas is a Stanford lock.  Do you think the Buckeyes still have a chance? - Ahh Saturday
I don't have Solomon Thomas as a Buckeye in my "crystal ball," because I don't have hard evidence to support that idea, but my brain says a player of his caliber doesn't spend his money — twice — to come to Ohio State and then plan an official visit to the school after the season (which hasn't been officially scheduled yet per my knowledge,) unless he's legitimately interested in the school. I know that Stanford is a school he's very high on, and Texas may have saved themselves with Thomas thanks to their resurgence this season, but the Buckeyes absolutely have a chance. Thomas doesn't talk much, so what he does is very important, and what he's done is make two trips to Ohio State on his own dime. 
Who is the next 2015 commit? And when? - PCuzz1
Right now, I'm still going to pick Jerome Baker, the state's best player in 2015 (in my opinion) and the star running back and linebacker for the Bengals of Benedictine in Cleveland. Baker has been to Ohio State multiple times, isn't really in love with the recruiting process and up to this point hasn't made a visit to any school that Ohio State should worry too much about. That being said, Baker does still have interest in visiting other schools, but the Buckeyes are in great shape. I'd not be surprised if this one happened in early-to-mid January.
Alright, if your life depended on answering this question, and answering it 100% correctly to the very best of your ability, how do you see this class finishing up, who's in, who's out, any surprises etc.? - TennBuckeye19
Right now, here's how I see the Buckeyes' 2014 class finishing, as long as you all know that what I am going to predict here is based on what I feel today, and that it's possible for things to change.
DB - Marshon Lattimore
DB - Erick Smith
WR - Johnnie Dixon
LB - Raekwon McMillan 
DL - Solomon Thomas
OL - Brady Taylor
My head says Chad Mavety picks Ohio State, my heart says he selects Florida State. It's reversed with McMillan, my head says he picks Alabama, but my heart says it's the Buckeyes. Brady Taylor is my favorite offensive lineman in the state (although he's committed to Virginia Tech, I think he'd accept a Buckeye offer if it comes his way,) that is not a Buckeye commitment, and that's where I'd like the Buckeyes to turn in the event Mavety chooses the Seminoles.