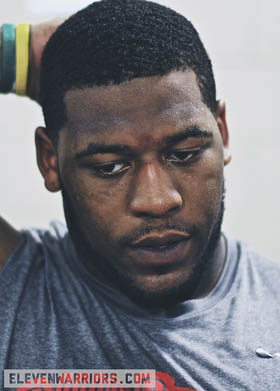 The Big Ten Conference issued a public reprimand of Ohio State guard Marcus Hall and the coaching staff for their role in a brawl during the Michigan game.
From a league release:
The Big Ten office today issued a public reprimand of Ohio State football student-athlete Marcus Hall for his actions while exiting the playing field during the Michigan game on Nov. 30, which violated the Big Ten Sportsmanship Policy.  Big Ten Conference Agreement 10.01 states in part that "The Big Ten Conference expects all contests involving a member institution to be conducted without compromise to any fundamental element of sportsmanship… [including] integrity of the competition, civility toward all, and respect, particularly toward opponents and officials.  The conference office also issued a public reprimand of the Ohio State football coaching staff for failing in its duty to effectively manage the process of escorting an ejected student-athlete from the playing field to the locker room.

Additionally, the Conference reviewed video of the incident that took place during the second quarter of the game and has concluded that the officials managed the situation properly and ejected the correct players for their actions.  NCAA football playing rules provide that these players were to be disqualified for the remainder of the game since their ejections for fighting occurred during the first half of the contest.  The officials and coaching staffs from both institutions did a good job of containing the situation once it started. As bad as it was, we're fortunate the incident did not escalate any further.  More can, and should, be done by both coaching staffs in the future to prevent similar incidents from detracting from this rivalry.

The Big Ten Conference considers this matter concluded and will have no further comment.
Hall and H-back Dontre Wilson are both eligible for Saturday's Big Ten Championship Game against Michigan State.