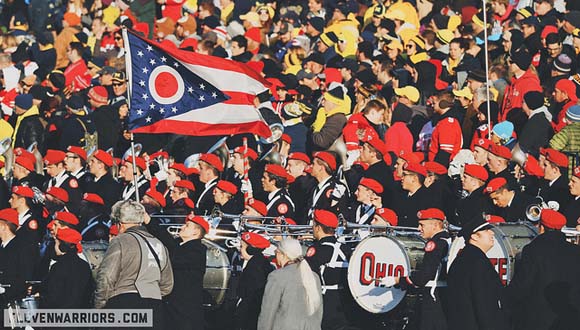 It was a lot closer than most Ohio State fans anticipated, but the Buckeyes emerged from Ann Arbor with a 42-41 win to give the program its 24th win in a row.
Here are the GIFs that tell the story of that game.
Following an Ohio State punt, Jeremy Gallon put Michigan in great position with this 84-yard catch and run. Bradley Roby's speed – and angle – prevented a touchdown on the play.
Here's another look at the play. Taylor Lewan destroyed Doran Grant.
Devin Gardner would score two plays later to put Michigan up 7-0.
Braxton Miller and the Buckeyes would quickly answer with this 53-yard touchdown strike to Devin Smith.
The Wolverines would score again and Miller answered again. This time with a 53-yard scamper to knot things at 14.
Here's Devin Funchess abusing Dorant Grant with a hurdle. Grant responded well from a rough start in The Game.
Gardner, who threw for over 451 yards on the day, found Gallon this toss to put Michigan back up 21-14.
On the ensuing kickoff, Dontre Wilson was mobbed by seven Wolverines following the play...
Things quickly escalated and we had a brawl on our hands. Wilson's helmet was removed and he countered with a punch. Marcus Hall would leave the bench and throw a punch as well. When the dust had settled, both Hall and Wilson were ejected from the game.
Hall wasn't happy and went for two – fingers – on his way out of the stadium.
Miller ran another one in to tie the score at 21 with a minute remaining in the half.
Michigan coach Brady Hoke was not impressed.
Gardner had a field day against the Ohio State defense, but Michael Bennett gets to him here. And eats when done.
Carlos Hyde set a new Ohio State rushing record with 226 yards in The Game, topping Beanie Wells' previous mark of 225, set in 2007. Here he is going for 34 of his 226.
Miller would punch it in from there, his second rushing touchdown on the afternoon.
Five minutes later, Miller found tight end Jeff Heuerman on this 22-yard seam route for six. Ohio State led 35-21 entering the fourth quarter.
Michigan fans are nothing if not great planners.
After a trading scores, Michigan was in position to tie the game with 35 seconds remaining. Gardner found tight end Devin Funchess from the two to close to within one point of the lead.
Hoke rolled the dice and decided to go for two. Then Tyvis Powell entered manhood with this interception to end Michigan's bid.
Here's another look at the pick. Powell would later say that cornerbacks coach Kerry Coombs told the secondary what Michigan was going to run.
Gardner, deflated
Meanwhile, on the Ohio State sideline.
Bradley Roby recovered the ensuing onside kick, sealing the win for Ohio State.
The postgame handshake wasn't quite the driveby that it was last year, but there's clearly no love between Meyer and Hoke.
Hyde saluates visiting Buckeye fans following the game.
---
Want more GIFs from this game? Head to the The Game GIF Overflow.