Today marks the official start of Big Ten hockey. No. 12/13 Wisconsin and No. 1 Minnesota technically kick things off with a late afternoon game (which you can catch on ESPNU) but for Buckeye fans things get real tonight at 7pm when the Buckeyes tangle with the Wolverines. Er, make that 7:15-ish. If the basketball game ends on time.
At least that will give the broadcasters a few extra minutes to read Ohio State's stats/roster past Ryan Dzingel, Max McCormick, and Tanner Fritz. Since you don't want to rely on BTN for your information tonight (trust me on this), here's a look at the challenge No. 3 Michigan will present Ohio State tonight and next Monday.
The Wolverines were widely predicted to bounce back from an uncharacteristically off season in 2012-13. They've more than met those expectations so far this season. They're 8-2-1 and have faced a really tough schedule: current No. 6/7 Boston College, No. 8 UMass-Lowell, and No. 15/17 Nebraska-Omaha, No. 17/20 New Hampshire, etc. A large part of their success can be attributed to their outstanding goalie tandem. We'd probably be talking up sophomore Steve Racine (2.44 GAA, .931 SV%) more if it weren't for freshman phenom Zach Nagelvoort (1.48 GAA, .950 SV%) whose stats are tops in the nation. The two have earned every bit of the acclaim they've received, playing against some of the nation's top teams and without a ton of defensive support. 
Michigan is allowing upwards of 30 shots per game and numerous writers and commenters across the internet have bemoaned the defense's turnovers and questionable decision-making. Those aren't shocking problems given the team's relatively inexperienced D-corps (a group that will become more untried with junior Brennan Serville out due to injury). Obviously this is an area the Wolverines will want to tighten up going forward but so far the defense has been, if not stellar, then at least sufficient. Leading the way offensively are sophomore Andrew Copp (7-5--12), junior Phil DiGiuseppe (4-6--10), and freshman JT Compher (2-8--10). The Buckeyes would also do well to keep a sharp eye on Luke Moffat, who has scored a third of Michigan's power play goals, and Alex Guptill, who has seven goals and three assists in his six career games against Ohio State. 
The Wolverines are the biggest test the Buckeyes have faced since playing then No. 1 Miami to open the season. Most of the internet is giving the series to Michigan. I don't disagree that they're the clear favorites, but I think Ohio State is being underrated a little bit too. The Buckeyes have been steadily improving throughout the season. I think the fact that their best games have come against the least impressive part of their schedule is, to a certain extent, a coincidence. The Buckeye forwards may not have the impressive resumes of Michigan's but they've all proved they can contribute offensively. The biggest question for the Buckeyes, still, is in net. Steve Rohlik said Matt Tomkins has been practicing and is "a game time decision" this weekend. Personally, I think it may be wiser to let Logan Davis test himself at Yost. In the long run, these two games aren't worth setting back Tomkins' recovery. Give him the Christmas break and let him come back for the second half 100% definitely healthy.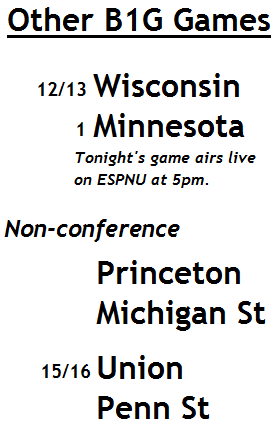 Whatever the outcome, this series should give Buckeye fans a pretty good idea where Ohio State is in relation to the rest of the Big Ten. The conference is split in half in the minds of many with the Buckeyes solidly in the "have-not" half. After this series that theory might need some restructuring. I'd be absolutely thrilled with a split, but at this point of the season would just settle for two close, well-played games. 
Here are a few more links for your pregame clicking pleasure...