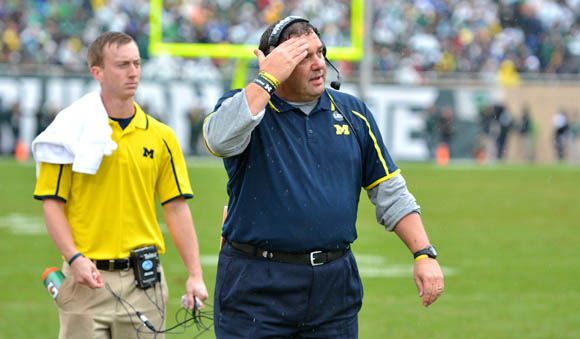 It was Saturday night, the entire nation watching. Michigan passed its first close-up of the 2013 football season with an exemplary grade. The Wolverines were up 27-13 at halftime on defending national runner-up Notre Dame. Most noteworthy for Michigan, however, was the performance of Devin Gardner.
There were some second-half turnovers – more on those later – but Gardner also completed 21-of-33 pass attempts for 294 yards and four touchdowns. He added 82 yards on the ground and a rushing touchdown. The five scores equaled the school record. Michigan found its quarterback.
But the slide started soon after, even though it would be another month before the Wolverines lost a game. The week after the Notre Dame game, Michigan needed a goal-line stand to beat woeful Akron. A week after that, a fourth-quarter rally extinguished what would have been one of the upsets of the season by one-win Connecticut.
In the spotlight because of his position and propensity at turning the ball over is Gardner. He's thrown 11 interceptions and lost five fumbles.
"You just have to get to him," Ohio State defensive lineman Michael Bennett said. "He seems like he gets flustered, but he has a lot of talent. When you let him sit in the pocket, he can make some plays. He can scramble and he can run, too. You just have to bring pressure to him and let him know you're there."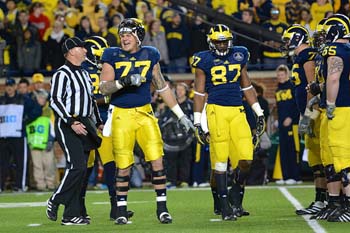 After losing in quadruple overtime at Penn State, Michigan rebounded with an historic outing against Indiana. The Wolverines put up a school-record 751 yards of offense and Gardner set school records with 584 total yards and 503 yards passing while matching the five touchdowns against the Irish. Wide receiver Jeremy Gallon set a Big Ten record with 369 yards receiving.
Michigan is 1-3 since that day, the lone win an improbable triple-overtime thriller at Northwestern.
"We get a nine-yard gain, then we take a step back. Or, we've got good protection and don't finish the throw or execute the throw or catch the football," head coach Brady Hoke said.
The latest blunder came last Saturday at Iowa, where the Wolverines squandered five turnovers and blew a 14-point second-half lead. In regulation in the month of November, the offense has scored six, nine, 13 and 21 points. During that same span, Gardner is averaging 182.5 yards passing and has lost minus-47 yards rushing. But the offensive line hasn't protected him much as they've allowed 20 sacks in November alone.
Gardner was nearly in tears following the Iowa game after he fumbled on Michigan's final offensive possession. For the day, Gardner totaled 98 passing yards and 12 rushing yards.
"He's got a lot of pride," Hoke said. "If there's a bigger critic on Devin than Devin, I don't know who it is. I'd rather have a guy be that way than point a finger somewhere else. We're all in this together.
"He knows we have a strong faith in what he can do."
It seems that Gardner's potential is limitless. He's a dual-threat quarterback who can be very effective throwing the ball. Decision-making has been an Achilles heel the past two seasons, though.
"I think he's had some really good moments, and some moments he would rather re-do if he could. But I think we all have that. I do as the head coach," Hoke said. "The one thing about Devin is that he's been pretty resilient. He is a guy who comes to work every day and prepares to get ready to play and play his best."
Drawing a bulk of the criticism from fans for the stagnant offense is coordinator Al Borges. During his 27-year career, Borges has directed offenses at Oregon, Auburn, Boise State, UCLA and Cal, among others. He said he's never seen a four-game string of ineptitude quite like the one the Wolverines are currently mired in.
"If I internalized everything a fan said, I'd slit my wrists." — Al Borges
But he's not letting outside disapproval impact him. Borges told reporters on Tuesday that his first name has been a cuss word in other cities. It's trending that way inn Ann Arbor and could reach four-letter status.
"If I internalized everything a fan said, I'd slit my wrists," Borges said matter-of-factly. "You can't do that. This job is about being thick-skinned. We win games, and people still complain. That's the nature of the job. That's why they pay us and we do what we do. We have to be beyond all that. We have to be stronger than that.
"This isn't the first place where it's been like that. That just goes along with the job. You're never going to make everybody happy. You do your best to help your team win. That's all."
Borges said he hasn't subscribed to a newspaper in 20 years, ever since Boise State stumbled to a 3-8 record in 1993. When the wins deteriorated, negative press mounted and that was that. No newspapers since for Borges – or talk radio. He said it will only make a coach miserable (Of note, the Broncos rebounded in 1994 and lost to the Jim Tressel-led Youngstown State Penguins in the Division 1-AA national championship game).
Then, there's Michigan's offensive line. Their inefficient play hangs over the Wolverines' entire offense like a black cloud on a wedding day – 123rd nationally out of 123 in tackles for loss allowed, 100th in rushing offense and 95th in total offense. Michigan has surrendered an astounding 103 tackles for loss in 11 games.
The interior offensive line has been rearranged more frequently than Madison Square Garden's basketball court. Graham Glasgow, Jack Miller, Kyle Kalis. Miller, Chris Bryant, Joey Burzynski and Erik Magnuson have all been ushered in at one time or another.
Through it all, Hoke is resolute and confident.
"Honestly, we're a pretty good football team," he said.