It's the official Hate Week edition of the Eleven Dubcast! Despite some kind of SARS or bird flu, your intrepid co-host (along with Eleven Warriors' own delightful Johnny) are here to welcome you to the last week of the 2013 Ohio State football regular season.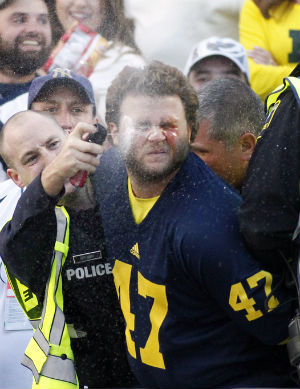 They say you never know what can happen in a rivalry game. If that's true, why are Ohio State and Michigan fans both predicting a Buckeye blowout in Ann Arbor? Isn't Brady Hoke almost invincible in the Big House, give or take a Nebraska Cornhusking? I personally find it more unnerving when everyone is in agreement than when the usual hubris by both sides is at the forefront.
Nevertheless, Johnny and I are joined by Ace Anbender, staff writer extraordinaire for MGoBlog, and a regular contributor to Johnny's "Sun and Bluesday" column every Tuesday, right here at 11W. Ace is more than qualified to give us the lowdown on the dreaded (by both fan bases, apparently) Team Up North.
And as always, we answer your most perplexing questions in our Ask Us Anything segment. Can't figure something out? Just ask us, by email at elevendubcast@gmail.com!
Enjoy the Dubcast and get the full rundown after the jump.
 
Here's how it broke:
0:27- Johnny and I review the beatdown of Indiana on Saturday. In hoops talk we wonder what's up with LaQuinton Ross, and finally we talk about The Game.
20:56- Ace Anbender gives a complete and candid analysis of why Michigan fans are so not looking forward to this Saturday's game.
43:36- Ask Us Anything is in full force once again, and we're not afraid to tell you exactly what's up with Circus Peanuts.
55:35- Dream jumpin' at Mirror Lake.
And it's a wrap! If you'd like to check out this week's Dubcast music, download Hate Incarnate by Gno, Prognosis by Enchant, and the very appropriate Hatesong by Porcupine Tree.
See you next week for the Big Ten Championship Game preview!