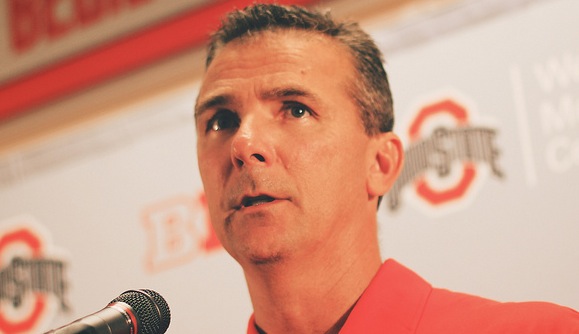 What's this? A national media member pumping up Ohio State's BCS chances? Time to take a long walk. From FoxSports.com:
But let's say Ohio State does beat Michigan State in the Big Ten title game. It will be locked into the Rose Bowl if it doesn't instead play for the BCS national championship. Do you think Urban Meyer will be laughing then?

Yes, yes I do. I believe, after Saturday set fire to another few blocks of Rome, Meyer is perched up on a rooftop somewhere on the outskirts, watching the flames ahead of him glow under college football's fading sky, sniffing in some of the smoke that's wafting not too far away.

And he's laughing. Not a chuckle, not a hoot, not a pursed-lip snicker. I envision Meyer beginning to work himself into the kind of laughter in which you almost lose air and have to brace yourself from blackout. Something like this:
Last Saturday night, Baylor's national title hopes expired on a frozen lake in Stillwater. There's still a lot of football to be played, and Urban Meyer has the Buckeyes perfectly positioned to work their way into the title game with the "underdog" mantle that Urban Meyer covets and thrives in. (*Troy Smith and company nod grimly*) Could this be the start of a turn in the national media? We can only hope.