Tuesday night returns, and we return to present the final piece of our way too early look at Ohio State's 2015 recruiting. Over the last month of Tuesdays, we've peered into the future and provided what is a best guess at what to expect 15 months from now, because well, we've talked about 2014 until we're ****1 in the face.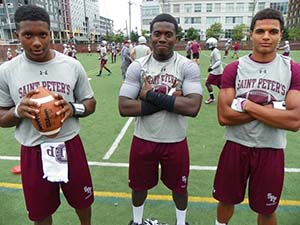 Last week we took a shot at the defensive line and linebacker groups for 2015 and we pinpointed ten potential players, but as you'll see at the end of this story, a few things have already changed in my prognostications. Recruiting is a fluid business, things change and numbers change and my predictions change, deal with it. Tonight we'll look at the defensive backfield, an area that could see anywhere between four and six players for the Buckeyes in 2015 depending on final numbers available. 
We're all aware that Bradley Roby is departing for the NFL after this current season, but he'd be gone by 2015 regardless, as will Doran Grant. That leaves Armani Reeves, Cameron Burrows, Eli Apple, Gareon Conley, Dame Webb and hopefully Marshon Lattimore as the core group returning for the 2015 season at cornerback. At safety, Ohio State should have back Tyvis Powell, Vonn Bell, Jayme Thompson, Chris Worley (if not moved down to linebacker before then), Malik Hooker (if not moved to wide receiver before then) along with potentially Erick Smith manning the position.
Looking at sheer numbers, it's easy to see that the Buckeyes might not be pressing too much for 2015 in the defensive backfield. Instead they'll find the players that fit their system: long, lanky, fluid cornerbacks and explosive hitters at safety that Urban Meyer looks for. Oh yeah, and of course guys who can run like gazelles.
Let's take a closer look at the players who I think could fit the system and end up signing with Ohio State in February of 2015.
We'll start, as we've done with other positions, with the out of state candidates. Ohio State has made a number of offers to out of state corners already for 2015, but there's a handful that we'll hone in on as likely and realistic options.
DEFENSIVE BACK

When it comes to cornerback for 2015, there are a couple of talents that jump out at you, but unfortunately for Ohio State, at least one of them has already committed elsewhere and a couple others are close to ending their recruitment early as well. Kevin Toliver II from Trinity Christian Academy in Jacksonville, Florida, is the high school teammate of five-star 2015 linebacker Jeffery Holland, and has been committed to LSU since November of 2012, when he committed to the Tigers as a sophomore. He was offered by the Buckeyes in June and has insisted that he is still "looking" at other schools a while being "100-percent committed" to LSU. Obviously you know that's not entirely possible, and Toliver has visited a number of schools since his commitment, including Ohio State in mid-June with Holland. Still, until he comes to Ohio State again, I'd keep this one in the "highly unlikely" category.
Another five-star talent, Missouri City (Texas) corner Kendall Sheffield picked up his Buckeye offer earlier this month, but he's a player that nearly everyone thinks is Texas A&M bound, and without a number of coaching changes in the Lone Star State, it seems like Sheffield is probably a pipe dream in the Tony Brown mold, a player the Buckeyes will recruit as long as they can, but know their shot is somewhere between slim and none.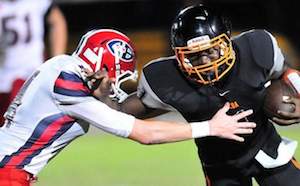 Saginaw Heritage's Brian Cole is the Mitten's best player in 2015, and as such you can expect a battle with the Spartans and Brady Hoke's team for the multi-faceted star. He could play wide receiver or defensive back, and while the Buckeyes have made an impression on him, I suspect he ends up in East Lansing.
Garrett Taylor, from Richmond (Va.) has held a Buckeye offer for a while, and he's told me that Ohio State is a school he definitely wants to visit this spring, but until a visit happens, it's just rhetoric and it's hard to put much stock into it. Taylor, from St. Christopher's School, is a high school teammate of fellow Buckeye offer, linebacker Ricky DeBerry.
We have talked a bit before about the St. Peter's Prep (Jersey City, New Jersey) duo of Brandon Wimbush and Minkah Fitzpatrick, and while the two haven't stated explicitly that they wish to attend the same college, the fact that Ohio State seems to be the clear-cut leader for Wimbush (who expects to announce his choice in December), has to provide them a leg up in the recruitment of the four-star defensive back Fitzpatrick. I think Ohio State lands Fitzpatrick and Wimbush.
Ashton White, a safety prospect from Friendship Academy in Washington, D.C. was long rumored to be a Buckeye lean, but I expect he'll be making a verbal pledge to Virginia Tech within the next few weeks. The Hokies also received a commitment from Marcus Lewis, also from D.C. (Gonzaga) last week, just days after the Buckeyes extended an offer to him.
The last pair of out of state targets, Cocoa (Fla.) corner Jamel Dean and Monaca (Penn.) Central Valley standout Jordan Whitehead, are perhaps two of the more likely candidates to end up in Columbus. Dean has been candid about his feelings regarding the Buckeyes, they are his leader and he would like to commit sometime soon, but has some family resistance because the feeling is that it might be "too early," but the 6-foot-1 cornerback says he isn't even looking at other schools at the moment. That said, it's always a tall order to get a good player from Florida, and I think eventually Dean ends up looking elsewhere.
Whitehead first became interested in the Buckeyes last year when Ohio State was pursuing his former teammate, Alabama 2013 signee Robert Foster. He camped at Ohio State and participated in the NFTC camp on campus in June, and returned to Columbus for Friday Night Lights in July and then again when the Buckeyes hosted Wisconsin at the end of September. Whitehead is a national top-20 cornerback, and I think he ends up at Ohio State.
Within the Buckeye state itself, there's not a lot of true Buckeye caliber defensive backs. In fact, the three best defensive backs in the state include two players already committed to that team up north (Lakewood St. Edward speedster Shaun Crawford and Tyree Kinell from Wayne,) and a player who has spent most of his time in high school at wide receiver, David Dowell, also of Lakewood St. Edward. This is truly where things get interesting for Ohio State's 2015 recruitment. The Buckeyes offered Crawford, a life-long fan of the school he committed to, just last week and while most would expect he'd have little to no interest, it doesn't appear that's the case. He's listening to the Buckeyes offer, and he's not immediately brushing it off, something that could be construed as very positive for the Buckeyes. If Crawford — at any time — decides to take a visit to Columbus, then the "flip alert" is 100-percent on. If he visits, I think Crawford becomes a Buckeye and becomes a staple at safety down the road.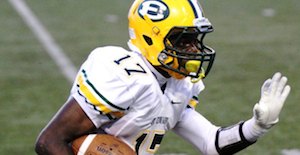 Dowell is a very good athlete, able to play multiple positions but is still raw athletically, especially at defensive back. Ohio State was impressed by his performance at Friday Night Lights at defensive back, and I think that ultimately he gets an offer. If he doesn't get an offer, then my prediction at running back for Ohio State changes as well, because I think if you offer one Dowell, you're offering both. I think if Ohio State offers them both, they are both Buckeyes without question.
ThE FIRST COMPLETe 2015 PREDICTION

So, here's the complete list of my way too early 2015 Buckeye recruiting class. I've got the Buckeyes taking ten Ohioans, a number that may be a bit high for 2015, so be prepared that could change. In fact, a number of my predictions are predicated on the thought that in an ideal class, the Buckeyes would take between 8-10 of Ohio's best.
If you've read the series, you'll no doubt notice that there's already been a few changes.
First of all, I've removed Westerville South's Rob Dowdy and replaced Georgia's Mitch Hyatt with Sterling Jenkins, who visited Ohio State this past weekend. I don't doubt Urban Meyer's chops, but Hyatt will be a tough pull (despite Ohio ties) and Jenkins is a more realistic option at this point, despite Hyatt being a much bigger target. Dowdy was removed simply as a numbers move, as I was pushing 28 commitments, and I pared things down to a still too many 26. I also removed Buckeye legacy C.J. Sanders and replaced him with another Tennessee native, Van Jefferson, who visited Ohio State last weekend and is very high on Ohio State.
I also removed Ohioan Rashod Berry, a defensive end from Lorain, and Connecticut defensive lineman Christian Wilkins. Again, these two fell prey to a numbers crunch. It's sort of insane to look only a year ahead and see so many possibilities and yet know that there are literally dozens of other players who could fill all of these spots. Ohio State's national appeal is as good as ever and the coaching staff's decision to recruit nationally first, locally second (unless you're a major star like EGW, Hilliard, Baker, Crawford, etc.) means that we have less certainty over predictions this early. 
Offense, Part I | Offense, Part II | Defense, Part I
Way Too Early 2015 Prediction


| Recruit name | position | hometown (high school) |
| --- | --- | --- |
| Brandon Wimbush | Quarterback | Jersey City, NJ (St. Peter's Prep) |
| Elijah Sindelar | Quarterback | Princeton, KY. (Caldwell County) |
| Soso Jamabo | Running Back | Plano, TX (Plano West) |
| Andrew Dowell | Running Back | Lakewood, OH (St. Edward) |
| Eric Glover-Williams | Wide Receiver | Canton, OH (McKinley) |
| Van Jefferson | Wide Receiver | Brentwood, TN (Ravenwood) |
| Devante Peete | Wide Receiver | Pompano Beach, FL (St. Thomas Aquinas) |
| Hale Hentges | Tight End | Jefferson City, MO (Helias) |
| C.J. Conrad | Tight End | Lagrange, OH (Keystone) |
| Drew Richmond | Offensive Line | Memphis, TN (Memphis University School) |
| Steven Gonzalez | Offensive Line | Union City, NJ (Union Hill) |
| Sterling Jenkins | Offensive Line | Pittsburgh, PA (Baldwin) |
| Matthew Jones | Offensive Line | Hubbard, OH (Hubbard) |
| Scott Patchan | Defensive Line | Tampa, FL (Freedom) |
| Josh Sweat | Defensive Line | Chesapeake, VA (Oscar Smith) |
| Tim Settle | Defensive Line | Manassas, VA (Stonewall Jackson) |
| Elijah Taylor | Defensive Line | Cincinnati, OH (Moeller) |
| Jerome Baker | Linebacker | Cleveland, OH (Benedictine) |
| Eli Brown | Linebacker | Bowling Green, KY (Warren East) |
| Nick Conner | Linebacker | Dublin, OH (Scioto) |
| Justin Hilliard | Linebacker | Cincinnati, OH (St. Xavier) |
| Shaun Crawford | Defensive Back | Lakewood, OH (St. Edward) |
| Jordan Whitehead | Defensive Back | Monaca, PA (Central Valley) |
| David Dowell | Defensive Back | Lakewood, OH (St. Edward) |
| Minkah Fitzpatrick | Defensive Back | Jersey City, NJ (St. Peter's Prep) |
1. It IS Michigan week, after all. Didn't expect me to actually use that color in a story, did you?