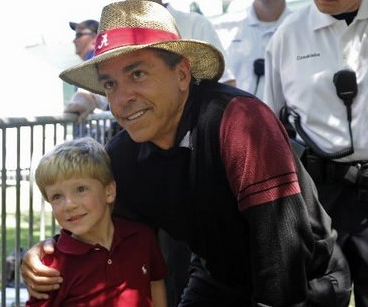 Last week, we brought you news that Baylor hadn't won in Stillwater, Oklahoma since 1939. The Bears in turn got their lunch packed Saturday night. On the same vein, we bring you this interesting news, from America's finest literary source, AL.com:
The last time Alabama won an Iron Bowl against an Auburn team headed toward nine or more wins was 1994. That was Terry Bowden's second season as head coach, and it was his first defeat on the Auburn sideline.

In contrast, Auburn's won three of the last seven Iron Bowls against Alabama teams headed toward nine-plus victories. The Tigers beat an Alabama team that would finish 10-3 in 2010, an Alabama team headed toward 10-2 in 2005 and an Alabama team en route to 10-3 in 2002.
That is, uh... that's quite interesting. Obviously (and as is noted in the article) all these historical trends don't mean anything for the 2013 rendition of the Iron Bowl, but this does have us feeling better about Auburn's chances against Nick Saban's devil magic on Saturday.