Welcome to another edition of the Ohio State football recruiting notebook. We'll wrap the week up for you and give a preview of what's coming up next.
It was a slower week for Ohio State recruiting, although a few targets picked up Ohio State offers this past week, including a pair from the 2014 class. We'll discuss what this means for the Buckeyes and check in on the newly offered recruits.
One of Ohio State's top offensive line targets had a big visit elsewhere this past weekend, we'll take a closer look at his recruitment and where the Buckeyes stand.
This weekend Ohio State plays their last home game of the season, which means the last time this year for recruits to experience a game at the Shoe. It will be another important recruiting weekend and we'll give a preview of some of the recruits expected to be in attendance.
Lastly, we'll preview this week's upcoming high school football action as several future Buckeyes continue on their quests for state titles.
Join us after the jump for the latest in Ohio State football recruiting.
THE WEEK THAT WAS
The week started off with one of the Buckeyes top offensive line targets taking an official visit elsewhere, as Damian Prince traveled to Tallahassee to check out Florida State for a game.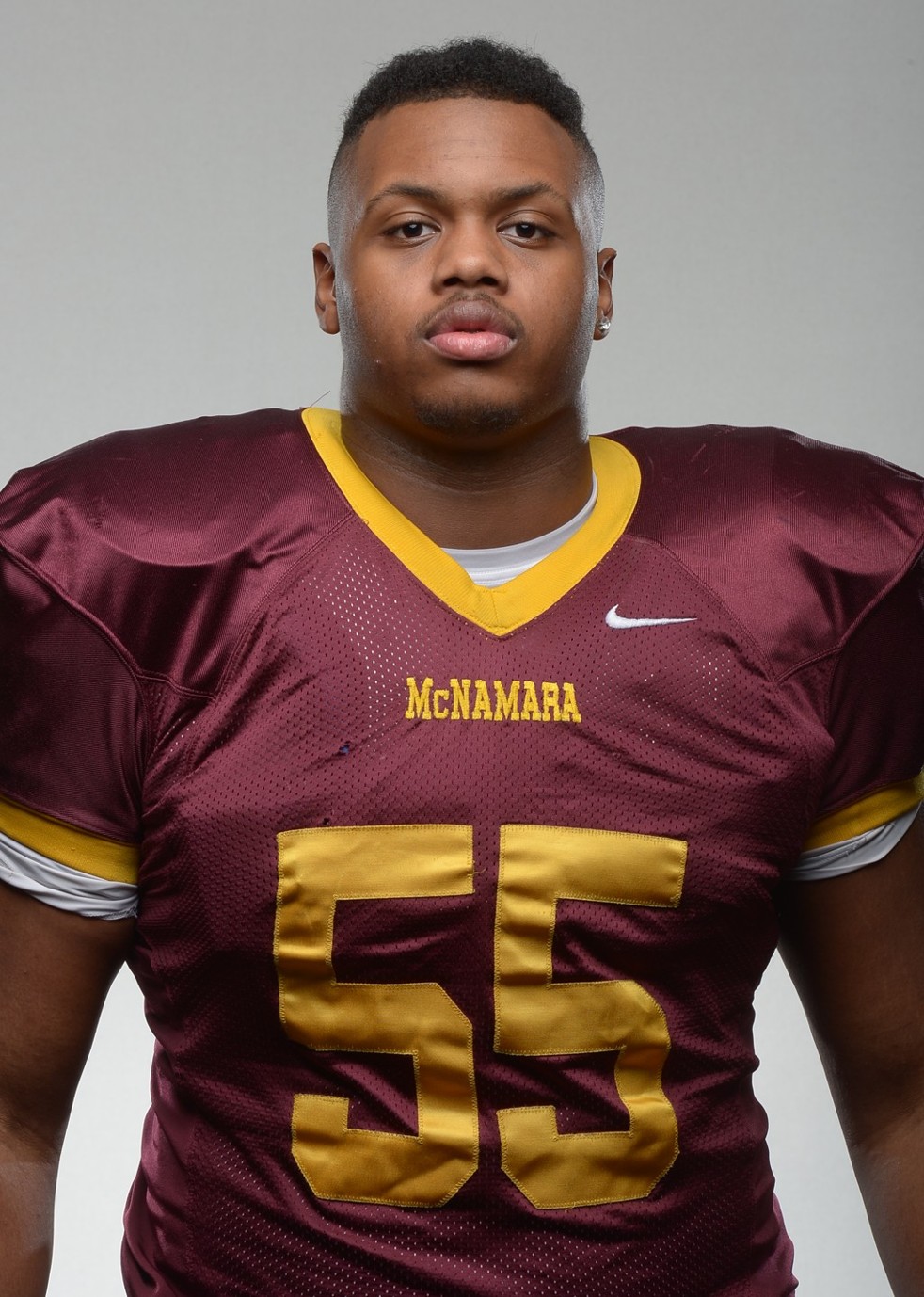 Prince had a great visit, and he really likes Jimbo Fisher and FSU offensive line coach Rick Trickett. After the visit, Prince went on to say that Jimbo Fisher is "definitely one of, if not the best coach I've met."
While Prince continues to say he has no leaders, this is shaping up to be a Florida State-Maryland battle, and at the moment Ohio State is on the outside looking in. Prince currently has a top-seven (in no order) of Maryland, FSU, Arizona, Georgia, Florida, Ohio State and Miami. He has three official visits remaining, and if the Buckeyes are going to have any shot of landing him, they will need to secure one of his official visits this winter.
I think there is a good chance that Ohio State can get Prince back on campus, and there is plenty of time between now and his decision date (Feb. 14), but it looks like Prince is going to come down to Florida State and Maryland, leaning towards Maryland right now.
Ohio State's offensive line haul is still quite an impressive one, with Jamarco Jones, Marcelys Jones, Demetrius Knox and Kyle Trout already in the fold, and with Chad Mavety, Frank Ragnow and Alex Bookser in the mix as well. I still think the Buckeyes add one more lineman to the class, currently thinking that it will be Mavety. Mavety will be visiting this weekend, Bookser is visiting on December 13th and Ragnow will visit some time this off-season as well.
Marcelys Jones, Marshon Lattimore and Erick Smith are planning to visit Alabama this weekend to watch the Tide take on Chattanooga. The trio originally planned to visit for the LSU game but later canceled. Jones has already signed his financial agreement with Ohio State, and the other two will almost for sure be Buckeyes at some point so there is not much to see here, just three kids enjoying a free vacation and college football game.
Speaking of Lattimore, he and Curtis Samuel were named two of the 16 semi-finalists for the Army National High School Player of the Year award. They join a list of phenomenal players including Da'Shawn Hand, Jabrill Peppers, Deshaun Watson, Solomon Thomas and others. Wait, I thought Samuel was only the 148th best player in the country? Meyer and staff continue to show that they not only recruit, but are great talent-evaluators as well.
Six new scholarships went out this past week, including two for members of the 2014 class. Picking up offers this week were 2014 JUCO defensive lineman Terrell Clinkscales, 2014 JUCO defensive lineman Joe Keels, 2015 QB Jarrett Stidham, 2015 linebacker Sh'Mar Kilby-Lane, 2015 defensive end Clelin Ferrell and 2015 defensive back Shaun Crawford.
Terrell Clinkscales, a 6-foot-4 inch, 310 pound defensive tackle from Dodge City C.C. in Kansas is a very large kid with a good motor. He has a long offer list that includes Alabama, Oregon, Georgia, Nebraska, Penn State, Auburn and several others. Currently, Texas Tech, Kansas State and Nebraska are standing out for Clinkscales, but Ohio State is a school he feels that he needs to take a close look at.
Already having visited Kansas State, Terrell also planned visits to Nebraska and Texas Tech, and said that Ohio State wants him to visit in January. Offering Clinkscales is an interesting move by Ohio State, who didn't appear to be too interested in defensive tackles after passing on Holley, but perhaps the Buckeyes want a veteran defensive tackle like Clinkscales so Chase Farris can play offensive line next year. Clinkscales is ranked as the 10th best JUCO prospect in the nation by the 247 composite, check out his film here:
In addition to Clinkscales, the Buckeyes made another offer to a 2014 JUCO defensive lineman this week: Wisconsin commit Joe Keels. Keels is a big, athletic defensive end, but he basically told Ohio State thanks but no thanks to the offer. When asked about the offer from Ohio State, he said "honestly it's too late to look into.  I graduate in three weeks and have to sign, so I don't have time to really start a new relationship... It's something I will say thank you to, but I'll pass." Keels also said that Ohio State was his favorite school growing up, but it's just too little, too late for the Buckeyes.  He's currently committed to Wisconsin, but is also considering Nebraska and Oregon, and will make his final decision, Dec. 1.
Sh'Mar Kilby-Lane is a 6-foot-1 inch, 190 pound linebacker from Hallandale, Fla., in the class of 2015. If he's already sounding a bit like Ryan Shazier to you, you may be on to something. Kilby-Lane's speed and athleticism seperate him from other linebackers, and he is starting to blow up. Lane has also recently picked up offers from LSU and Tennessee. Sh'Mar is not currently ranked by the major recruiting services, but should start gaining some more national recognition in the near future. Check out his film here:
Clelin Ferrell is a four-star defensive end from Richmond, Virginia. At 6-feet, 5-inches tall and 225 pounds, Ferrell is very long and athletic. He already holds offers from Clemson, South Carolina, Virginia Tech, Iowa, Penn State, North Carolina and others. Virginia Tech is the early favorite here, as he has already visited the in-state Hokies multiple times and has shown them a lot of interest. Ferrell is ranked as the No. 76 overall and No. 6 weak-side defensive end in the 247 composite rankings. It remains to be seen whether or not Ferrell will make it to Columbus for a visit, but he's a very talented prospect worth keeping an eye on. Check out his film here: 
Also this week, Ohio State extended an offer to 2015 Michigan commit Shaun Crawford. Crawford is a 5-foot-9-inch, 173 pound cornerback from Lakewood, Ohio, and is a consensus four-star and top five player in Ohio. According to Tom VanHaaren of ESPN, Crawford says he is still committed to Michigan, but is focused on his high school season right now. Things could get really interesting here, as Crawford called committing to Michigan "a dream come true," but the in-state Buckeyes could be hard for him to turn down. Crawford is a very quick corner and has good ball-skills, check out his film here:
Lastly, the Buckeyes offered their sixth quarterback in the 2015 class, four-star Jarrett Stidham from Stephenville, Texas. At 6-feet, 3.5-inches inches tall and 190 pounds, Stidham runs a reported 4.57 in the 40-yard dash. He has all the qualities of a great dual-threat quarterback and  has an impressive offer list that includes Oregon, Texas, Texas A&M, Baylor, Clemson, Oklahoma State and others. Naturally, Tom Herman will be heading his recruitment, and Herman has already been successful in landing a top quarterback from Texas (see J.T. Barrett). The Texas schools and Oregon are standing out for Stidham right now but Herman's track record in Texas can't be overlooked. Stidham has been blowing up recently, and is currently ranked as the No. 4 dual-threat quarterback in the country by the 247 Composite. Ohio State already has some great options at quarterback for the 2015 class, with Brandon Wimbush, Lorenzo Nunez and Torrence Gibson all showing interest in the Buckeyes, and Stidham could be a great option as well. Check out his film here: 
High school football preview

Position
Player
School
Opponent
Comment
QB
Stephen Collier
Lee County (Ga.)
Jonesboro Mundy's Mill (Ga.)
Won 28-6, Collier had three total touchdowns and over 340 total yards.
RB
Parris Campbell
St. Vincent-St. Mary (Ohio)
Hubbard (Ohio)
Won 35-7, 128 yards on 18 carries and a touchdown.
WR
Terry McLaurin
Cathedral (Ind.)
Terre Haute North Vigo (Ind.)
Won 56-28, 89 total yards in victory.
OT
Jamarco Jones
De La Salle (Ill.)
N/A
Lost to St. Rita, season over. (Finished 6-6)
OT
Kyle Trout
Lancaster (Ohio)
N/A
Season over (finished 5-5)
OG
Marcelys Jones
Glenville (Ohio)
Madison (Ohio)
Won 26-12.
OG
Demetrius Knox
All Saints Episcopal (Texas)
N/A
Season over, won second straight championship. (Finished 11-0)
DE
Jalyn Holmes
Lake Taylor (Va.)
Mechanicsville Hanover (Va.)
Five sacks in 35-7 victory to move on.
DE
Dylan Thompson
Montini Catholic (Ill.)
Sycamore (Ill.)
Won 22-21, Dylan led the way on a game-winning two-point conversion late in the fourth quarter.
OLB
Kyle Berger
Ignatius (Ohio)
Mentor (Ohio)
Won 28-17. DNP (ACL).
OLB
Dante Booker
St. Vincent-St. Mary (Ohio)
Hubbard (Ohio)
Won 35-7, Booker collected 3.5 tackles in the victory.
CB
Damon Webb
Cass Tech (Mich.)
Detroit Catholic Central (Mich.)
Won 32-17. Interception, six tackles and three receptions.
S
Malik Hooker
New Castle (Pa.)
N/A
Season over (finished 7-3) 
ATH
Noah Brown
Pope John XXIII (N.J.)
Morristown Delbarton (N.J.)
Won 56-0
ATH
Sam Hubbard
Moeller (Ohio)
Colerain (Ohio)
Won 24-0, made an interception.



ATH
Curtis Samuel
Erasmus Hall (N.Y.)
Staten Island Tottenville (N.Y.)
Won 38-6, two touchdowns including a 96-yarder. Named Army H.S. POY Semi-finalist.
K
Sean Nuernberger
Oldham County (Ky.)
N/A
Season over (finished 2-9)
OT
Chad Mavety
Nassau C.C. (N.Y.)
N/A
Visiting Ohio State this weekend. 
DL
Solomon Thomas
Coppell (Texas)
DeSoto (Texas)
Won 56-8, had one sack in limited playing time. Named Army H.S. Football POY semi-finalist.
ILB
Raekwon McMillan
Liberty County (Ga.)
N/A
Lost 27-7, had a 15-yard pick six. Season over. Deciding in early December
S
Mike Rogers
Campbell (Smyrna, Ga.)
N/A
Season is over.
S
Erick Smith
Glenville (Ohio)
Madison (Ohio)
Won 26-12, held to one catch.
ATH
Marshon Lattimore
Glenville (Ohio)
Madison (Ohio)
Won 26-12. One touchdown catch and 137 total yards. Named Army H.S. POY Semi-finalist.
ATH
Eric Glover-Williams*
Canton McKinley (Ohio)
N/A
Season over (Finished 9-2)
LOOKING AHEAD
It's the final weekend for recruits to visit Ohio State for a game this season, so as you can imagine there will be plenty of recruits in attendance. Here is a complete list of visitors for this week. The list may still change between now and tomorrow, so be sure to check the forums and follow the Eleven Warriors team on Twitter for updates.
Some of the visitors this weekend include Chad Mavety, 2015 LB Justin Hilliard, 2015 OT Sterling Jenkins, 2015 athlete Jerome Baker and 2017 QB Danny Clark. We will have more information on the visitors this weekend as it becomes available.
Again, looking farther ahead, expect decisions from Johnnie Dixon and Raekwon McMillan in the next couple of weeks.