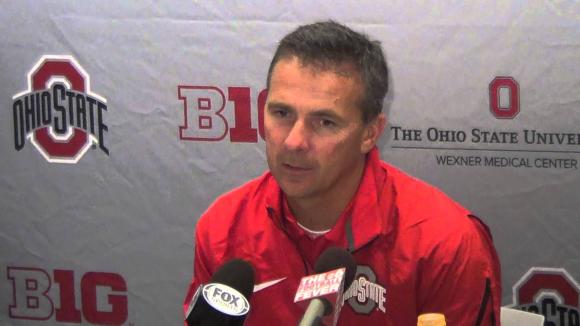 Nearly two dozen Ohio State seniors will be honored before Saturday's game against Indiana. There will also be one junior take part in the festivities: Bradley Roby.
Head coach Urban Meyer made the announcement official following Wednesday's practice, telling the media Roby will forego his senior season. The redshirt junior cornerback struggled with the decision last year before ultimately deciding one more year of experience and learning would benefit him.
"We've talked and he is going to move on," Meyer said. "That's all you ask. You don't ask for five years nowadays. It's no secret, there's nothing wrong with that. [He said] 'Coach, here's my plan,' so you say, 'Great, let's go and keep playing.' It's great for him and great for Ohio State. I think we're set to get his degree, too, in the spring."
Meyer's announcement wasn't all that surprising. It was a foregone conclusion before the season that this would by Roby's final year.
Two other juniors – Braxton Miller and Ryan Shazier – could also play in their final game in Ohio Stadium. When Miller was prodded, he smiled, laughed and said he's not talking about it. Shazier gave a similar answer, saying his attention is on Indiana.
Notes:
Curtis Grant, Joshua Perry, Jack Mewhort and Joey Bosa are all practicing and good to go Saturday, according to Meyer. He said he feels much better than he did on Monday about the health of the team. Perry returning to special teams is vital, Meyer said.
Meyer said you come to Ohio State to play for championships in November. That's the opportunity the Buckeyes have if they beat Indiana.
Saturday will be emotional for Meyer. He said it's not always that way. Sometimes you have a group that needs to leave. But he said it's tough to see the current seniors go because of what they've accomplished and what they've meant to Ohio State.
Miller said the only thing Ohio State controls is winning and hopefully dominating. He said they need to make it look easy.
On the win streak and reaching the Big Ten Championship Game, Miller said it's a blessing. He said if you play well at Ohio State, records will be broken but added you have to focus on game at a time. CJ Barnett said reaching Indy would mean a lot and be an honor to be first Buckeye team to play in the Big Ten title game.
Shazier said last year's 52-49 game at Indiana still sticks with him and his teammates. He said they have a lot to prove after that performance. It proves you can't sleep on anyone.
After dabbling in national discussions for a few weeks, Shazier said it's noticeable that the Buckeyes have re-focused.
Marcus Hall said offensive line should get a steak dinner after Carlos Hyde gets 1,000 yards. He joked that Meyer needs to find a way to work it out with compliance.
Hall credited Mickey Marotti with his resurgence the past two seasons.
Barnett said personnel isn't the issue on defense – they need to execute better.