The Indianapolis Colts were coming off a horrible loss to the Rams. Doubling down on their woes, they fell behind to the Titans. A former Buckeye running back put them in a position to complete a comeback. 
An ex-teammate of his might not get a chance to reclaim a starting job, after injuring his knee. Bears receiver Brandon Marshall added insult to the city of Detroit's injuries. One brave Buckeye stood up for the city, despite the inherent contempt for that state. 
Plus, Eleven Warriors has stats from all former Buckeyes in the NFL.
herron jumps on fumble in colts comeback 
The Colts buried themselves again. Leave it up to Daniel "Boom" Herron to help dig them out. 
In the first quarter of their last three games, Indianapolis has been outscored 35-0. They trailed Tennessee, 14-0, before starting a rally. A 6:27 drive to open the second half resulted in a touchdown that pulled them back within four. The ensuing kickoff was Herron's time to shine. 
Herron jumped on a Devon Wylie fumble, setting up the Colts on the Titans 20-yard line. The wild swing in momentum caused Tennessee's win probability to drop by twenty percent. 
That was before Andrew Luck struck with a quick completion and an 11-yard touchdown run. Indianapolis went on to win, 30-27, and now leads the AFC South by three games. 
Mcgloin steps in, creates potential QB controversy
He fell victim to the "Pick Six University" curse in their only matchup, but Matt McGloin is now getting the better of Raiders teammate Terrelle Pryor.
McGloin started in place of the injured Pryor and led Oakland to a 28-23 victory over Houston. Pryor was inactive after suffering an MCL sprain in last week's lost to the Giants.
The ex-Penn State quarterback threw three touchdown passes, while failing to turn the ball over. In his last four games, Pryor has thrown four interceptions.
Not only has Pryor struggled to hold on to the ball, but he hasn't done much through the air. McGloin threw as many TDs Sunday as Pryor did in his last 5 games. 
The one thing working in Pryor's favor is his running ability, which has certainly translated well to the professional level. He currently leads the NFL – by a wide margin – with a 7.4 yards per carry average. Still, the Raiders didn't seem like they missed his legs, as Rashad Jennings ran for 150 yards.
After the game, Fox Sports NFL Insider Jay Glazer reported the team was "extremely impressed" by McGloin. He also told us not to be surprised if McGloin starts next week – even over a healthy Pryor.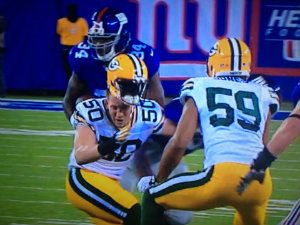 Sims steps up for detroit
Apparently our pervasive "We Don't Give a Damn for the Whole State of Michigan" notion does not apply to one former Buckeye. 
Lions offensive lineman Rob Sims took on Brandon Marshall, after the Bears wide receiver went after the city of Detroit with some bankruptcy smack. 
"It's the little brother that, big brother wants to go out and play with his friends and the little brother is annoying, [saying], 'Hey, can I go?'" Marshall told ESPN 1000 in Chicago. "No, you can't go, Detroit Lions. Sit back. Sit in your little city. Fix your financial problems and all of that, you know. You can't come with us right now."
Sims proudly defended the city. He even avoided the "scoreboard" retort, despite the Lions victory, last Sunday. 
"If you want to go after somebody, we standing right here," Sims said. "We ain't running from nobody. The city and what it's going through, there's no reason to attack that. That's a different situation. A lot of people are hurting off that, so there's no reason for him to come at that."
Will Allen interceptions always make us emotional. Even though he's now helping out the most obnoxious and obnoxiously spoiled fan base in the NFL, he sill gets credit for making big plays at the next level. In addition to Sunday's pick, he led Pittsburgh with nine tackles in their win over Detroit. 
How ex-Buckeyes Fared During Week 10 
| Player | team | position | stats/Notes |
| --- | --- | --- | --- |
| Mike Adams | Pittsburgh Steelers | OT | Lining up at Tight End in short yardage situations  |
| Will Allen | Pittsburgh Steelers | S | "Frenchie" with 9 tackles and 1 interception in win |
| Jake Ballard | Arizona Cardinals | TE | 1 rec, 29 yds in win over Jaguars |
| Alex Boone | San Francisco 49ers | OG | Team held under 200 yds of total offense in loss |
| Michael Brewster | Jacksonville Jaguars | OL | Started second straight game at left guard in loss |
| Chimdi Chekwa | Oakland Raiders | CB | 2 tackles and reunited with DeVier Posey in win |
| Kurt Coleman | Philadelphia Eagles | DB | Universally praised for forcing a fumble in win |
| Jim Cordle | New York Giants | C | Giants o-line still struggling but team is rolling  |
| Nate Ebner | New England Patriots | DB | Suit game = strong in preparation for Panthers |
| Reid Fragel | Cleveland Browns | OT | Inactive in loss to Bengals |
| Ted Ginn Jr. | Carolina Panthers | WR | Panthers play tonight vs Patriots  |
| Johnathan Hankins | New York Giants | DT | 1 tackle, 1 QB hit in win over Packers |
| Brian Hartline | Miami Dolphins | WR | 5 rec, 65 yds, a couple "disappointing" drops |
| Ben Hartsock | Carolina Panthers | TE | Panthers play tonight vs Patriots  |
| A.J. Hawk | Green Bay Packers | LB | 6 tackles, 1 sack in loss to Giants, lost his helmet |
| Boom Herron  | Indianapolis Colts | RB | Key fumble recovery in win over Titans   |
| Cameron Heyward | Pittsburgh Steelers | DE | 6 tackles, 2 pass deflections in win over Lions  |
| Santonio Holmes | New York Jets | WR | Active for first time since week four, 2 rec, 71 yds |
| Malcolm Jenkins | New Orleans Saints | S | Returns from knee injury, 2 tackles |
| James Laurinaitis | St. Louis Rams | LB | Rams on bye week  |
| Nick Mangold | New York Jets | C | Jets ran the ball well, surrendered four sacks in loss |
| Jake McQuaide | St. Louis Rams | LS | Rams on bye week  |
| Mike Nugent | Cincinnati Bengals | K | 2 FGs, 5 XPs in drubbing of poor Browns  |
| Ryan Pickett | Green Bay Packers | DT | Limited in practice all week, active in game |
| DeVier Posey | Houston Texans | WR | 1 rec, 5 yds in loss to Raiders |
| Terrelle Pryor | Oakland Raiders | QB | Inactive due to MCL sprain. McGloin throws 3 TDs |
| Brian Robiskie | Atlanta Falcons | WR | Inactive again in loss to Buccaneers  |
| Dane Sanzenbacher | Cincinnati Bengals | WR | No stats, but offers thoughts on NCAA |
| John Simon | Baltimore Ravens | LB | Inactive in loss to Bears |
| Rob Sims | Detroit Lions | OG | Verbal spar with Brandon Marshall before loss to PIT |
| Jake Stoneburner | Green Bay Packers | TE | Active in loss to Giants |
| Donte Whitner | San Francisco 49ers | S | 3 tackles, 2 pass deflections, 1 TFL in loss to Saints  |
[GIF via MRWGifs, screengrab via @edwardewall ]