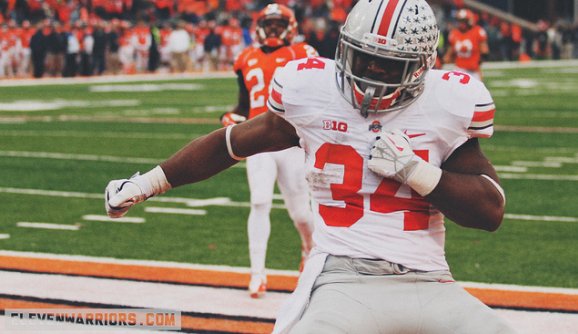 Ohio State turned back Illinois, 60-35, yesterday afternoon in a typically dank and dreary Memorial Stadium behind the dogged running of Carlos Hyde and shake-and-bake of Braxton Miller, who combined for 430 yards on the ground with five touchdowns. 
Unfortunately, the defense, plagued by injuries to the linebacking corps, surrendered four touchdowns and 420 combined yards, giving the talking heads the fuel they needed to lob mouth-farts in OSU's direction both during and after the game. 
The combined result? At least one prognosticator has Baylor jumping OSU in the BCS standings, if not this week, then definitely next week, if the Bears get past Oklahoma State in Stillwater. For the record, I'm picking the other OSU in an upset because Stillwater's Russell Hammond plays a mean guitar. (Jerry Palm still has OSU third.)
Regardless of the collective Man trying to keep Ohio State down, the reality is the Buckeyes have now won 22 straight games, including 10 straight this season, scoring 49.4 points per Saturday while yielding 18.8. 
Though Five Things is utterly disgusted with the state of B1G football, we'll plow through today so you can officially turn your thoughts to next week's opponent; an Indiana squad that totaled three points in a 48 point waterboarding administered by Wisconsin yesterday. 
ONE MAN BAND
Playing alongside backups such as Camren Williams who are clearly nowhere close to ready for primetime, Ryan Damn Shazier did his best to essentially cover the responsibilities of 2.5 positions on the field.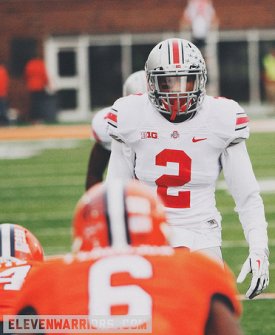 The junior out of Florida did a little bit of everything yesterday totaling 16 stops, 3.5 TFL for -16 yards, 1.5 sacks for -9 yards and forced a fumble in one of the more determined performances you'll see this season. It seemed like he blitzed on 75% of the snaps and generally played like his hair was on fire, coming up big when Ohio State needed him most. 
Leading just 35-21 midway through the 3rd quarter after a pair of unanswered Illini touchdowns, Ohio State, again forced to punt, at least flipped the field, pinning Illinois inside their own 10.
Looking to completely regain momentum following two Nathan Scheelhaase throws that totaled one yard and landed the Illini QB on the sideline for a play due to helmet loss, combined with a false start to bring up 3rd and 14 from the 5-yard line, Shazier came hard on a blitz, blasted backup Reilly O'Toole and forced a fumble in the end zone giving the Buckeyes a safety, a 37-21 lead and possession of the football. 
A few possessions later, with Ohio State now nursing a 12-point lead at 47-35 following another OSU punt, Shazier teamed with Michael Bennett to sack Scheelhaase on a 3rd and 5 play, pushing the Illini back eight yards to force another punt and essentially seal the deal. 
WHAT A RUSH
With the perfectly complimentary Hyde and Miller forming a ridiculous 1-2 punch behind an offensive line that gets a ton of hype (by OL standards), though still not probably enough, the Ohio State rushing attack is straight undressing opponents. 
After yesterday's performance in which the Buckeyes chewed up 441 net yards rushing (430 by Hyde/Miller) and set a school-record averaging 10.5 yards per attempt, Ohio State is now averaging 315.1 rush yards per game, on 6.8 per carry through 10 games. 
In another stat indicative of their dominance, Svoboda noted that four of the six games in school history in which the Buckeyes have averaged at least 8.0 yards per carry have occurred this season with three of those coming in the last three games.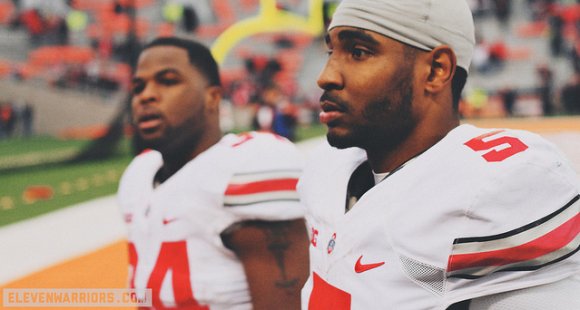 El Guapo was again dominant, blowing up for 246 rushing yards on 10.3 a pop with four touchdowns (plus one more through the air), scoring two short ones (1 and 8 yards) and two long ones, striking from 51 and 55 yards out, posting the 3rd-most single-game rushing yards in school history. 
As we've seen in recent weeks, Hyde did it both ways, showing both power and brimstone and flash and dash as he constantly knifed through holes at the line then forced Illini defenders to make life-decisions at the second level. 
His sidekick, Miller, who had an enigmatic day worthy of its own Thing which we'll get to in a sec, went for 184 on the ground on 16 carries, good enough for 11.5 per tote, including a 70-yard gallop off a pretty read to open the scoring. 
All in all, it's this rushing attack, and how Urban Meyer would use it strategically, that has me believing Ohio State can compete, and beat, any team in the country. 
WHAT A RUSH - PART DEUX
Though Brian Griese thinks Ohio State only has one decent pass rusher (Noah Spence) along the front four, Ohio State's pass rush totaled 6.0 sacks and registered another four hurries helping hold Scheelhaase to a 29.2 QBR with two touchdown tosses against two interceptions.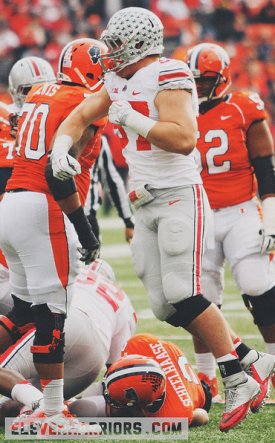 Spence, for his part, did have a solid afternoon with four stops, 1.5 TFL, 1.0 sacks, a pass breakup and two hurries. Though the game was over for all intents and purposes, Spence's lone sack came on Illinois' last-gasp possession, trailing 53-35, with less than five minutes to play. On 1st and 10, Spence blew past his man and brought down Scheelhaase for a 10-yard loss, backing up the Illini to their own 14-yard line. 
Some guy Griese's apparently never heard of, Joey Bosa, was every bit as good as Spence in this game, picking up four tackles and 2.5 sacks for -21 yards. 
Bosa's first sack came on a 3rd and 12 play to force a punt with OSU already up 21-0. On the next defensive series, Bosa went back to work bringing down Scheelhaase on the opening play to put Illinois in a 2nd and 20 hole that quickly produced a 3-and-out. 
Also along a defensive front that Griese would have you believe is nowhere near elite, Michael Bennett and Adolphus Washington each recorded six stops and half-sacks. 
There's no question this wasn't the defense's finest performance but I refuse to lay too much blame at the feet of the pass rush, and by extension, the production of the defensive line as a whole.
Man am I getting sick of blatantly biased, arrogant ignorance. I mean, you're getting paid to call a football game. Do some research. Watch the game. Act like a professional instead of channeling your ignorant, biased, racially insensitive father. 
OFF THE MARK
You know you're a dominant quarterback when you rush for 184 yards on 11.5 per carry with a touchdown and throw for two more touchdowns against zero picks on the way to helping your offense post eight scoring drives (7 TD / 1 FG) and frankly, you didn't play a very good game – certainly not a complete one, anyway. 
After three straight weeks of absolutely shredding opponents, especially through the air, Braxton Miller simply wasn't himself yesterday and it looked to go beyond the ready-made excuse of windy conditions. I won't say the wind wasn't a factor, it was, but that didn't stop Scheelhaase from completing 67% of his throws while Miller posted a 13/29 stinker, good for just 45%. 
The junior signal-caller rarely looked comfortable executing the passing game, often struggling with the placement of throws that were actually completed while badly misfiring on others. The wind was definitely a factor on the deeper throws that fell incomplete by a wide margin but on some of the shorter stuff, Miller looked out of sync more so than it looked like the wind was playing havoc. 
After his 70-yard jaunt opened the scoring, he looked uncomfortable on the following series, dropping a shotgun snap on 1st down to back up the Buckeyes before unnecessarily resorting to a sidearm motion on a 2nd down incompletion, then coming nowhere close to hooking up with Devin Smith on a deep post route to force a punt.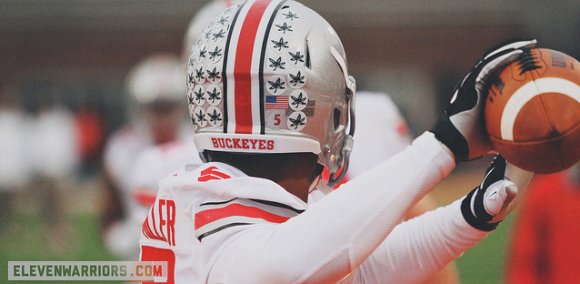 On the next series, he had a wide open Smith down the seam but his ball lacked touch and ended up well over the head of his receiver, who had nearly five yards separation on his man. 
Miller did have his moments through the air such as finding Philly Brown for six on a perfectly thrown 11-yard completion to take a 28-0 lead and stepping into a few curls including one to Chris Fields that I particularly liked but this was by far his least impressive performance since he failed to find the end zone either through the air or on the ground in Ohio State's 10-point win at Northwestern about six weeks ago. 
Compounding Miller's struggles in the passing game, he fumbled two snaps that Ohio State recovered but lost yardage, in addition to coughing it up when he couldn't successfully pull a read-fake out of Hyde's gut, leading to a turnover with Ohio State leading 35-21 and driving toward a score on their first possession of the 2nd half. 
Look, I think Braxton is as great as you do but yesterday was a struggle. That happens, I suppose. The key is make sure this is his last so-so effort of the year because Ohio State needs to close the season with three hyper-dominant performances to have a real shot at playing for a national championship. 
B1G: B1G STAGE. BIG EMBARRASSMENT.
The situation that occurred on the Illinois sideline in which head coach Tim Beckman – the leader of the program with 20 straight conference losses – and offensive coordinator Bill Cubit argued and nearly came to blows over one of the more idiotic play calls I've seen this season, served as a microcosm for what is wrong with B1G football. 
First of all, with your backup quarterback forced to take the field on a 3rd and 14 from your own 5-yard line, trailing by just 12 points with 20 minutes to play, you don't call a pass play unless it's of the quick-hit / dump off variety and even then I question it when you know Ohio State's been blitzing you all day long. 
Regardless of yours or my thoughts on the play call, Beckman certainly wasn't a fan of it. That said, he's the head coach. If he doesn't have the final say on a play call, or the respect of his OC to make sure he follows the head coach's wishes, then that's an even larger problem, one that gets to the heart of what's wrong with B1G football. 
OHIO STATE 60, ILLINOIS 35
The majority of schools simply have either head coaches that aren't elite, and/or the assistants aren't on par with what you see from some of the other conferences and the lack of high-profile head coaches / staffs gives the league zero wiggle room when the pundits take the pulpit. 
I find it interesting that B1G hoops has had a longer national championship drought than football but you'd never know it the way the conferences are perceived by the national media.
In hoops, you've got names like Izzo and Matta and Ryan and Crean, among others, that are afforded a high degree of national respect which helps the league overcome the lack of a title. In football, you've got Urban carrying the flag all by his lonesome with guys like Dantonio, Fitzgerald and O'Brien (thanks to NFL pedigree) holding down the 2nd tier, followed by disappointments like Hoke and Pelini, followed by the punch-line known as Kirk Ferentz and a host of other guys that are either unproven, or worse yet, unfit for this level. 
Until more of the schools throw big-time money at big-time head and assistant coaches, you can count on Ohio State continuing to be held hostage by the lack of credibility earned by roughly eight or nine of the other programs and it's not like Rutgers or Maryland are going to do anything but further the narrative of the B1G's death rattle.