A week ago, Thad Matta thought he had an early jump on his 2016 class.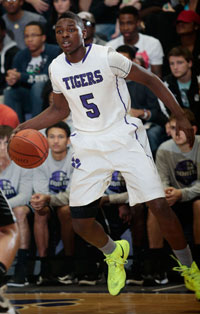 Four days later, he received a phone call dismissing that notion. Instead, the program moves onward without Payton Dastrup.
Otherwise, the beginning of the 2014 early signing period was uneventful, giving Matta and his staff a chance to officially assess how their class is shaping up.
Three other Big Ten schools added commitments in the past month, but only one is close to approaching the firepower of Ohio State's 2014 group.
Plus, a trio of five-star recruits is announcing college decisions, Friday. All are former Buckeye targets, but will still affect OSU's recruiting plans.
Matta scouts the 2014 signees
All four members of the current, 2014 Ohio State basktball recruiting class have signed and sent in their National Letters of Intent. This gave Matta the chance to publicly speak about each of these recruits for the first time, at a press conference today.
Keita Bates-Diop (6-7, 180, Normal, Ill.): "You're getting a long athlete who can really shoot the basketball. From the standpoint of playing multiple positions, he scores, he passes, he rebounds, he can defend, he can handle the basketball." 
Dave Bell (6-10, 225, Garfield Heights, Ohio): "He hasn't been playing basketball a long time, unlike a lot of these kids. He's long, he's athletic. He's one of those kids that wants to be at Ohio State. We'll bring his skill along, but he runs the floor, he blocks shots, he rebounds out of his area."
D'Angelo Russell (6-5, 176, Louisville, Ky.): "Getting another great guard at Ohio State. In terms of what position is he – a point guard or a two-guard? I don't know, exactly. I think we can run him at both. He's got the ability to make big-time plays with the basketball in his hands, be it three-point shots, driving and getting fouled. He makes guys around him better. He's a guy that won a national championship as a high school player. Montverde (Fla.) is one of the top high school programs in the country, so he's been coached." 
Jae'Sean Tate (6-5, 214, Pickerington, Ohio): "Everbody's asked me, 'what position is Jae'Sean?' and I don't know, but I do know he's going to be on the floor. He's a warrior. He's shot the ball better from deep, he's got a great first step, he can guard all five positions on the floor. His father, Jermaine, was a great player, as well. You're getting a great player, a guy who is a Buckeye." 
Overall, Ohio State has a consensus top-five class, well ahead of the rest of the conference. For now, Illinois and Indiana are the only two Big Ten schools in the top 25. The Illini would close the gap on the Buckeyes with a potential five-star commitment. 
Matta said he is excited about his class and highlighted the versatility of the group.
"We wanted to get Aaron [Craft] and Lenzelle [Smith Jr.] replaced. We feel, unequivocally, that we did that, with guys who can do a lot of different things," Matta said. "I like the position we're in." 
Signing day shock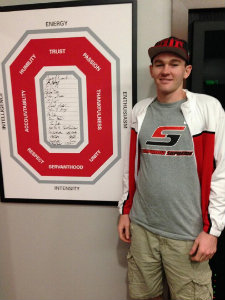 It was a surprise to see Payton Dastrup break out a scarlet shirt at his college announcement last Thursday, as many felt his ties to BYU were too strong for him to go elsewhere.
In a roundabout way, that turned out to be true. Dastrup decommitted from the Buckeyes and will be a Cougar, after all. In the few days he was a verbal pledge to Ohio State, he wasn't entirely at peace.
"I just felt more comfortable with BYU," Dastrup told Scout.com, two days after informing Matta of his decision to flip. "After I did commit… I wasn't miserable, but there was something missing."
The Mesa, Ariz. native was ready to make a cross-country trek to Columbus, but couldn't leave behind his passion for BYU. His father, David Dastrup, told Eleven Warriors he supported Payton's decision to chose Ohio State.
"Payton looks for opportunities that challenge him," David said. "Ohio State offers that in many aspects of his life."
David told the Deseret News it was a bigger challenge for his son to change his mind and choose BYU, after all.
"BYU was maybe the easy decision for Payton, and the one most expected, but I thought it was very courageous of him to go outside the norm and commit to Ohio State," David said. "As courageous as he was in committing to Ohio State, I think it was even more courageous to go with his feelings and act on them. It's an incredibly difficult thing for an 18-year old to make these type of decisions, but I couldn't be more proud of Payton and how he's handled it."
Payton still plans on serving a two-year mission before enrolling at BYU.
Alexander, Jones, and Okafor's Announcements
Former Buckeye targets Tyus Jones and Jahlil Okafor have consistently stated their desires to team up in college. 
If they stay true to their word, they will announce what college they'll be attending, Friday. In his USA Today blog, Jones said he's still considering Baylor, Duke, Kansas and Minnesota.
Duke has been the rumored favorite for a while, but Kansas has reportedly made up significant ground. If the Jayhawks end up landing the superstar duo, it might affect their recruitment of Ohio State target Myles Turner.
Perhaps Turner will be less inclined to play with another big man in Okafor or – since they have dramatically different skill sets – he would play well off of him. If they don't land Okafor and Jones, Kansas coach Bill Self might push that much harder to land Turner.
Cliff Alexander is another five-star recruit who will be deciding Friday. Kansas is after him, as well, but so is his home state Fighting Illini.
Landing the Chicago native would push Illinois' 2014 class into the top-10 nationally and signify John Groce's ability to land in-state talent. The program is already on the rise and a commitment from Alexander would expedite the Illini's resurgence.