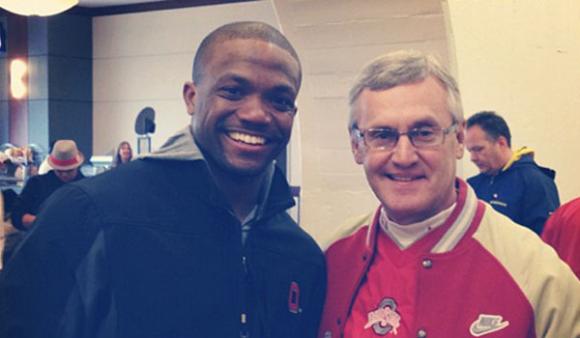 In October, we first brought you the details behind Youngstown Boys, an ESPN 30 for 30 feature on Maurice Clarett and Jim Tressel, and now ESPN has issued a press release for the documentary, which will air at 9 p.m. on Saturday, Dec. 14, following the Heisman Trophy presentation.
Youngstown Boys explores class and power dynamics in college sports through the parallel, interconnected journeys of one-time dynamic running back Maurice Clarett and former elite head coach Jim Tressel. Both emerged from the working-class city of Youngstown, Ohio—Tressel as the head coach who turned around the football program at Youngstown State—before they joined for a magical season at Ohio State University in 2002 that produced the first national football championship for the school in over 30 years.

Shortly thereafter though, Clarett was suspended from college football and began a downward spiral that ended with a prison term. Tressel continued at Ohio State for another eight years before his career there also ended in scandal.

"Consistently referenced as one of the best documentaries of the last several years in or out of sports, The Two Escobars is the gold standard of what we do," said Connor Schell, vice president of ESPN Films. "Jeff and Michael Zimbalist have delivered that level of excellence again with Youngstown Boys. In this film, their distinct style and storytelling are matched with two of college football's most complicated figures of the last decade. We are honored to be showcasing this film in college football's premiere timeslot."

Youngstown Boys features interviews from Clarett and Tressel, as well as Pro Football Hall of Famer Jim Brown and former Ohio State QB Craig Krenzel.

"At its core, the story of Maurice Clarett and Jim Tressel is about fathers and sons, said co-director Jeff Zimbalist. "In addition to their record-breaking exploits on the playing field and involvement in two of college football's biggest backroom scandals, we were drawn to the layered saga of 'The Senator' and 'The Beast' because it transcends sport. In examining the interconnected rise and downfall of these two men from opposite sides of the Youngstown tracks, we discovered the deep role that family plays in any quest for greatness."
We plan to reivew a preview copy of Youngstown Boys, so stay tuned for more on what should be a pretty solid film.