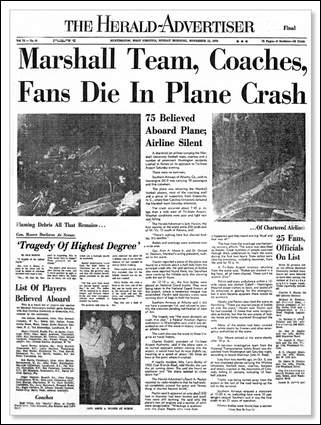 From Marshall's Rivals Site, Herd Nation, ran a reproduction of The Huntington Herald Advertiser ran following the biggest tragedy to ever strike college football. Here's a snippet:
The plane was returning the Marshall football players, most of the coaching staff and a group of supporters from Greenville, N. C., where East Carolina University defeated the Marshall team Saturday afternoon.

The crash occurred about 7:45 p. m. less than a mile west of Tri-State Airport. Weather conditions were poor and light rain was falling.

The Herald-Advertiser's Jack Hardin, the first reporter at the scene some 250 yards east of W. Va. 75 south of Kenova, said:

"There's nothing here but charred bodies. It's terrible."

Bodies and wreckage were scattered over a wide area.

Gov. Arch A. Moore Jr. and Dr. Donald N. Dedmon, Marshall's acting president, rushed to the scene.

Hardin reported a piece of the plane was found on a hillside about a half-mile from the principal crash site. He said sections of bodies also were reported found there, too. Searchers were combing the hillside early this morning with the aid of flares.