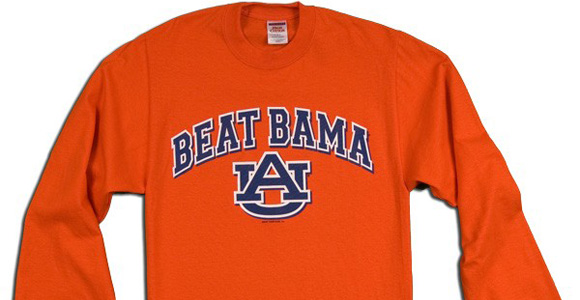 Like it or not, Ohio State's 2013 BCS championship future is not entirely in their hands. A down B1G and significant media spin have made it so. Despite a 21-game win streak, the Buckeyes could be left on the outside looking in if both Alabama and Florida State run the table. 
For Florida State, winning out is looking more and more like a done deal. With just Syracuse (5-4), Idaho (1-9) and a reeling Florida (4-5) left to play before facing either Georgia Tech or Virginia Tech in the ACC championship game, the Seminoles are a near lock to punch a ticket to Pasadena. 
That leaves Buckeye fans with two rooting interests for the rest of the season: the Scarlet and Gray and Alabama's next four opponents; Mississippi State (4-5), Chattanooga (8-2), Auburn (9-1) and the Crimson Tide's SEC championship opponent. No disrespect to the Bulldogs or the Mocs, but Bama will likely roll both, leaving the Fighting Sabans just two W's away from their third straight BCS Championship appearance. 
But all is not lost Buckeye faithful. Alabama's final two games of the season present the toughest challenge of any of the un-beatens to end the year. So, let's take an in-depth look at the potential pit-falls for the Crimson Tide.
Auburn
The Tigers are riding high after winning their last 6 games including victories over #24 Ole Miss and #7 Texas A&M.  First year head coach Gus Malzahn has lead an unbelievable turn-around taking a 3-9 team from 2012 and converting them into a 9-1 squad this season. Malzahn is of course the former offensive coordinator from Auburn's 2010 championship season. After a brief stint at Arkansas State, Malzahn was hired back at Auburn, this time as the head man.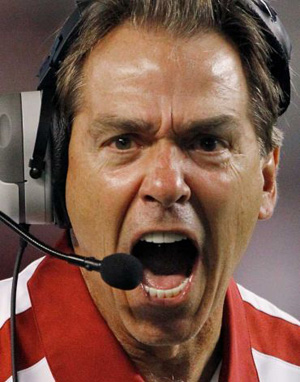 Malzahn runs an up-tempo offense and he found just the player to power it in athletic QB, Nick Marshall. Marshall is a JUCO transfer from Garden City Community College who has rolled up 1,301 yards and 8 TDs through the air, but it's his legs that make him such a dynamic threat. Through 10 games, Marshall is averaging 7.1 yards a carry with 734 yards and 7 TDs. Couple that with explosive junior RB, Tre Mason (1,038 yards and 16 TDs) and you have one of the best rushing teams in the nation, currently third in terms of total rush offense.
Of course, Auburn hasn't faced a D like Alabama's yet this season. Currently ranked fifth in the nation in rush defense, Bama is giving up just 95 yards a game. However, athletic QBs like Marshall have consistently given Saban's defenses trouble, so the chess match between Malzahn and Alabama defensive coordinator, Kirby Smart should be quite a thing to watch.
If Alabama gets through Auburn, they'll likely be faced with either Missouri or South Carolina in the SEC championship game. Neither would be a cake-walk, so let's take a closer look at each of those potential opponents.
Missouri
The 9-1 Tigers currently hold the No. 1 position in the SEC East. If they win out, they'll be all that stands between Alabama and another BCS Championship appearance. Much like Auburn, Missouri is experiencing a turn-around of their own. Coming off of a 5-7 2012, the Tigers found their SEC-legs (see what I did there) this season only faltering once in overtime against South Carolina.
Much of that success can be attributed to senior QB, James Franklin. Troubled by injuries throughout 2012, Franklin was never able to find a rhythm. 2013 appeared to be a different story as Franklin looked spectacular in his first 6 starts piling up 1,577 yards and 14 TDs to just 3 INTs, however the injury bug bit him again in the team's seventh game against Georgia. Forced to leave the game with a shoulder injury in the fourth quarter, Franklin was relieved by freshman, Matty Mauk who filled in admirably, helping the Tigers to a 41-26 win.
Franklin warmed up before the team's last two games and took five snaps in the waning minutes of Missouri's beatdown of Kentucky last Saturday. The team has a bye this week and the extra time-off should only benefit Franklin who is expected to start against Ole Miss the following week.
But the success hasn't all been because of Franklin, Missouri has a trio of gigantic wide-receivers in 6'4'' L'Damian Washington, 6'6'' Dorial Green-Beckham and 6'5'' Marcus Lucas. The three huge targets have racked up nearly 1,800 yards and 20 TDs and could present a problem for Bama's defensive backs, none of which top 6'1''.
Here's hoping a healthy Franklin and a hungry WR corps could topple mighty Bama, making it the second time in two years a former Big 12 team handed the Crimson Tide a loss. But, the Tigers still have Johnny Manziel on the schedule to end the year, so a Missouri title game appearance isn't a lock, which brings us to…
South Carolina
If Missouri falters down the stretch it's likely the Gamecocks who will get a shot at Bama. Currently 7-2, South Carolina has been a hard team to figure out this season. Capable of beating Missouri, yet falling to lowly Tennessee the week prior, Steve Spurrier's group is inconsistent at best. Still, they field one of the best defensive lines in the SEC lead by junior Kelcy Quarles (7 sacks and 11 tackles for loss) and Jadeveon Clowney (2 sacks and 6.5 tackles for loss).
On the offensive side of the ball, senior QB Connor Shaw has been nothing short of superb tossing for 1,655 yards and 18 TDs with just 1 INT. The things Shaw has been able to do through the air have been a nice complement to the heroics sophomore RB, Mike Davis has been able to accomplish on the ground. The diminutive Davis (5'9'' 215 lbs) has eclipsed the 1,000 yard mark rushing for 1,058 yards and 10 TDS averaging an impressive 6.4 yards a carry.
Should South Carolina face Alabama in the SEC Championship game, it will be the first time the two teams have squared off since 2010, a 35-21 Gamecock's victory.
Of course all of this is speculation. Florida State looks destined for Pasadena, while Alabama has a few potential pitfalls on their road to the crystal trophy. All Buckeye fans can do is root for the Scarlet and Gray to continue to win, while hoping against hope that Alabama and Florida State's remaining opponents find a chink in the armor. As we all know, there's a reason they play the games.
So go Buckeyes, Orangemen, Vandals, Gators, Bulldogs, Mocs, Tigers and any potential championship opponents. It's November and there's still plenty of football to be played.