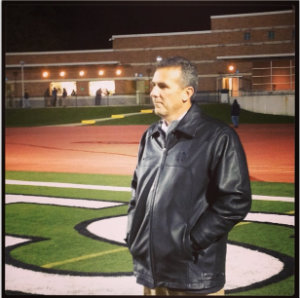 Welcome to Sunday night and your weekly rewind of the weekend that was. This week the Buckeyes were on a bye week, however, that doesn't mean that the coaches get the week off. The Ohio State coaching staff spent a few days during the week to dedicate towards recruiting. As our John Brandon wrote about on Friday, many top prospects were visited and some new names have been added to the mix. The staff "Planted Flags" in numerous states including Georgia, Florida, New Jersey, Virginia and Kentucky. 
As the team enters Illinois game week, the staff will refocus their attention to practice and game planning. Urban Meyer is expected to return to Columbus today from a short family weekend at Florida Gulf Coast University. Recruiting will be a little quiet this week as the season is at an important stage, high school playoffs are continuing and the Buckeyes will be on the road. Recruiting will gain some steam with Indiana coming to town on Nov. 23. 
Speaking of high school playoffs, the OHSAA kicked off their playoffs this weekend. Many of the Buckeyes commitments will advance to week 12 with their first round wins. Some other future Buckeyes are wrapping up their regular seasons while some, including Terry McLaurin, are already a few weeks into their playoff runs. 
After the jump, I'll have plenty more on the week that was on the recruiting trail and also a review of how the future Buckeyes performed this weekend. 
Sam Hubbard is all Buckeye
Cincinnati Moeller standout and current Ohio State commitment Sam Hubbard was impressive in Moeller's 42-17 playoff win over St. Xavier. The four-star athlete, who plays all over the field for the Crusaders, had two interceptions in the win. On Friday, the one-time Notre Dame lacrosse commitment picked up a scholarship offer from Notre Dame's Brian Kelly and staff. How will this impact his recruitment? It won't. Hubbard told 11W that he is 100% committed to Ohio State. 
The versatile prospect was told by the OSU coaching staff that he will begin his career at linebacker. The 6-foot-6, 225 pound athlete will be a good fit on the Buckeyes defense. He could also shift to the offensive side of the ball to play tight end, if needed. It's also possible that Sam could add some muscle mass under Ohio State strength coach Mickey Marotti and shift down to defensive end. He could end up a few different places, but it looks like he will start his career at linebacker in Scarlet and Gray. 
Moeller, the defending state champions, will play Cincinnati Elder on Saturday. This will be a rematch of a game that Moeller won 35-14. The game will be played at Nippert Stadium. 
Where Art thou Urban
Following the movements of Urban Meyer is sometimes tricky. Misinformation is common in the recruiting world. At one point, I was told Meyer was expected at three to four locations at one time. I was able to talk with a few people to get the story straight. 
On Friday, Urban Meyer made stops at numerous high schools including Lakewood St. Edward, Massillon, Akron St. Vincent St. Mary and Cleveland Glenville. While there was people expecting Meyer to return to Massillon for their game against Nordonia, that was never the plan. Mike Vrabel and Meyer spent most of the day together in Northeast Ohio on the recruiting trail. Both coaches stopped at Massillon to see '17 QB Danny Clark, '15 DB Reggie Rogers and '15 ATH J.D. Crabtree. Crabtree was unavailable to meet with the coaches on Friday morning due to a scheduled doctors appointment. Vrabel would return later that day to catch their playoff game. 
While Vrabel was at the Massillon game, Meyer (and numerous current Buckeyes) was at the Glenville game, as expected. Marshon Lattimore and Erick Smith are two of the top remaining targets on the board for Ohio State. As mentioned on his radio show, Urban wanted to spend some time with good friend Ted Ginn Sr. 
Following his visit to Glenville, Meyer was expected to hop on a plane to head to Florida Gulf Coast to spend some time with his family. There was some talk that he was going to visit Chad Mavety on Saturday, but that does not fit this timeline. It's unclear if Ed Warinner was present for Mavety's game. Urban and his wife are expected to return to Ohio today, since Ohio State will practice on Monday. 
As previously reported, Meyer was in New Jersey earlier this week to see Brandon Wimbush, Steven Gonzalez and others.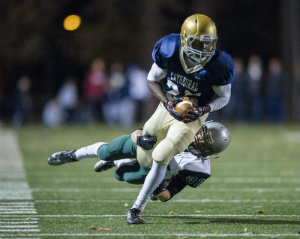 Future Buckeyes up for awards
With BuckeyeNation's help, Damon Webb has made the final four of Michigan's Mr. Football award. Webb was the leading vote getter in the fan vote with over 41 thousand votes. The highly rated corner has locked down his opponents and is rarely tested. The Army All-American continues to do big things for Cass Tech. The winner will be announced in early December. 
Terry McLaurin is also up for a Mr. Football award. Terry headlines the Indiana list, but is losing by ten thousand votes. Ohio State fans need to get to work by voting here. McLaurin has dominated this season and put up crazy stats. The future Buckeye receiver averages 14.1 yards per touch. Wow. 
Ohio State will have plenty of weapons on offense and defense including Damon and Terry. 
RECRUITING TIDBITS
There were some reports that Kerry Coombs was expected to take in '15 LB Justin Hilliard and St. Xavier take on Moeller and Sam Hubbard, however, Justin Hilliard told 11W that Coombs was no longer expected to attend. Hilliard, one of the top juniors in the state, has been a frequent visitor for Ohio State. I wouldn't read too much into the change. While the Buckeyes are in a dog fight for his services, this won't have an impact on his decision. Notre Dame, Michigan and Iowa are in the mix. 
---
Mike Vrabel returned home to Walsh Jesuit HS while on the road recruiting. It's nice to see him return to where he started his career. Meanwhile, Luke Fickell spent some time on Saturday checking out '15 corner Jordan Whitehead. Whitehead is very high on the Buckeyes and he figures to be one of the top targets going forward. Kerry Coombs visited La Salle HS in Cincinnati on Friday. Junior defensive tackle Jordan Thompson is a prospect to watch. 
---
Everyone always asks which "sleeper" prospect could get an offer down the line. A prospect that Ohio State has been in contact with is '14 receiver Shadeon Meadors of South Carolina. The three-star prospect currently holds offers from Toledo, Tulane, Marshall and other FCS programs. After a big game on national TV, many BCS programs took notice. Programs such as Vanderbilt, Georgia, Wake Forest and Ohio State have been in contact. 
The Buckeyes are looking to add another receiver to their class. Johnnie Dixon, who Zach Smith visited this week, appears to be the top guy on their board. Miami (FL) is considered the team the beat but Ohio State has a legit shot here. If Dixon goes elsewhere, Meadors could be a name to watch. OSU is also in on other wide receivers, so it is unclear exactly where Meadors stands on their board.
Meadors tells 11W that he hopes to land an OSU offer and others soon. 
WEEKLY REVIEW
| Position | Player | School | Opponent | Comment |
| --- | --- | --- | --- | --- |
| QB | Stephen Collier | Lee County (Ga.) | Bainbridge (Ga.) | Won 38-14. 15-27 passing with 4 passing TDs and another TD rushing. |
| RB | Parris Campbell | St. Vincent-St. Mary (Ohio) | Chagrin Falls Kenston (Ohio) | Advances with a 52-7 win. Campbell had 105 yards rushing with 3 TDs. Added a 26 yard TD reception. |
| WR | Terry McLaurin | Cathedral (Ind.) | Anderson (Ind.) | Continues to advance with a 56-13 win.  |
| OT | Jamarco Jones | De La Salle (Ill.) | Lake Forest (Ill.) | A loss eliminates Jones from the playoffs, but his team still has a public vs. private game remaining. |
| OT | Kyle Trout | Lancaster (Ohio) | Season Over | Lancaster failed to make the playoffs. |
| OG | Marcelys Jones | Glenville (Ohio) | Lyndhurst Brush (Ohio) | Won 35-0 to advance to week 12. Jones plans to enroll early.  |
| OG | Demetrius Knox | All Saints Episcopal (Texas) | Houston Christian (Texas) | Won 42-7 to remain undefeated.  |
| DE | Jalyn Holmes | Lake Taylor (Va.) | Portsmouth Norcom (Va.) | Won 14-0. Lake Taylor will begin the playoffs next weekend. |
| DE | Dylan Thompson | Montini Catholic (Ill.) | at Woodstock Marian Central Catholic (Ill.) | Won 40-7. Had a sack in the win.  |
| OLB | Kyle Berger | Ignatius (Ohio) | at Canton McKinley (Ohio) | Won 38-14. DNP (ACL). |
| OLB | Dante Booker | St. Vincent-St. Mary (Ohio) | Chagrin Falls Kenston (Ohio) | Won 52-7. 2 INTs including a pick six.  |
| CB | Damon Webb | Cass Tech (Mich.) | Warren Mott (Mich.) | Won 28-19. Was named a finalist for Michigan's Mr. Football.  |
| S | Malik Hooker | New Castle (Pa.) | Season Over | Malik is also a star on the basketball court.  |
| ATH | Noah Brown | Pope John XXIII (N.J.) | Morristown Delbarton (N.J.) | Had a 6 yard TD catch in a 21-16 loss.  |
| ATH | Sam Hubbard | Moeller (Ohio) | Cincinnati St. Xavier (Ohio) | Won 42-17. Had two INTs for Moeller.  |
| ATH | Lonnie Johnson | West Side (Ind.) | East Chicago Central (Ill.) | Lost 46-44. Johnson finished with four catches for 46 yards and a TD.  |
| ATH | Curtis Samuel | Erasmus Hall (N.Y.) | Cambria Heights Campus Magnet (N.Y.) | Won 21-6. Returned a kickoff for a TD and also took a direct snap 73 yards for a score. |
| K | Sean Nuernberger | Oldham County (Ky.) | at Louisville Male (Ky.) | After a loss in the playoffs, Sean will take two weeks off before training for Columbus.  |
| OT | Chad Mavety | Nassau C.C. (N.Y.) | ASA College | Will officially visit Ohio State on Nov. 23.  |
| DL | Solomon Thomas | Coppell (Texas) | at Lewisville (Texas) | Won 49-6. Had multiple sacks.  |
| ILB | Raekwon McMillan | Liberty County (Ga.) | at Academy of Richmond County (Ga.) | Won 26-10. 12 carries for 133 yards. 10 tackles including two for a loss. |
| S | Mike Rogers | Campbell (Smyrna, Ga.) | at North Cobb (Ga.) | Lost 38-0. Held to 76 yards on 23 carries.  |
| S | Erick Smith | Glenville (Ohio) | Lyndhurst Brush (Ohio) | Won 35-0. Caught a 84 yard TD pass.  |
| ATH | Marshon Lattimore | Glenville (Ohio) | Lyndhurst Brush (Ohio) | Won 35-0. Caught a 48 yard TD pass.  |
| ATH | Eric Glover-Williams* | Canton McKinley (Ohio) | Cleveland St. Ignatius (Ohio) | Lost 38-14. 63 yard screen catch for a TD. Fumble recovery.  |
Urban Meyer picture from Daryl Ruiter