The last time the Buckeyes visited Champaign they were underdogs.
Ohio State entered the 2011 game with more players serving NCAA suspensions than wins, so understandably Vegas gave the 6-0 home team a four-point edge. Regardless, Ron Zook's 16th-ranked Illini were still targeting the struggling Buckeyes as a signature win but instead they ended up losing 17-7 to a team that completed one pass on four attempts.
Luke Fickell's guys gave Illinois its very first loss - a conference loss - of 2011. Eighteen more have followed in succession, but this isn't a story about the Illini or their hideous losing streak.
It's about the strange hex that Champaign - seemingly a benign, planate expanse of unending depression - has held over Ohio State's passing offense this century, and why this weekend's gaudy point spread doesn't truly identify the real underdog in this game.
Jim Tressel's BEST OFFENSE visited Champaign in 2006 with a Heisman QB - and put up a grand total of 77 passing yards.
There's a messy, implausible trail of evidence demonstrating how visiting Illinois does weird things to Ohio State: Let's begin with Jim Tressel's first trip in 2002 when the Buckeyes completed 10 passes against the bowl-less Illini in a win which required an overtime period.
Only the Washington State game produced fewer completions (four) (!) during that magical season, but only because Maurice Clarett decided to be unstoppable that day. More damning, Illinois' other FBS opponents who visited Memorial Stadium in 2002 completed 27, 23, 26 and 26 passes.
Even first-year FBS opponent Arkansas State completed 14. Everyone threw all over the Illini in their house in 2002. Except, you know, the eventual BCS champions.
The following trip came in 2006, when Troy Smith completed just 13 passes for 108 yards and no touchdowns. Two weeks later he would complete 29 for 316 yards and four scores against #2 Michigan.
Illinois went 2-10 that season, and no team passed for fewer yards in Champaign than the BCS runners-up led by, you know, its outstanding Heisman Trophy-winning quarterback who threw for 2542 yards and 30 touchdowns.
The story the following day was that the last-place Illini simply ran out of time against the top-ranked Buckeyes. Ran out of time.
In 2008 the Buckeyes returned to Champaign and completed a total of six passes. Keeping with our theme - yes, of course that was their fewest of the season, and the 5-7 Illini's second-best defensive effort at home against FBS competition yielded double the completions Ohio State had that day.
Two years later we had Tressel's 2010 team featuring the most (only?) prolific offense of his Ohio State coaching career. That unit piled up 5832 yards and finished 12-1.
However, when that vaunted offense visited Champaign it racked up 10 completions for 77 total yards. Southern Illinois, which went 5-6 in the FCS that season, more than doubled Ohio State's output at Memorial Stadium.
Following the game Tressel said he came into Champaign fearing the wind. The always risk-averse Senator's offense was grounded before it even arrived. Because of air.
And that brings us back to that most recent trip in 2011, when those scrappy Tatgate refugees led by Jim Bollman calling plays based off the shapes of clouds he was staring at plundered both Illinois' season and Zook's coaching career.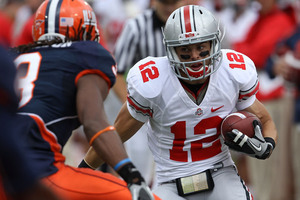 The common denominator in that historical thread? It's also the punch line of this decade-long joke: Ohio State won all of those games.
Your Buckeyes haven't lost in Champaign since Carlos Hyde was a month old. Numerous theories have been proposed as to why the Buckeyes take the air out of the ball specifically when they visit Champaign, because strangely unsatisfying wins over mostly-mediocre teams beg for reasons why.
One is the common explanation for much of the weirdness that takes place in every part of Illinois not named Chicago: The stadium was built on a sacred burial ground whose dead were violated in some way by the ancestors of present-day Ohioans.
Look at what's happened to Ohio State's offense repeatedly on trips to Champaign and that almost seems plausible. The second theory is more tangible and encapsulated by that familiar, agonizing and mostly efficacious offensive philosophy: Tresselball.
After all, the pre-Tresselball 2000 Buckeyes under John Cooper started the enigmatic Steve Bellisari at Illinois. He threw 23 completions on 38 attempts in Champaign - an statistical afternoon that no Tressel quarterback ever came close to reaching in that stadium. Bellisari finished that mediocre season with 13 TDs to go with 12 interceptions, but he threw all day at Illinois.
But Tresselball still doesn't explain why the diminished passing attempts and statistics were so much more pronounced at Champaign than anywhere else; both for the Buckeyes and by the Illini at home.
The third is that pesky wind, which - as we've seen in every one of Ohio State's visits to Champaign - only seems to be a real factor when Buckeyes visit. Hello, sacred burial ground.
There is no fourth theory - and it doesn't matter if there were a dozen more - because the era of just winning the game at Ohio State is dead. If it's not dead, it's sleeping and won't wake up for several years.
The Buckeyes aren't allowed to be skittish about wind and play it safe, because an unnecessarily close win against a bad team is especially unhelpful for this program. Unlike Urban Meyer, Brady Hoke is focused on winning Big Ten titles - so once Michigan finally rediscovers how to gain positive yardage on the ground again, Ann Arbor can be cool with grinding out wins the way Tressel teams did.
Ohio State very recently exited that brand of football on account of the Big Ten's perception. As recently as the Wisconsin game - a 31-24 win that shouldn't have been that close - the Buckeyes ran clock for two quarters instead of continuing to pick apart the Badgers' defense.
They're done running clock. Ohio State is now a score-on-every-possession team because it has to be.
Michigan State won in Champaign last month by 39. Ohio State has scored over 30 points there exactly twice since 1979.
Michigan State won in Champaign last month by 39. Ohio State has scored over 30 points in Champaign only twice since 1979 and Vegas has installed the Buckeyes as 33-point favorites. Blaming Tresselball - and wind - has its limits.
The Chase, which Ohio State thrust itself into immediately after swallowing its postseason suspension in 2012 is now somehow handicapped against a program on a 21-game win streak that has won more BCS bowls than any other team.
You can whine about it, but college football isn't supposed to be fair. It's part of the charm. You've known this for years.
That said, changing its 2013 postseason fortunes will require some luck, four more wins and - of equal importance to winning - all the gruesome victory trimmings the Buckeyes failed to deliver in their previous Champaign visits this century.
Voters don't care about wind. Computers don't care about Tim Beckman's friendship with Meyer or potential empathy for his shaky job security at Illinois. Optics fail to account for anything other than highlights, utter domination and margin of victory. That's why they're called optics.
Ohio State isn't playing Illinois on Saturday where The Chase is concerned. It is playing a losing battle against expectations for what it is believed to be capable of inflicting on Illinois; expectations - and this is cruel irony - only that pitiful 2011 team has exceeded recently when it pulled the upset over Zook's favored Illini.
In lieu of the luck that would come via an Alabama, Florida State or Baylor setback, Ohio State will need to be emphatic in victory just to hold serve.
Hoping for anything less than domination explicitly reflected on the scoreboard is only slightly better than hoping for a loss in the final season of the BCS. It's unfair, unsolicited and unfortunately for Ohio State, reality.
Yes, the last time the Buckeyes visited Champaign they were underdogs. Two years later, they are again.