Knowing that even if Ohio State does run the table they would still require two of the three teams ranked ahead of them to lose, Buckeye fans were glued to the tube last night as #2 Oregon, #5 Stanford and #6 Baylor were all in action. 
The early game saw Baylor eventually run away from an out-talented Oklahoma team, enhancing the Bears' resume just a bit but the main course worked out much better for the Buckeyes as Stanford dumped Oregon, 26-20. 
Stanford dominated the lines of scrimmage in opening a 17-0 lead at the break, holding the ball for 21 of the opening 30 minutes while forcing Marcus Mariota to misfire on eight of his 17 passing attempts.
The Cardinal would eventually open a 26-0 lead with 11:40 left in the game before the Ducks reeled off 20 straight points to make things interesting.
The Duck rally was a good thing for the Buckeyes as it took a bit of the shine off #5 Stanford's upset victory. At the same time, if voters are crazy enough to slot an 8-1 Stanford team that lost to a now 4-4 Utah outfit that ahead of a still-perfect OSU squad then this system is even more jacked than we already know it to be. 
Now we turn attention to Saturday night as Alabama hosts LSU with Buckeyes everywhere jumping aboard the Les Miles train for about three and a half hours. 
SAME BUILD, DIFFERING OPINIONS. Ball State alums Brady Hoke and Jason Whitlock have had an interesting week. As DJ discussed yesterday, the troll-tastic Whitlock had harsh words for Hoke's Michigan program including some shots at Taylor Lewan, Derrick Green and Shane Morris.  
Whitlock labeled this year's edition of the Wolverines "soft and low character", largely due to his issues with Lewan's continuous examples of dirty play amid thoughts the kid has resorted to such tactics as a result of not properly preparing for his senior season. Yesterday, Hoke took the opportunity to defend his hot-headed lineman:
"People can have opinions and they can say anything they want about me, I really don't care to be honest with you, we're trying to build men (here). But people don't know what Taylor Lewan has done inside Schembechler Hall and on that practice field and he's tried every bit to help these young guys come further along."

"For someone to take shots at the players and the kids ... To take shots at the kids, when you don't know, is really unfair."
Despite the rift between the two supposed friends and Cardinals, the two have reportedly teamed up to donate $10k to the university for the purposes of transporting two bus loads of Ball State students to the upcoming game at undefeated Northern Illinois. Pretty cool move, as much as I hate to admit it.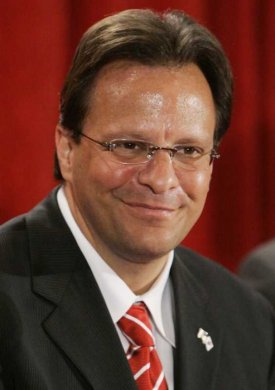 TITUS TALKS B1G HOOPS. For all the shortness of breath The Shark causes with his witty writing, if there's one thing the dude knows, it's 90's wrasslin' B1G basketball. 
Yesterday, Titus took a stab at handicapping the upcoming conference season and the nuggets flowed in a way that would make a Nate Newton blush. 
Michigan State is his overwhelming favorite to win the league, just like everyone else, and Sparty stands as his only B1G team capable of winning the national title. The Spartans only lose Derrick Nix, leaving vets Keith Appling, Adreian Payne, Gary Harris and Branden Dawson. 
Historically speaking, it sounds like Sparty has a terrific chance of at least reaching the Final Four considering every single four-year player during Tom Izzo's tenure has accomplished the feat, meaning Appling and Payne are on the clock. 
Titus likes Ohio State as the 2nd best team in the league, joining me in thinking Michigan is a bit overrated this year as experts seem to give little credence to the fact they must replace a dominant backcourt that featured Tim Hardaway Jr. and national player of the year, Trey Burke. 
Looking at nine of the last 10 teams to lose the NPOY,most struggled mightily to remain legit the following season with just one team going as far as the Elite Eight ('08 Texas/Durant). Two teams actually posted losing records the following year ('06 Utah/Bogut and ('10 Oklahoma/Griffin) with two others seeing their season end in the NIT. 
Finally, out of undying love for his school, Titus invented a category for Craft dubbing him the Best Senior With a Slim Chance at an NBA Career. I've said it before that I don't think Craft has a shot at the next level because his jumper is so suspect – though I'd obviously love to see it – and Titus shares the same thought unless Craft can develop a dependable deep jump shot.
Titus also has a great riff on why Tom Crean is a choad as he wonders why in the hell Hoosier fans are so forgiving of his many flaws. 
MATTA LANDS A (SORTA) BIG. While all eyes were fixed on the Oregon/Stanford tilt, Thad Matta hauled in a 6'9" power forward from the class of 2014 though 6'9" Payton Dastrup won't join the Buckeyes until 2016, following a two-year Mormon mission. 
Dastrup is a consensus 4-star prospect who runs the floor pretty well for a man of that height with some junk in the trunk. He chose te Buckeyes over BYU, Florida and Virginia. 
NO TAKEBACKS? After resigning last week amid reports he had been seen using both the booger sugar and the hippie lettuce and that he failed to supervise his staff, namely defensive coordinator Pete Rekstis, former Florida Atlantic head coach Carl Pelini wants his job back. 
Pelini's case is that he was forced to resign after AD Patrick Chun seized his phone and denied Pelini any legal counsel. Pelini also alleges the meeting amounted to a contract violation based on a clause in his deal that he must be provided written notice and a 30-day investigation period in the event shenanigans are believed to be afoot. 
At this point, Chun has zero interest in bringing Pelini back and believes the school has "ample evidence" that justifies their intentions of moving on without Pelini, who was 5-15 during his brief tenure in Boca Raton. 
 QUICK CLICKS. Lay's to roll out chocolate-covered potato chip (finally)... Hallelujah... Can't believe I ever thought "stepping" on a Lego would be the worst pain ever... Twitter soars 73% in stock market debut... #MICROPHOWNED... OSU a #3 seed in the 1st Bracketology of the year... One last Halloween costume: Abraham Drinkin... Gatorade Releases New Performance Suppository... These are sick... Ex-Rutgers hoops coach Mike Rice: "I've changed"... The 29 Whitest Family Photos of All Time (slightly NSFW).