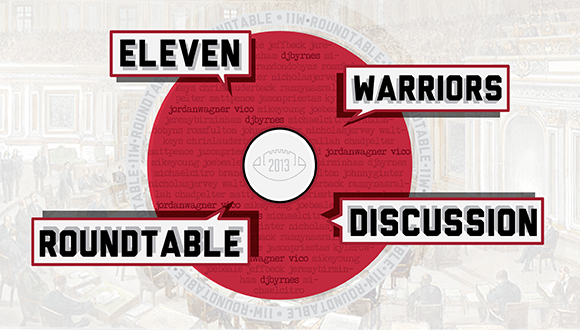 It's the home-stretch ladies and gentlemen. November is the month that separates the blue-bloods from the Melvins. To help guide you through these trying times we've got the best Buckeye bloggers in the nation on tap. This week it's Vico, Jordan and DJ. 
Everyone here? Alright, let's hit it.
Braxton Miller played the best football game of his life last week. Does his upward trajectory continue, or is this Braxton's ceiling?
Vico: Good question. I think this might be close to Miller's ceiling. If it is, it's still a phenomenal ceiling. Miller is 40/51 for 474 yards, five touchdowns to no interceptions. In addition, he has run for 170 yards (5.8 yards per carry) and two touchdowns. That's about as good as it gets, considering Ohio State's other offensive options.
I think the concern for Miller going forward is improving his psyche when things are not going well. Miller has played great the past two weeks, but those games were at home. Consider it a lurking variable. Still, I remember how lost and confused he looked through stretches of that Northwestern game, a contest which does not look any better for the Buckeyes in the rearview mirror with Northwestern still winless in Big Ten play. Ohio State has three more road games on the schedule. If our line isn't protecting him like it wasn't in Evanston, does he retreat into his shell?
In short, if his decision-making and mechanics are about as good as they could be right now, I don't think Miller is close to his "ceiling" in composure. At least, I don't think we know right now.
Jordan: I don't know how much better he could have played last week. The schedule is pretty weak coming up (@Purdue, @Illinois, vs. Indiana) and their defenses are poor. This should be a good stretch to really keep working with Braxton and getting him to 100% comfortable level with the offense.
His potential is limitless. I'm a little worried that if he keeps playing well that he might consider testing his draft stock. If he comes back next year, he will have all the tools to win the Heisman. The weapons he will have around him will be unreal, although losing Hyde, Philly Brown and the offensive line will hurt. 
DJ: I don't think we have seen Braxton's ceiling yet, which should terrify the Big Ten, because I assume Braxton is coming back next year. He still has a few mechanical breakdowns/throws he misses a game, something I assume he'll work even harder to iron the kinks out of this summer. Hopefully Herman is back for one last ride too.
I'm gonna say it. Carlos Hyde is one of the best Buckeye running backs I've ever seen. Do you agree? Disagree? Why?
Vico: It's tough. I think the issue in that statement is that Carlos Hyde is playing in an offense that is at least tailored for the modern game of football. I remember BKABing Carlos Hyde a couple years ago, where, if I recall correctly, I labeled him as a nimble-footed powerback in the mold of P.J. Hill, then of Wisconsin. I think I've been vindicated, and then some, in that comparison.
Hyde's speed for his size clearly make him a factor. The dude also falls down for three yards, which is fantastic. I still think Beanie Wells is the best tailback any of us have seen in the past 15 years in an Ohio State uniform. His problem was that he played in an offense that voided his warranty as soon as it could.
Jordan: I'm young and I'm not really a football historian. I've never had the opportunity to watch Eddie George or Archie Griffin. Heck, I was seven or eight when Clarett played. So, I'd definitely say he is one of the top Buckeye running backs I've ever seen. If Hyde didn't get suspended, he'd probably be very close to 1,000 yards right now. Even with a three game suspension and only five carries against Florida A&M, it's looking like he is a lock to finish with 1,000 yards. Hyde has to be rising up the draft boards. It's looking like he'll have the best NFL career of the recent Buckeye RBs in the NFL.
DJ: Carlos Hyde is my favorite Ohio State player in a long time. He could've quit on the team once he took a suspension that wouldn't have happened at 95% of other BCS programs, but he didn't. He laid in the cut for his time to shine, and now he's producing. Not taking a single yard for loss on every carry this year? Absolutely ridiculous. Love his patience and his game, and I hope the Cleveland Browns draft him next year.
What do you have to say to some in the media who were outraged by the Buckeyes pinning 63 on PSU last week?
Vico: *yawn*
Jordan: The only way Urban Meyer and the Buckeyes could make the national media happy is to lose a football game. It's obvious that the same writers troll Buckeye fans for increased page hits. It's a different reason every week to hate on Ohio State. The Buckeyes blow out Penn State and they are accused of running up the score. Win by three TDs and they're unimpressive.
I don't care what the national media thinks of Ohio State. Just win, baby. Ultimately, it's going to be proven one way or another on the field.
DJ: F@*k them. Sorry for the language, but that's about the only phrase that truly fits my mindset. This isn't intramurals, brother. Each team pays some guy hundreds of thousands of dollars with the sole task of stopping the other team's offense. If he or their team isn't getting it done, why should Urban call on third and fourth stringers? DO BETTER.
Ross Ade Stadium has been a house of horrors for Ohio State recently. Why will it be different this time around?
Vico: I guess I should not get ahead of myself, but I think the difference here is as much about Purdue as it is Ohio State. Ohio State was a decent squad when it visited in 2009, and was a bad squad when it visited in 2011. Purdue wasn't much better in those contests. It is absolutely hopeless this season. Meanwhile, Ohio State looks as good as it gets in the conference.
I think that's the difference. Purdue isn't just bad this year. It's hopeless.
Jordan: I think it's going to be a lot different. Urban's in control now. He's a master motivator and  a psychology major. The upperclassmen have lost to Purdue. The sting is there. Jack Mewhort has stepped up as a leader on this team and I don't think he is going to let the team lose focus. The coaching staff really has the team focused on one game at a time. The team and the staff just refuse to lose. 
Purdue is pretty bad. The offense and defense played their most impressive game last week. I'm sure Meyer is pushing for a repeat performance of last week. 
DJ: Yes. Purdue is HISTORICALLY terrible this year. If Ohio State can't come close to covering the -32 spread, then yes maybe there is a gypsy curse on that awful ground.
Dontre Wilson saw some increased PT last week. Will it be the same this Saturday? What's his end-of-game stat line?
Vico: I think so. Wilson is still a bit one-dimensional, though I did see him trying to mix it up in run blocking against Penn State. Unlike Elliott after Florida A&M, I think Wilson gets snaps because he's unlike anything Purdue has the capacity to defend right now. My guess is 50 total yards of offense.
Jordan: We should see plenty of Dontre Wilson this weekend. I'm waiting for him to break a big one. The thing with Dontre is he is such a weapon just being on the field. He doesn't even need to touch the ball to have a big impact. It's hard to predict a stat line for Wilson. I'll say four carries for 38 and two receptions for 42 yards a TD. He's going to be a beast next year.
DJ: The Jitterbug! (He puts the boom boom into my heart!) Dontre is starting to embrace blocking, and given this game will be over at the end of the first quarter, Dontre will definitely be featured heavily. No clue what his end-of-game statline will be, but it will be impressive.
Purdue is ranked 93rd in the nation against the run giving up nearly 5 yards a carry and 192 rush yards per game. How many rushing yards will OSU put up Saturday? Who gets the majority?
Vico: If all goes according to plan, Ohio State may get something like 300 rushing yards this contest with no one player getting a majority of it. Hyde may get the most, but not the majority.
Jordan: The team might get close to the 408 yards rushing they had against the Nittany Lions. I'm thinking Tom Herman is going to want to come out passing the first possession or two, especially the bubble screens and short passes. After that, get Hyde established. I'd prefer not to have many designed QB runs this game, unless it turns out to be a good game.
It's looking like Carlos Hyde is destined for another 150 yard rushing day. As long as he stays healthy, he should be Meyer's first 1,000 yard rusher. I think Ezekiel Elliott could break 100 yards this week. He has a future in the NFL. He should get some snaps against Purdue. Jordan Hall, Rod Smith and Dontre Wilson will also get plenty of carries, if it is a blowout. 
DJ: Ohio State will go for over 250 yards rushing on Saturday. Carlos Hyde will be the coal that drives that train.
What is your final score prediction?
Vico: 48-7, though I'm always anxious predicting Ohio State routing a team. I thought that Northwestern game would be much easier than it was.
Jordan: 56-10 Ohio State.
DJ: 67-0. I don't see how Purdue scores; they haven't taken a red zone snap in two weeks and now have to deal with an Ohio State defense coming off its best performance of the year and looking to prove it was no fluke.
Miami and Florida State play this week, but the Hurricanes looked a little shaky in their last outing against Wake Forest. Who wins this matchup and why?
Vico: I feel good about Florida State. I actually called the Seminoles doing to Clemson what they ended up doing to Clemson. I softened that message when talking to a few of Clemson's football players (true story), but, yeah, I called Florida State beating Clemson like it stole something. I didn't think it would have looked that bad (my guess was 38-10), but, yeah, Florida State is that good and Clemson was that much of a fraud.
Same holds for Miami. Miami is a paper tiger among the undefeateds. That win against Florida was as fluky as it comes and the wins against North Carolina and Wake Forest do not lend themselves to confidence in Miami's ability to play against Florida State in Tallahassee. I expect Florida State to win big.
Jordan: I hope Miami can pull off the upset because it's looking like the Seminoles could win out. I'm picking Jameis Winston and Florida State to win this game. I saw the spread was at -22. FSU is legit, but everyone in college football is beatable, this season. The Hurricanes are overrated. 
DJ: Miami (+22) is going to win this game. "Advanced metrics" of these teams are similar, according to President Harding. Also, Jameis Winston is about due for a game where he doesn't look like an NFL player playing in NCAA.
Would you rather share a bed with Brady Hoke after a chilli eating contest or bring back Jim Bollman to coach the offensive line against Purdue?
Vico: Hoke, and a cyanide pill, with a medium-sized lemonade. To go.
Jordan: I'll take one for the team and share a bed with Hoke after a chili eating contest. How bad could it be? Jim Bollman is toxic. The lineman would probably forget how to block in the week he was the coach. We all have suffered watching a Bollman "coached" offensive line for years. 
DJ: Death. I choose death.