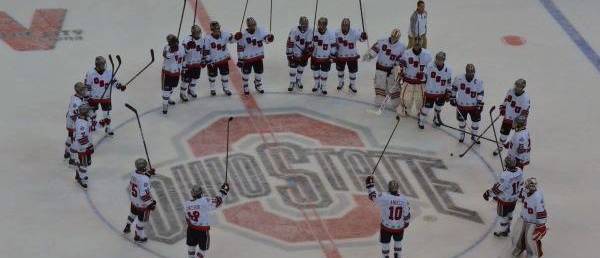 Bowling Green Brief
In a few short hours the Buckeyes will play host to Bowling Green, because Tuesday night hockey games are just so gosh darn awesome. It's the first of seven consecutive home games for the Scarlet and Gray. The puck drops at the Schott at 7pm. If you can't make it, be sure to check out Ohio State's gameday page for all your audio, video, and social media game-following options.
Unless you're memory-challenged or have developed amnesia in last two weeks, you'll recall that the Falcons wrested victory from the Buckeyes in the first game of their series thanks to a thrilling (for Bowling Green fans) four-goal comeback. Later that week BG welcomed Colgate to town by playing the Raiders to a 1-1 tie before crushing them 7-0 the following night. All told, the Falcons outshot Colgate 89-40 in the series. 
Bowling Green had a bye last week so they come into tonight's game well-rested. Senior forward Bryce Williamson has increased his scoring pace since the Buckeyes last saw him. Through five games he has a team leading 4-3--7 stat line. In net Tommy Burke and Tomas Sholl are still splitting the starts. Burke's numbers are a little better, though Sholl recently shutout Colgate to earn his first collegiate victory. 
In his pre-series press conference head coach Chris Bergeron noted that the Falcons will be without senior forward Brett Mohler tonight (fractured foot) as well as junior forward Ryan Carpenter (broken hand). He also made it clear that despite Bowling Green's success (and at the time of taping, Ohio State's winless record) the Falcons won't be taking the Buckeyes lightly:
"I expect them to be upset about the last time we played… I'm sure they feel they let one slip away… I'm expecting Ohio State to be better."  
Robert Morris Recap
Although the schedule is tight this week (Bowling Green tonight, Minnesota-Duluth on Friday and Saturday) we still have to take a minute to talk about the Robert Morris series because SWEEP! Ohio State picked up its first and second wins of the season last weekend. It wasn't all smooth sailing for the hockey Bucks, but there were a whole lot more positives than negatives.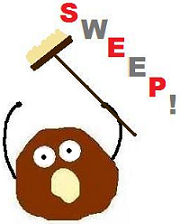 What Went Wrong
The Beginning: The opening minutes of Friday's game were ugly. Two of Robert Morris' first three shot ended up in the back of the net. Olson didn't look particularly sharp but his defense also didn't do him any favors by letting the Colonials pitch a tent in the low slot.
The End: Ohio State dominated the first two periods of the game, but Robert Morris really took it to them in the third and very nearly pulled off a Bowling Green-esque comeback. I had all kinds of trouble trying to get the radio broadcast so I can't say for sure what happened to give the Colonials a foothold in that game, but the Buckeyes' ability (and/or struggle) to close out games may be something to keep an eye on as the season goes along.
Man-Disadvantage: Bobby Mo only had six power plays in the series but cashed in on half of them. 50% is never a sexy penalty kill percentage. Also the Bucks made the end of Friday's game much more interesting than it should've been by taking three penalties in the final six minutes of the game.
A few more crankypants complaints: I bet I find Jimmy Hoffa before I manage to locate the one concession stand at the Schott that sells hot chocolate… Crap. Those excessively leafy jerseys are lucky now, aren't they?… I would've liked to check my notes from Friday against the game highlights but instead of a regular highlight video, it's now just clips of the Buckeyes' better moments set to the soundtrack of the press conference; no goals by the opposing team and no play-by-play. Fancy? Yes. Helpful? Not so much…. Also Ohio State's video isn't embeddable. You'll have to settle for a look at Saturday's game courtesy of the Colonials, who fortunately include goals by the opposing team…
What Went Right
The Middle: From the 8:00 mark of Friday's game to 40:00 on Saturday the Buckeyes outshot the Colonials 72-34 and outscored them 9-1. Dodgy as the other minutes of the series may have been, the 90+ in the middle were impressive. Obviously 120 minutes would be ideal, but this was still a huge step in the direction of total domination.
Man-Advantage: The power play was a key asset for Ohio State last weekend. They moved the puck well and were 4-for-13 overall. They also used their man-up opportunities to climb out of the early hole on Friday night. Four well-executed power plays over a fifteen minute span in the first and second periods were instrumental in OSU keeping the momentum on their side and erasing that early deficit.
Matt Tomkins: Coming on in relief of Collin Olson on Friday, Tomkins kept things simple. He was content to frequently freeze the puck and stop play. Between that and the defensemen quickly moving any loose rubber out of the Buckeyes' end, the Colonials' offense had completely fizzled out by the second intermission. The late flurry of penalties by Ohio State revived them somewhat, but Tomkins made a couple dandy saves to help stifle the comeback. He was, I think, screened on the only goal he allowed in that game and the ones he gave up on Saturday didn't look particularly soft either. Unless I missed something drastic in Game Two I'd say he's made some progress toward settling into college hockey.
The Johnson-Statchuk-Oddo line: The trio was responsible for three goals and five assists in Friday's game. It was Nick Oddo's first multi-goal game as a Buckeye and the first multi-point game of Travis Statchuk's (or as the autocorrect on my phone kept insisting, "Stat hulk's") college career. It was also Matt Johnson's first multi-point game since he was a fresh-faced rookie, or at least a less lushly bearded rookie.
Still more series goodness: Darik Angeli potted his team leading third goal of the season on Friday… Justin DaSilva's tally in Saturday's game was his second of the season. He's already doubled his goal total from 2012-13 and is poised to destroy his previous career highs in scoring… Tyler Lundey was a faceoff beast on Saturday, winning 17 of 22 draws… Also on Saturday, freshman defenseman Drew Brevig notched his first collegiate goal. (It was only a matter of time until he cracked the score sheet given the power play minutes he's garnered this season)… The pregame visuals are excellent this season, from the "How It's Made" clips to the interviews to the killer team intro video… My grandma knew Ohio State won before I told her so apparently Channel 10 reported their victory at some point this weekend. It's nice to have the local news spreading the good word about Buckeye hockey.
Short Shifts
Nick Oddo's two goals and an assist earned him Big Ten First Star of the Week honors.
Check out some more photos from Friday's win in Rachel Lewis' gallery for USCHO.
The Buckeyes' weekend success didn't impress Greg Garno of The Michigan Daily, who predicts the Wolverines will not be beaten in their remaining 2013 games which includes a home-and-home series with Ohio State.
OSU got verbal commitments from two forwards last week. One from Sherwood Park Crusader and reigning AJHL player of the week Nicholas Jones (press release) and one from the USHL's Waterloo Blackhawks "smart, gritty" John Wiitala, a "really nice get."
Speaking of verbal commits, Luke Stork had one of the USHL's top plays of Week Six. 
In the big leagues, Ryan Kesler shifted to the wing and re-entered "Beast Mode," to the ruination of the St. Louis Blues.
Nate Guenin has earned himself a more permanent role with the Colorado Avalanche. (Bonus "leftover" quotes from Guenin about the 2005 Frozen Four)
C.J. Severyn netted his first goal of the season in an Orlando win vs. Gwinnett (ECHL). Highlights of that game are here. Severyn is No. 8 in white. Also, if you watch closely, you'll catch a glimpse of Devon Krogh, No. 17 in black.
I found a Brady Hjelle article that you can read without the sketchy aid of Google's auto-translator.  
Chris Crane scored the first goal of his professional career in the San Francisco Bulls' overtime loss to the Idaho Steelheads (ECHL). It's a little hard to tell without being able to read the jersey numbers but I think you can see that goal here. 
Cal Heeter stopped 35 of 36 shots en route to his first win of the season for the AHL's Adirondack Phantoms. Check out one of his more impressive saves here.
Kyle Hood and the CHL's Missouri Mavericks are heading out on a road trip.