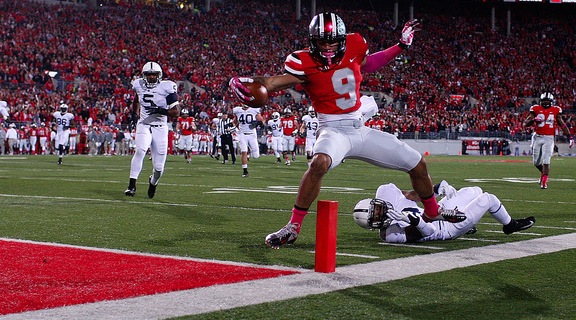 You won't find anyone in the Woody Hayes Athletic Center with an inkling of overconfidence. Ohio State's 63-14 win over Penn State served as an exclamation point for the nation, but it's become old news in Columbus, at least inside the football offices.
The next challenge in a 14-game Chase is Purdue. Head coach Urban Meyer said the sole focus for the Buckeyes is on the present. The Boilermakers won't face a complacent Ohio State team that's rattled off 20 consecutive victories following a 6-7 debacle in 2011. Especially not after Purdue has played spoiler to the Buckeyes so often since the turn of the century.
"I try not to look back too often," Meyer said. "I look back to the beginning of last year and that was very alarming. Now, we're just trying to find a way to get to the next week. We compartmentalize. We're just trying to get the win on the road at Purdue.
"You can bet the focus is very intense."
Coaches will never admit to looking past an opponent. However, if there's ever a week to do so, this is it for Ohio State. It opened as a 31-point road favorite – and should cover with ease.  The first year of the Darrell Hazell has not gone as planned on the field.
Years 1 and 2 for Meyer are just what fans called for – winning. That doesn't mean everything is peachy, though. Perfection might be evident in the win-loss record, but improvement never stops for the Buckeyes. Meyer's a perfectionist who demands untarnished performances.
In 2008, Florida fielded a team that Meyer believed to have few shortcomings. On Saturday night, he saw that type of effort from Ohio State. But overall, he still sees flaws in the linebacker corps.
"The linebacker position is still not solidified yet. We're not Ohio State expectation level at the linebacker position," Meyer said. "After this past week, I think most other positions played at a very high level. So linebacker is one area we're keeping our finger on hard, because we need to improve the level of play and the number of linebackers we have in the program."
One of those linebackers is Devan Bogard. His season has come to an end, though, for the second straight season. A torn ACL in the same knee as 2012 will sideline Bogard, who recently made the move from cornerback to Will linebacker. The sophomore, injured in Game No. 8 last season, has been a major contributor on special teams both years with the Buckeyes.
"Just crushing," Meyer said. "Great kid. He's actually very positive about it. He's going to have surgery this week. Big blow."
"It's tough for all of us, but when you're in this business for what you do it's much tougher knowing what the kid's going through," said defensive coordinator and linebackers coach Luke Fickell.  "The real thing that hits hard is this kid is going to go through another situation like that, and how can he handle it and how tough and how strong mentally to go through another battle like this. So that's what pulls at you."
After garnering Big Ten player of the week honors for his career game against Penn State, Braxton Miller became a topic of conversation. How much has he improved from last season, and how much better can he still get? Meyer was quizzed on both subjects. 
"I anticipated he'd be better, but he's a little better than better. That's my master's degree from Ohio State," Meyer said, chuckling. He said Miller's fundamentals and knowledge have the offense have taken off this season.
"You're talking about an incredible release, arm strength," Meyer said. "There's still some things, he cowboyed it a few times, which means when the play broke down he panicked in the pocket when he didn't have to. We already had a meeting this morning about it.  He needs to know where his check down is. Those are just two things from this past game he needs to work on. He panicked in the pocket three or four times to the point where he didn't know where his check down was. That's a problem. That's not good quarterback play."
All said, though, it's hard to complain about Miller's past two games. And Meyer, a psychological major, pointed out it's not a coincidence Miller returned to his 2012 roots after the emergence of Kenny Guiton and a sighting of the ol' right-hander warming up during the Northwestern game.
"He knows the guy behind him know," Meyer said. "The friggin' stadium is calling his name. He better be pretty good."
[Photo: Kirk Irwin Photography]