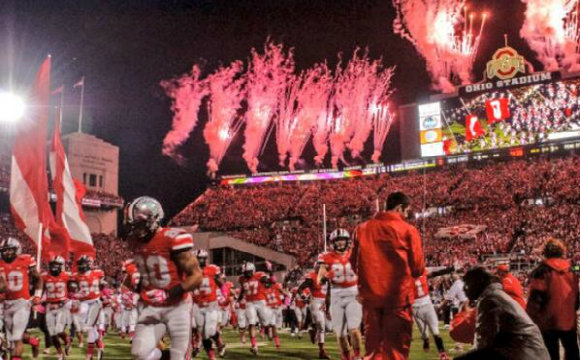 We're inching closer to the ending of many high school football seasons with November upon us. With their seasons wrapping up, many prospects will begin to switch their focus over to their respective recruitments. 
The Big Ten welcomes four new football pledges this week, as Penn State, Rutgers and Wisconsin all added 2014 recruits. The Badgers continue to recruit well, gaining two new commitments. 
Despite the latest commitments, we saw no movement in our B1G football recruiting rankings. 
This past weekend, the Buckeyes hosted dozens of prospects for the win against Penn State. Five-stars Raekwon McMillan and Tony Brown wrapped up their visits today. Highly rated defensive lineman Solomon Thomas and Malik McDowell were surprise visitors. Birm recently predicted Thomas to Ohio State, so Buckeye fans should keep a close eye on this situation moving forward.
As expected, Ohio State didn't land a commitment, but the top prospects left impressed. 11W has plenty of updates on many of this weekend's visitors. More will come throughout the week.
Now, on to the rankings:
14. Minnesota
Every recruiting service has the Gophers in last place in their Big Ten recruiting rankings. A large part of the low ranking is due to only having eight commitments. Minnesota was always expected to have a small class, so this shouldn't be too alarming. 
Canadian sleeper Julien Kafo has recently received three Minnesota crystal ball predictions. Iowa and Nebraska are also after the unranked defensive end. 
Commitments: No new commitments this week. 
Visitor news: The Gophers will head to Bloomington to take on Indiana, therefore they will not be hosting any recruits this weekend. 
13. Purdue
It's Purdue's turn to lose to Ohio State (hopefully). Ross-Ade Stadium will almost surely be half-filled with Scarlet, especially because Purdue is really struggling and fan support is pretty bad. Jeff Heuerman called West Lafayette a "gray city", which might be why no recruits want to go there. 
It's looking like Boilermakers could lose one of their top commitments, Drue Tranquill, to Notre Dame.  
Commitments: No new commitments this week.
Visitor news: With Ohio State coming to town, Purdue will look to host some of their top underclassmen prospects. While Purdue has called for a Black Out to boost the atmosphere, expect half of the crowd to be Ohio State fans. Not exactly a great environment for recruits. 
12. Illinois
Ron Zook and Mike Locksley proved that you could attract some top talent to Champaign, but Tim Beckman has yet to figure that out. You're not going to be able to compete against the big boys by recruiting MAC caliber prospects. The Illini will continue to be a middle-of-the-pack team until they somehow hire a capable coach and recruiter. I'm not convinced that Beckman is that guy.
Commitments: No new commitments this week.  
Visitor news: The Illini will be traveling to play at Penn State, so no visitors this weekend. 
11. Indiana 
Much like the other bottom B1G teams, Indiana has struggled to recruit at a Big Ten level. The Hoosiers desperately need an influx of talent on the defensive side of the ball, but it doesn't appear like that will be coming anytime soon. Kevin Wilson's job is probably safe because can Indiana really hire anyone better? It's Indiana. 
Commitments: No new commitments this week.
Visitor news: Minnesota will be traveling to Bloomington, but I wouldn't expect the Hoosiers to host many highly rated prospects. There are no official visitors scheduled, but these lists change in a hurry. 
10. Maryland
Mike Locksley wasn't the best head coach, but he has proven that he can recruit against the best. The Maryland assistant is credited with landing five-star Stefon Diggs. He is the main recruiter for five-stars Jalen Tabor and Damian Prince, both of whom are leaning towards Maryland. Could he be a candidate for OC if "Texas Tom" Herman takes a head coaching job?
Commitments: No new commitments this week. 
Visitor news: The Terrapins are on a bye week, which means that Randy Edsall and his staff will be hitting the recruiting trail hard. 
Last weekend's visitors were led by five-star Jalen Tabor. It's looking like Tabor will stay close to home and play for Maryland. 
9. Iowa
The Hawkeyes have been a surprise on the football field and also have put together a decent recruiting class. Despite losing their top commitment to Alabama a few months ago, the Hawkeyes are still poised to finish in the top ten of the Big Ten recruiting rankings. 
Unranked linebacker Parker Hesse could be the next commitment for the Hawkeyes. His only other offers are from non-Division-I schools. 
Commitments: No new commitments this week. 
Visitor news: Iowa will host Wisconsin, Saturday. It doesn't look like the Hawkeyes have any official visits scheduled, but Iowa recruiting news isn't easy to come by. 
8. Nebraska
Bo Pelini has been recruiting numerous committed prospects hard. Likewise, other schools have recruited his commitments. The Cornhuskers have already lost one commitment to Texas and could lose another to Oklahoma. Three-star corner back Trai Mosley was recently offered by Oklahoma and could flip. Bo Pelini being on the hot seat is definitely going to have an impact on recruiting. 
Commitments: No new commitments this week.
Visitor news: Northwestern will travel to Lincoln this weekend. Four-star JUCO defensive end Claudeson Pelon is scheduled to be on an official visit. Pelon is favoring Washington, but the Huskers have an opportunity to impress him this weekend.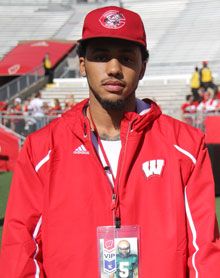 7. Northwestern
Northwestern has been pretty quiet on the recruiting trail. Four-star corner Parrker Westphal continues to favor Northwestern, but it appears he is holding off on committing. The Wildcats started off the football and recruiting seasons hot, but have slipped in both. 
Commitments: No new commitments this week.
Visitor news: The Wildcats will travel to Nebraska. No visitors for the Wildcats. 
6. Michigan State
It's the Spartans' turn to host a big recruiting weekend. MSU will have many of their top remaining targets in attendance this weekend for the Michigan game. It could go a long way in helping Mark Dantonio finish off his best recruiting class. The Spartans could land a commitment. 
Commitments: No new commitments this week.  
Visitor news: Michigan State will host rival Michigan, Saturday. Plenty of recruits are expected to head to East Lansing, including Kadeem Goulbourne, T.J. Harrell, Jamil Kamara, Chris James, Montae Nicholson, Jauan Wesley and numerous other prospects that are listed as tentative. It's an important weekend for the Spartans and a commitment shouldn't be ruled out. 
5. Penn StaTe
The Nittany Lions added commitment number 16, but Wisconsin adding two commitments prevented PSU from moving up in our rankings. The lessened scholarship reductions have had a big impact already. Bill O'Brien has already stolen one recruit from Urban Meyer and it's possible that he could land four-star defensive tackle Thomas Holley, as well. Holley is a private kid, but there has been rumblings that the Nittany Lions hold a very slight edge. 
Commitments: Penn State remains hot on the recruiting trail with the commitment of three-star linebacker Jason Cabinda. The former Syracuse commitment becomes the second consecutive "flip" by Bill O'Brien. The 6-foot-1, 220 pound linebacker had offers from Boston College, UConn, Maryland, UMass, Navy, Old Dominion, Syracuse and Temple. 
Visitor news: The Nittany Lions will return home after being defeated by Ohio State. Penn State recently hosted a huge recruiting weekend for the Michigan game, so many of their top prospects have just recently visited. 
4. Wisconsin 
Gary Andersen has recruited well in his first season as head coach of Wisconsin. He's already recruiting at a higher level than Bert Bielema was. Wisconsin is expected to take over 25 commitments, so they are destined for a top five finish in our rankings. Five-star Joe Mixon has named Wisconsin and Oklahoma as his top two. Landing Mixon would continue Wisconsin's tradition of great running backs. 
Commitments: The Badgers continue their recruiting hot streak with two more commitments. Wisconsin started off their week with a commitment from versatile TE/OT Beau Benzschawel, The two-star Wisconsin native held offers from Bowling Green, Central Michigan, Iowa State, Syracuse and Wyoming. Jeremy Patterson, a three-star defensive tackle from Georgia, was the second of the week. The 6-foot-3, 311 pound prospect selected the Badgers over Clemson, Florida, Florida State, N.C. State and North Carolina. 
Visitor news: The Badgers' staff spent their bye week on the recruiting trail, which resulted in the two commitments. This week, Wisconsin travels to Iowa. No visitors this weekend.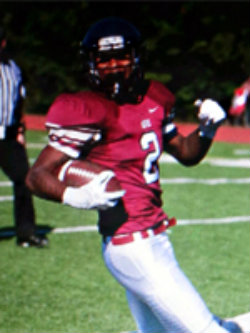 3. Rutgers
Rutgers' class stands at 25 and they still aren't done. Their class is solid, but some of the earlier commitments were reaches. It's unclear if the Scarlet Knights will have room for the remaining prospects on their board. Some of their top remaining targets are expected to officially visit on December 6. 
Commitments: The Scarlet Knights added their 25th commitment when unranked Andre Boggs committed this week. Boggs, a 5-foot-11 inch cornerback, did not have any offers due to grade concerns. 
Visitor news: After being blown out by Houston, Rutgers will look to rebound as Temple heads to town for a noon game. With 25 commitments, 2014 recruiting is winding down. The next big recruiting weekend for Rutgers is Dec. 6 when four '14 prospects are scheduled to officially visit. 
2. Michigan
It's status quo for Michigan's '14 class. Wolverine fans are anxiously awaiting Da'Shawn Hand's announcement, Nov. 14. Hand seemed to be very impressed with his recent visit to Alabama, but insiders remain confident about Michigan's chances. Another top Michigan target, Malik McDowell, visited Ohio State this past weekend. Wolverine fans shouldn't be worried, as McDowell is widely considered a Michigan "lock."
Commitments: No new commitments this week.
Visitor news: Michigan's coaches traveled throughout the country during their bye week to visit many of their top '14 and '15 targets. This weekend, the Wolverines will be traveling to Michigan State. No visitors this weekend. 
1. Ohio State
Eleven Warriors has had numerous updates on the top prospects that visited for the Penn State game. We're still trying to get in contact with Raekwon McMillan, who wasn't expected to return home until Monday evening. 
The Buckeyes clearly helped themselves on the recruiting trail. It was great to get some of the top prospects in for a visit. Expect to see the coaches visiting the top targets during the upcoming bye week. 
Commitments: No new commitments this week.
Visitor news: The Buckeyes will travel to Purdue after hosting a huge recruiting weekend. As discussed elsewhere, Ohio State blew away their visitors. After the Purdue game, Ohio State will be on a bye week, which will allow the staff to hit the roads to recruit. 
---
Rankings Overview
| No. | School | Commits | Scout ★ AVG | Rivals ★ AVG | 247 ★ AVG | ESPN ★ AVG | Overall ★ Avg |
| --- | --- | --- | --- | --- | --- | --- | --- |
| 1 | Ohio State | 18 | 3.72 (6) | 3.61 (3) | 3.89 (3) | 3.72 (10) | 3.74 |
| 2 | Michigan | 16 | 3.56 (13) | 3.47 (17) | 3.44 (10) | 3.86 (6) | 3.58 |
| 3 | Rutgers  | 25 | 2.92 (19) | 2.83 (22) | 2.92 (22) | 3.17 (18) | 2.96 |
| 4 | Wisconsin  | 18 | 3.17 (26) | 2.94 (28) | 3.11 (26) | 3.00 (36) | 3.06 |
| 5 | Penn State  | 15 | 3.27 (28) | 3.13 (30) | 3.33 (30) | 3.40 (25) | 3.28 |
| 6 | Michigan State | 16 | 3.13 (27) | 3.13 (36) | 3.40 (33) | 3.29 (39) | 3.26 |
| 7 | Northwestern | 13 | 3.08 (39) | 3.08 (46) | 3.31 (41) | 3.31 (NR) | 3.20 |
| 8 | Nebraska  | 13 | 3.08 (45) | 3.00 (45) | 3.15 (47) | 3.23 (38) | 3.12 |
| 9 | Iowa  | 15 | 2.73 (47) | 2.73 (51) | 2.80 (49) | 3.07 (NR) | 2.83 |
| 10 | Maryland  | 11 | 3.00 (50) | 2.91 (55) | 3.00 (45) | 3.36 (NR) | 3.07 |
| 11 | Indiana  | 14 | 2.86 (53) | 2.64 (61) | 2.71 (60) | 3.00 (NR) | 2.80 |
| 12 | Illinois | 14 | 2.62 (66) | 2.69 (62) | 2.62 (66) | 3.00 (NR) | 2.73 |
| 13 | Purdue  | 10 | 2.90 (65) | 2.70 (71) | 3.00 (68) | 3.00 (NR) | 2.90 |
| 14 | Minnesota | 8 | 3.00 (69) | 2.88 (75) | 3.14 (79) | 2.86 (NR) | 2.97 |
Number in parentheses is national rank