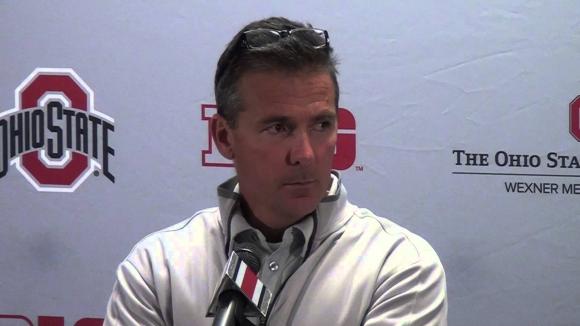 Rarely has Ohio State displayed so much weaponry. But on Saturday night Braxton Miller, Carlos Hyde, Devin Smith, Philly Brown, Dontre Wilson and an assortment of other Buckeyes overwhelmed Penn State in the third-best offensive output in school history.
Neither Miller's arm nor legs could be contained, Hyde bull-rushed his way up and down the field and the receiving corps proved too much for a depleted Nittany Lion secondary.
And the Buckeye defense had the horses to match. Noah Spence and Co. harassed Christian Hackenberg for two-plus quarters before the beating became too much. An injured shoulder sidelined the freshman quarterback in the third quarter.
Last week, Urban Meyer told his team they're in the thick of title hunt and to embrace what lie ahead. Consider the message delivered and received.
Next on the docket is an already overmatched Purdue Boilermaker team. Still, it gives Ohio State yet another opportunity to light up the scoreboard and make itself stand out to voters.  
"I like where we're at right now," Meyer said. "I like where we're at as a team."
Urban Meyer
Champions vs. Penn State: Offense: Marcus Hall, Corey Linsley, Jeff Heuerman, Nick Vannett, Devin Smith, Chris Fields, Philly Brown. Carlos Hyde and Jack Mewhort co-offensive players of the game.
Ryan Shazier, Doran Grant, CJ Barnett. Bradley Roby and Noah Spence co-defensive players of the game
Special Teams: Jordan Hall, Craig Cataline, Dontre Wilson, Cameron Johnston.
Meyer said he was very impressed with first half against Penn State. Said he worried about physicality of Iowa game hampering OSU.
Meyer reiterated his thoughts after game Saturday, that the offensive line is as good as he's ever seen.
"I'd take this offensive line over any that I've seen. Tremendous players, work ethic, cohesiveness."
Any issues Meyer inherited could be fixed, he thought. He's not surprised they've had a quick turnaround. "I had so much respect for Ohio State and previous coaching staff," Meyer said.
Meyer confirmed Devan Bogard tore his ACL Saturday. Same knee as last year. Meyer called it a "crushing blow." Bogard will have surgery this week.
"We want to be a disruptive defense, and we will be a disruptive defense." Meyer said the defensive continues to get better.
Meyer said he saw energy and pulse on defense Saturday that wasn't evidence the previous couple weeks. Part of that was the loss of Christian Bryant. Meyer said the team is starting to overcome the loss of his energy.
"Ryan Shazier is one of the best blitzers in the nation."
"If that doesn't happen, it's a different ball game." –Meyer on Pittsburgh Brown's interception.
Dontre Wilson touched the ball more and had a fairly big stat day against Penn State. Meyer pointed out that it coincided with doing more than just carrying/catching the football. Wilson was blocking on several plays. Meyer said Wilson has already gained 15 pounds. He said he'll be even bigger next season. Called him a great practice player.
Meyer believes Braxton Miller is improved fundamentally and has a much better understanding of the offense as compared to last season.
"I anticipated he'd be better, but he's a little better than better." -Meyer on Braxton Miller
Meyer said they have plenty of people in the football facility that keep players motivated during 20-game win streak. He said they coach hard.
On Bloody Tuesday, Meyer said they treat the offense like it's the worst in the country.
Meyer, a psychology major, said it's not a coincidence that Miller has played better since backup Kenny Guiton started warming up at Northwester.
Meyer says most every position on the field has played at a high level in recent weeks. But he still wants "Ohio State level" linebackers. Meyer said the 2008 Florida team was the only one he's coached that was great across the board. Saturday was that way for the Buckeyes, he said.
Luke Fickell
Fickell said working with the linebackers is a "daily grind."
Tyvis Powell, Vonn Bell and Trey Johnson were young guys that got extensive playing time and looked good under lights, according to Fickell.
Fickell said he tried to talk former OSU linebacker Marcus Freeman out of coaching. Freeman is Purdue's LB coach.
"Football is a game about momentum. When you have it, you want to keep it." –Fickell on Brown's interception. Fickell said it wasn't only big for Brown's confidence but also the entire defense.
Meyer goes around to each meeting room to be a sounding board for each position group. Fickell said it brings a lot to the defense because of Meyer's offensive prowess. The conversation always elicits new ideas and ways to improve.
Ohio State hasn't lost in two year (Fickell's final game as head coach). He said a majority of the reason why is leadership. He said there is no substitute for it. Said players have bought in 100 percent.
Shazier has distinguished himself as one of the top blitzers in the country. Fickell said it's all instincts and timing. Shazier understands the blocking schemes and is able to get everything down pat. Fickell said it's a talent that comes naturally.
Ohio State gave up a great number of explosive plays last season on defense. Fickell said the team learned its lesson. "It's a leverage issue and guys going fast to the football."
Fickell said an injury like Bogard's is tough because you're in this business to shape kids. For team purposes, Fickell said someone will step up.
Tim Hinton
Asked about Bloody Tuesday practices, Hinton explained that players would be shaking their heads explaining how rough they are if they were in the room. He said it's by design to challenge them for the upcoming game.
Hinton said Heuerman told him last the week the team is full of "really good dudes." He's completely unselfish and doesn't worry about his stats. For instance, the Penn State game called for passes to the tight ends, but the Nittany Lions gameplanned them out of the game.
Heuerman's football intelligence is something that makes him standout, according to Hinton. He added that Heuerman is strong and gifted physically.
"His day is coming at Ohio State." –Hinton on Nick Vannett.