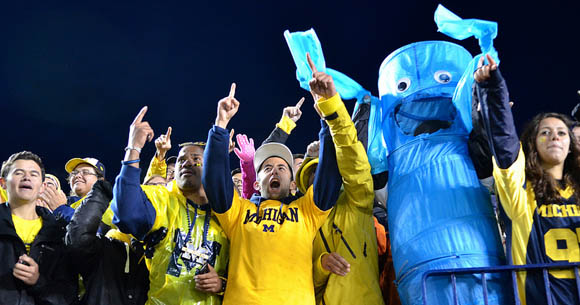 The second and final Bye week for the Michigan Wolverines was needed, as the team returned their glucose levels back to normal after the sugar high that was the Indiana game. 751 yards of offense will do that to a team, and right now it looks like Michigan may not be the hot mess offensively that it was thought to be before playing one of the worst defenses in the country.
Weird how that works out! And convenient timing too, because Michigan now has to step up and take on the best defense in the country (by actually a pretty wide margin, statistically) and hope that insane bombs to Jeremy Gallon work just as well against Sparty as they did against the Hoosiers.
Also: RIVALRY GAME! Lost of neat information to go through in this Bye Week edition of Sun & Bluesday, so check out some of this week's Michigan happenings after the jump.
The Green Man Cometh
Michigan faces a pretty bigass test this coming weekend against Little Brother, and people are not wasting time making comparisons between the two. The Lansing State Journal gets into the act by trying to determine who comes out on top in the coaching department and surprise! It's the dude that they cover most closely.
At this point I think Hoke versus Dantonio is kind of a wash; Hoke obviously has some failings, including his stubbornness and lack of creativity. Dantonio has proven himself to be a very trisky Hobbit when it comes to gameday coaching, but he also hired Jim Bollman to be his offensive coordinator. Honestly I'm looking forward to possibly the most scintillating sideline matchup since Tressel versus Ferentz (or Hoke versus O'Brien).
SIXTEEN BUTTS
Jake Butt is a Michigan tight end who has tallied all of seven catches in 2013, and exactly one catch in the last three games. Which makes him a somewhat unlikely topic for ESPN to write about, much less devote 887 words to (16 of which were "butt"). However this adulation isn't without rhyme or reason:
That emergence from Butt as a blocking tight end created a domino effect of sorts. It allowed Funchess to move and become a more effective offensive threat, and Funchess' performances have made wide receiver Jeremy Gallon more effective, too. All of this together makes Michigan more multiple in its attack and more difficult to scheme against, which will be crucial as the Wolverines face the No. 1 defense in the nation this weekend in Michigan State.
Butt can block. And that's good for Michigan, because their offensive line is the functional equivalent of a wet paper bag trying to contain a 15 pound ham. If he can continue to be an effective blocker, that added dimension means that Michigan is now a team with two dimensions. That's pretty... good.
THE GREATEST DEFENSE IN COLLEGE FOOTBALL HISTORY
I mentioned earlier that Michigan State is, statistically, the best defense in the country. That's a 100% true life fact; Sparty is giving up only 215 yards of total offense per game, and the next lowest total is Louisville with 244.
To give that a little more context, Michigan State has only given up a total of 1724 yards in 486 plays this season. Florida is next in total yards given up with 1912, but they've accomplished that feat in a) one fewer game, b) 74 fewer opponent plays, and c) are giving up over a yard per play more than the spartans.
MLive.com has some choice quotes from Hoke about the quality of the defense that they're playing, and this one stuck out at me the most:
"Really, their defense is as good as any. That's going to be a big challenge for us. Probably five or six pro players on that defense. They do a nice job with it."
How many pro players are on the Michigan offense? One? Maybe?
A.J. NOOOOOOOO
Michigan will have to take on that defense without the assistance of tight end A.J. Williams, who was suspended from the team following an arrest in Oxford, Ohio for drinking and driving. Cool dude, you managed to get arrested for one of the douchiest crimes in the douchiest city in Ohio. No word on how Brady Hoke plans to replace his zero receptions for zero yards, but let it be known that if Michigan loses to Michigan State on Saturday, we can all thank A.J. for his role in the defeat.
RETURN OF WOJO
Last time I did one of these, I found one of the most ridiculous/insane articles I have ever seen a dude get paid to write. This time I picked a Wojo article from the 25th which isn't quite as ridiculous but does feature his favorite go-to diseases for use in jokes:
It's the final season of the Big Ten's Legionnaires and Lepers divisions, and it's up to the Spartans or Wolverines to protect the state's honor against the Buckeyes, who inexplicably received a bye into the championship game.
Then he uses the same joke again in the same column. I'm telling you guys, without hyperbole Bob Wojnowski is the greatest writer of his generation. Period.
Anyway, that's all for this week, next week Ace will be back and he and I will break down the Michigan State game by sorting through the wreckage wrought by two offensive coordinators with the same age (58) and the same football mentality (1940s).