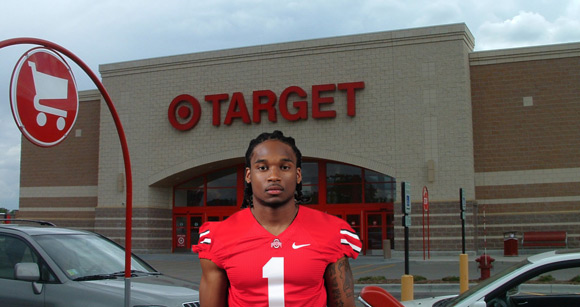 SUNDAY
Bradley Roby was removed from a church service for praying.
Zach Boren was named the Texans' starting QB.
Bradley Roby finally found somewhere that wouldn't kick him out.
And Ohio State was ranked 4th in the initial BS rankings.
MONDAY
Jordan Hall couldn't decide if a math answer was 7 or 2.
The High St. Urban Outfitters announced it would now exclusively sell white Ohio State windbreakers.
And OSU Student Wellness began offering free consent forms -- no means no, but a signature means YES.
TUESDAY
Advice: How to do Halloween at Ohio State.
A physics professor couldn't help but giggle every time he said "shaft."
And Ohio State announced that this week's game was both pink out the Shoe and a scarlet out the Shoe, and as usual, black out in the shoe.
WEDNESDAY
Classifieds: looking to buy PSU ticket for REASONABLE price as opposed to HILARIOUS price.
And lazy students who weren't that lazy decided they'd work out at JO instead of the RPAC.
THURSDAY
One Shoe in front of the others: Why Ohio Stadium is the best stadium.
Charlie Bear closing meant students would need to find a new place to have a decently rapey Thursday night.
And our statisticians were absolutely giddy upon discovering that every other B1G team's last game against Ohio State was a loss.
FRIDAY
An organization was under the impression it was helping a cause by changing its logo color.
We changed our logo color to pink to support breast cancer research.
And a special report dug deep in asking: Is the trip to CVS from campus worth crossing two streets?
SATURDAY
Bradley Roby used his pregame warmup to practice his gentle tackling.
Heads UP fans! Brutus is on the loose and is considered armed and dangerous; please leave through the nearest exit.
TBDBITL faced controversy after finally crossing the line with their halftime performance.
And Ohio State defeated a rival by 7 touchdowns.
---
The Fake Lantern is the fake student voice of The Ohio State University. You should follow them on Twitter: @TheFakeLantern.