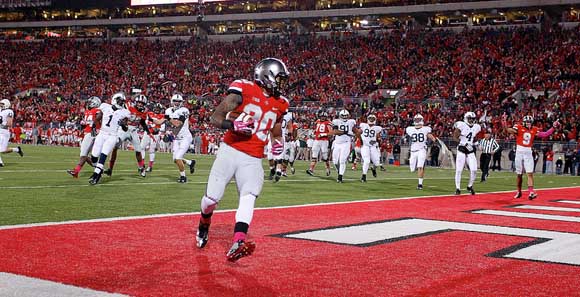 Midway through the third quarter Saturday night, Braxton Miller stood on the Ohio State sideline with a sheepish grin adorned to his face. His work was already done and fan-favorite Kenny Guiton stood in the Buckeye backfield barking out signals.
In just over 35 minutes of play, Miller guided Ohio State to a touchdown on seven of nine possessions and a 49-7 advantage over Penn State. One week after Urban Meyer gave a State of the Union speech to his team, the men in Scarlet and Gray served notice to the rest of the country that they should not be ignored.
Style points may not have been the main objective for the Buckeyes, but with one more year of an antiquated system that calls for sexy stats, they flashed their supermodel good looks.
"It helps," said Meyer, about the impact a blowout can have on poll voters. "That was not certainly our mindset. Our mindset was to find a way to win this game against a very talented team that we have a lot of respect for that had a lot of momentum coming into this game. Things usually work out."
On a day when the top 3 – Alabama, Oregon and Florida State – all imposed their will on overmatched opponents, the fourth-ranked Buckeyes were in lockstep, dismantling Penn State 63-14. The primetime viewing spot gave voters ample time and opportunity to see just what Ohio State can produce when clicking on all cylinders.
"We have to keep our foot on the pedal," Miller said. "We had all day to watch ESPN, and you can't go out there and predict what's going to happen. But it turned out real well."
Penn State had 11 offensive and defensive players on the field all game, but it needed 12 or 13 to match the Buckeyes' penchant for explosive plays. And it the latter stages of the game, there was no let up. Armed with a 56-7 lead late in the third quarter, Ohio State – Meyer – challenged a spot on a Penn State first down. The Buckeyes won the challenge much to the delight of the fourth-largest crowd in Ohio Stadium history.
That series of events may have led to the terse mid-field exchange between Meyer and Bill O'Brien 15 minutes later. O'Brien was already one step toward the locker room as he extended his arm to shake hands with Meyer.
"We'll remember some things," O'Brien said.
So will those in the Midwest and around the nation. Head coaches and defensive coordinators from Piscataway to Lincoln must have been left trembling, realizing these are the Buckeyes they must deal with for the foreseeable future. The Big Ten championship goes through Columbus.
Many across the college football landscape, including a legion of Buckeye fans, believed that type of offensive performance would be the norm when Meyer came aboard to rescue the Ohio State football program. But time and again, the Buckeyes delivered erratic execution, albeit during a 19-game win streak.
Win No. 20 represented a watershed moment in the Meyer era.
"This was definitely a statement win. That's the attitude we carried into this game," cornerback Bradley Roby. "We were going to make a statement in primetime, when everyone was watching. And we did, and I'm glad we did."
Not since the 2010 Sugar Bowl had a Meyer-coached team been so dominant over 60 minutes. In that game, it was quarterback Tim Tebow who stuffed the stat sheet full of superlatives. On Saturday, it was Miller time.
He didn't play two and a half quarters, but Miller still completed 18 of 24 passes for a career-high 252 yards and three touchdowns and ran for two more scores and 68 yards. It's the first time Miller has thrown for and rushed for multiple touchdowns in a game.
"I felt like he was an athlete playing quarterback a year ago. I feel like he's a quarterback that's a really good athlete now."
In the past two games, Miller has completed nearly 80 percent of his passes for 474 yards, five touchdowns, zero interceptions and 170 rushing yards and two rushing touchdowns.
"I just love where Braxton's at right now," Meyer said. "I love the fact that he's acting like a quarterback. I'm not disrespecting Braxton, you guys know I love that guy. But I felt like he was an athlete playing quarterback a year ago. I feel like he's a quarterback that's a really good athlete now. Braxton comes in on his own and says, 'Coach [Herman], can we spend more time together?' That's a sign of a quarterback."
Carlos Hyde was every bit as impressive, tallying 147 yards and two touchdowns on 16 carries. He has 590 yards and seven touchdowns in just five games this season, gaining at least 140 yards and two touchdowns in the past three games.
The final details were gory – Ohio State tallied 686 yards of offense, the most Penn State has ever surrendered. A whopping 408 yards came on the ground. It's the highest rushing total for the Buckeyes since they had 456 against Northwestern in 1989.
Those numbers are more likely to be seen in an Oregon, Florida State or Baylor game. Had Ohio State played with this much gusto all season, it would likely still be ranked second in the polls. But the Buckeyes are No. 4 in the BCS, though they closed the gap on the Seminoles and Ducks. 
"All our preparation ties into what we're all doing. That's how it should be," Miller said. Guys played hard throughout the whole game and we didn't miss a beat when all the second-team guys came in, either."
Win streaks of 20 games are rare. Even more rare is a team winning 20 in a row and being ranked below No. 1 or 2. Ohio State has dealt with that and continued disparagement from the national media. For at least one night, the doubting ceased to exist.
A plethora of unanswered questions that have been asked of the oft-slighted Buckeyes dating back to last season finally got responses. Overpower teams on offense? Check. Defend the pass? Check. Every i was dotted and t's were crossed.
Complacency has been Meyer's biggest fear. Last week's uneven outing against Iowa had some thinking that the dreaded "C" word had filtered into the Ohio State locker room after 19 straight wins. Those thoughts dissipated, though, after the Buckeyes' quick-strike offense and suffocating defense dazzled under the lights.
Said Dontre Wilson: "If we play like this, nobody can beat us."
[Photo: Kirk Irwin Photography]