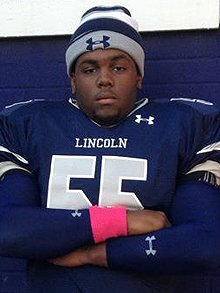 Welcome to another edition of the Ohio State football recruiting notebook.  We'll wrap the week up for you and give a preview of what's coming up next.
The current Buckeyes faced a stiffer test than expected but were up for the challenge as they defeated Iowa this weekend.  Meanwhile, Ohio State was working to gain some momentum on the recruiting trail.
Ohio State had one of their biggest remaining targets on campus this past week.  We'll check in on him and see where the Buckeyes stand following the visit.
Urban Meyer's staff gave out two new offers to 2015 targets this past week, we'll take a closer look at the newly offered prospects and Ohio State's chances of landing them.
Many future Buckeyes continue to impress on the high school gridiron, we'll look back at last week's games and look ahead to this coming week's.
Lastly, this weekend figures to be another big one for Buckeye recruiting.  We'll take a look at who is visiting and give a preview of what to expect from this weekend.
Join us after the jump for the latest on Ohio State football recruiting.
THE WEEK THAT WAS
It was a big weekend for Ohio State and one if it's top targets, Thomas Holley.  Holley started his weekend off with a victory over current Buckeye Curtis Samuel in high-school action before the two of them made the trek to Ohio State for their official visits.  For Holley, this was his second visit to Ohio State, with the other coming in June.  Holley told former 11Wer Alex Gleitman that this visit was "better" than his first one, and that he "got more information than the last time [he] was there."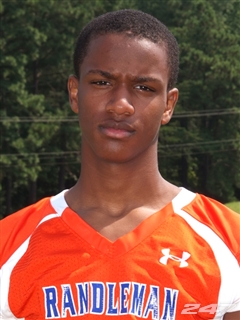 Holley also said that "It was an amazing experience being in Ohio Stadium. It was so energetic."  Holley certainly enjoyed his visit and Ohio State remains one of his top options.  Most consider Ohio State and Penn State to be his top two schools, and Holley visited Penn State two weeks ago for their thrilling victory over Michigan.  Holley's recruitment is beginning to wind down, and he said he is planning to make a decision "in the next few weeks."  Ohio State and Penn State are considered the favorites to land his signature, with Notre Dame and Florida in the mix.  For the record, all four members of the Eleven Warriors staff have picked Ohio State to land Holley, but the team really believes it could go either way, Ohio State or Penn State.
Ohio State made a couple of new scholarship offers this past week to a pair of 2015 wide receivers.  Houston (Texas) product Kemah Siverand and Randleman (North Carolina) product Juval Mollette both earned offers this past week.
Standing at 6-4, 190 lbs, Juval Mollette is a huge target on the outside with early offers from Clemson, North Carolina, Tennessee and Georgia Tech, among others.  Mollette is currently considered one of the top 30 receivers in the class of 2015.  He currently is favoring North Carolina but it is obviously very early.  
One thing that stands out about Mollette is how smooth he is for his size.  He does not have elite speed but he does a really good job of going up and high-pointing the football.  He is a big, physical receiver who makes plays on the ball in the air and seems to take pride in blocking too.  Here is is full film:
Kemah Siverand does not have the size of Mollette, but is more of a hybrid-type player who.  Siverand is used all over the field by his high school team and for good reason.  He is a very good open field runner with good speed and agility.  Siverand currently holds offers from Texas, Texas A&M, Oklahoma State and Northwestern in addition to Ohio State and is considered a top 20 receiver nationally.  As of now it appears he will be difficult to pry from the Texas schools, but with Tom Herman and Urban Meyer, Ohio State is always a factor.  Here is his full film:
High school football preview
Be sure to check out Jordan's complete report on last week's games here.
| Position | Player | School | Opponent | Comment |
| --- | --- | --- | --- | --- |
| QB | Stephen Collier | Lee County (Ga.) | Hamilton Harris County (Ga.) | Lost 45-14. Held to 90 yards passing and a rushing TD.  |
| WR | Parris Campbell | St. Vincent-St. Mary (Ohio) | at Massillon Washington (Ohio) | Won 41-0. Managed a 5-yard TD run in the 3rd quarter.  |
| WR | Terry McLaurin | Cathedral (Ind.) | at Decatur Central (Ind.) | Lost 35-14 to Sam Hubbard's team. Had a 97 yard kickoff return for a TD. |
| OT | Jamarco Jones | De La Salle (Ill.) | at Kankakee Bishop McNamara (Ill.) | Lost 20-0. |
| OT | Kyle Trout | Lancaster (Ohio) | at Grove City (Ohio) | Won 33-21.  Had 5 pancake blocks on offense to go with 16 total tackles and 3 sacks defensively. |
| OG | Marcelys Jones | Glenville (Ohio) | at Cleveland East Tech (Ohio) | Won 62-0. |
| OG | Demetrius Knox | All Saints Episcopal (Texas) | at Irving Cistercian (Texas) | Won 56-23. |
| DE | Jalyn Holmes | Lake Taylor (Va.) | at Portsmouth Wilson (Va.) | Won 55-8.  |
| DE | Dylan Thompson | Montini Catholic (Ill.) | at Aurora Central Catholic (Ill.) | Won 49-0 (DNP - precautionary reasons, foot injury). |
| OLB | Kyle Berger | Ignatius (Ohio) | Cincinnati St. Xavier (Ohio) | Won 23-17. DNP (ACL) |
| OLB | Dante Booker | St. Vincent-St. Mary (Ohio) | at Massillon Washington (Ohio) | Won 41-0. Nine tackles, three for a loss and two sacks. Held opposing offense to 130 yards. |
| CB | Damon Webb | Cass Tech (Mich.) | vs Detroit King (Mich.) | Won 16-0. Thrown at three times. One INT and two breakups. Also recorded 5 tackles. |
| S | Malik Hooker | New Castle (Pa.) | Aliquippa Hopewell (Pa.) | Won 43-42. Five catches for 121 yards and two TDs (71 and 20) |
| ATH | Noah Brown | Pope John XXIII (N.J.) | Rockaway Morris Knolls (N.J.) | Won 52-6.  3 catches for 85 yards including a 64 yard TD.  Also had a 2-yard TD run. |
| ATH | Sam Hubbard | Moeller (Ohio) | at Lakewood St. Edward (Ohio) | Seven tackles in a 35-14 win over Terry McLaurin's team.  |
| ATH | Lonnie Johnson | West Side (Ind.) | vs Lowell (Ind.) | Won 78-6. Johnson had a 51-yard punt return and a receiving TD. |
| ATH | Curtis Samuel | Erasmus Hall (N.Y.) | Staten Island Curtis (N.Y.) | Lost 45-21. 135 rushing yards and a TD on a bum ankle. |
| K | Sean Nuernberger | Oldham County (Ky.) | at Louisville Ballard (Ky.) | Lost 47-39.  Perfect on extra points, 49 yard field goal. |
| OT | Chad Mavety | Nassau C.C. (N.Y.) | at Louisburg College (N.C.) | Visiting Ohio State on November 23rd. |
| DT | Thomas Holley | Abraham Lincoln (N.Y.) | at Fort Hamilton (N.Y.) | Won 45-21 over Curtis Samuels team. Had 8 tackles, a sack and a tackle for loss as he dominated opposing offensive line. |
| ILB | Raekwon McMillan | Liberty County (Ga.) | at Wayne County (Ga.) | Visiting Ohio State this weekend. |
| S | Mike Rogers | Campbell (Smyrna, Ga.) | Kennesaw Mountain (Ga.) | Lost 44-24. 26 carries for 130 yards.  |
| S | Erick Smith | Glenville (Ohio) | at Cleveland East Tech (Ohio) | Won 62-0. Caught a TD pass. |
| ATH | Marshon Lattimore | Glenville (Ohio) | at Cleveland East Tech (Ohio) | 32-yard TD reception in a 62-0 win. |
| ATH | Eric Glover-Williams* | Canton McKinley (Ohio) | Youngstown Boardman (Ohio) | Won 35-14.  DNP (Ankle) |
Looking ahead
It's another marquee night game which means another huge recruiting weekend.  Be sure to check this list from time to time for updates on who will be in attendance.
The weekend is highlighted by Raekwon McMillan, Ohio State's top remaining target for the 2014 class.  McMillan is the top inside linebacker in the country and Ohio State will be doing everything they can to lock him up this weekend.  Georgia and Clemson are also pushing very hard from his services.
Big time 2014 targets Tony Brown, Josh Malone, and Trevion Thompson are also pretty interesting here.  None are really expected to be a part of Ohio State's class, but that could obviously change this weekend.  Brown is favoring LSU, Malone is a Tennessee lean and Clemson is considered the favorite for Thompson.  This being said, an official visit to Ohio State can change things and the Buckeyes could potentially make a move with one or more of these guys.  The weekend also features many 2015 prospects as Ohio State continues to build relationships with future top prospects, many of whom are returning to campus for a second or third time this season.
The visitor list is very fluid and we'll have lots more on the weekend visitors in the next few days, so be sure to peruse the forums from time to time and follow the Eleven Warriors recruiting team on Twitter for even more info.