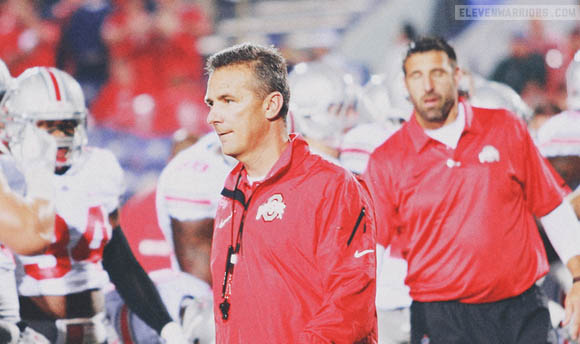 Greg Bishop of The New York Times checks in with a fantastic profile of Urban Meyer's staff – a staff he almost bailed on, but stuck with and they are now gunning for their 20th win in a row.
It produced an eclectic mixture, this Ohio State staff, a collection of nine main assistants unlike any other in college football. One offensive coordinator is a Mensa member, although he cannot remember if he paid his most recent dues. The defensive line coach played 14 seasons in the N.F.L. and has three Super Bowl rings. One defensive coordinator was a wrestler who became an interim head football coach. The strength coach doubles as the unofficial staff therapist.

Collectively, they hold more than 200 years of experience, at all levels, from high school to the N.F.L. They took a team ranked 81st in the Football Bowl Subdivision in scoring in 2011 to seventh in 2013, took an offense ranked 107th in yards per game to 20th. They garnered a number of top recruiter awards in the off-season. Their makeup — and the way Meyer stitched them together in a matter of weeks — is one important, underrated aspect of Ohio State's return to national championship contention.
Supplements include pieces on Tom Herman ("The Mensa Member"), Luke Fickell and Mike Vrabel ("The Roommates"), Ed Warinner ("The Traditionalist") and Kerry Coombs ("The Motivator") and – wait, you're still here? Go. Read.