As Columbus struggles with the massive snowfall, there is good news in sight: two weeks until Ohio State basketball tip-off.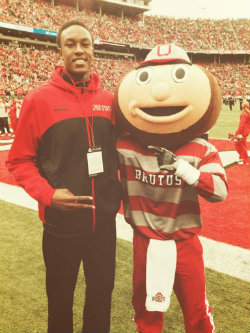 A recruit announced his intentions to attend the opener against Morgan State. Meanwhile, Eleven Warriors provides updates on the two visitors from this past weekend. One of the Buckeye targets thought it might've been his top visit, so far.
Despite the increased hype around the football game, this weekend will have substantially less importance in basketball recruiting. Still, a 2014 pledge plans to take his official visit.
Recapping the Myles Turner Visit
In the two weeks following the Wisconsin game weekend, the Buckeyes weren't able to secure commitments from the two most important visitors in the class of 2014 – Goodluck Okonoboh and Elbert Robinson.
That made this past weekend even more vital. Consensus five-star and top-five-ranked talent Myles Turner took an official visit to Ohio State. Unlike the prior dealings with 2014 big men, Turner isn't expected to announce a verbal commitment anytime soon.
Turner went on his first official visit (he's allowed five) to Columbus, after being forced to reschedule his trip to Kansas. He has no other official visits planned, yet.
He told ESPN.com's Reggie Rankin (insider only) he was impressed by Buckeye basketball practice and the spirit of the fan base.
"The practice… was very intense and everybody was energized," Turner told ESPN. "I was [also] walking around with Sam Thompson and Aaron Craft, and everybody we saw showed them love."
Turner's father, David, spoke with multiple outlets. While he didn't take the trip with his son, he said Myles enjoyed his time in Columbus. He told SNY.tv's Adam Zagoria about Myles' conversation with Thad Matta.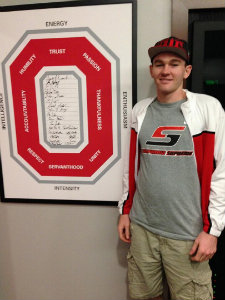 "Coach [Matta] does have specific ideas about how they would use him," David told SNY.tv. "He explained that to Myles in pretty good detail."
Myles reiterated that, telling ESPN.com about how Matta has already focused on how he would prepare Myles for the college game.
Dastrup on Ohio State: One of his Favorite Visits
Turner wasn't the only recruit on an official visit this past weekend. He wasn't even the only big man from the class of 2014.
Arizona native Payton Dastrup was in Columbus for the Iowa game, took in a couple basketball practices and spent time with members of the current roster.
During the trip, Payton's father, David, noticed the natural chemistry within the program.
"Having the opportunity to see the way the coaching staff creates a unity and a family-type atmosphere between themselves and the players was important to us," David told Eleven Warriors. "We were impressed with the unity and support demonstrated by everyone associated with the program."
Payton was impressed, himself. The four-star recruit told Verbal Commits' Jamie Shaw Ohio State has been one of the highlights of his recruitment.
"It was awesome. One of my favorites, if not, my favorite visit," Payton told Verbal Commits. "The focus the coaches had on recruiting high character guys [stood out]."
Payton is a member of the class of 2014, but he still plans on serving a two-year Mormon mission before enrolling in college. In his freshman season, he'll be 20 years old.
Coincidentally, Payton went to the same high school as former Buckeye quarterback Joe Germaine – Mountain View in Mesa, Ariz. Germaine also served a two-year Mormon mission after high school.
Somewhat like Germaine, Payton was able to stroll the sidelines at Ohio Stadium.
"The atmosphere of the crowd and watching The Best Damn Band In The Land in person is something everyone should do at least once in their life," David said. "Our visit to The Ohio State was memorable and gave us everything we hoped for as we support Payton through his decision making process."
Payton is down to four schools, according to his father – BYU, Florida, Ohio State and Virginia.
Future Visitor News
Two other recruits are planning on visiting Columbus, as well.
Jae'Sean Tate, already a member of Ohio State's 2014 recruiting class, confirmed he'll take his official visit this weekend:
Taking my official visit this weekend #GoBucks

— AlmightyBody (@o_tate_) October 24, 2013
The Buckeye commit won't have to travel far to get to campus, seeing as how he is from Pickerington. The school is obligated to cover expenses, so the gas money spent for the 40 miles to OSU campus and back should be refunded.
Meanwhile, recruit Franklin Howard has a longer trip. The 2015 wing attends school in Fairfax, Va., and told the Washington Post he plans on visiting Ohio State for the basketball team's opener against Morgan State.
Howard is a four-star recruit, and has offers from Florida, Georgetown, Maryland and Syracuse, among others. He is recovering from an injury to the ACL in his left knee, suffered in July.
He told the Washington Post that he might sit out all of basketball season, although he expects to be cleared by doctors in January or February. Hopefully, Howard can regain his athleticism and natural scoring abilities.