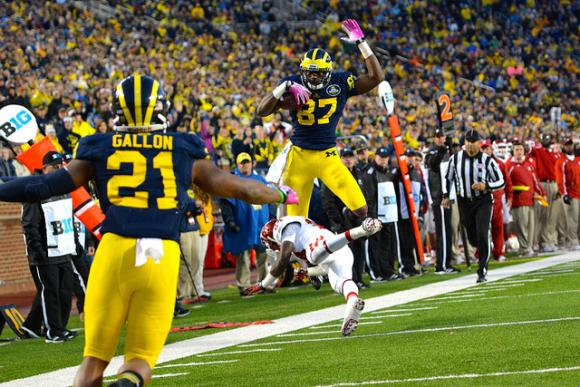 The following is a short list of things that I once considered impossible:
A Simpsons movie
A black president (especially one named "Barack Hussein Obama")
Seeing boobies in person
Video games surpassing the graphical standard set by Super Mario 64
Devin Gardner passing for 500 yards
All of those chickens have come home to roost at one point or another, and the final item came to my attention on Saturday. No, that's not a typo; Devin Gardner, Michigan starting quarterback, passed for five hundred and three yards over the course of 60 minutes against Indiana, leading the Wolverines to a completely ridiculous 63-47 win that was a lot closer than the box score indicated.
Actually, let's take a look at that box score. The two teams combined to account for over 1300 yards of total offense. Jeremy Gallon almost set the all-time NCAA single game receiving yards mark by racking up 369 yards on 14 catches. Fitz Toussaint scored four rushing touchdowns and had a pretty good day with over 150 yards rushing. And Indiana passed the ball 43 times to Michigan's 29.
This was a deeply weird game of football, even moreso than last week, because unexpected competence is always way weirder than unexpected incompetence. And while the Michigan defense didn't show anyone anything particularly unexpected in terms of how they handled Indiana's passing attack, pretty much no one expected 751 yards of offense from the Michigan side.
Quarter 1
Indiana struck first with a bomb of a touchdown that confirmed Wolverine fears that this was going to be a very long day. Michigan responded with two touchdowns of their own, but the quarter ended with a drive that would eventually a Michigan blocked field goal. 14-7 Michigan, but the despair was palpable.
Johnny: First thing that popped in your head after Sudfeld hucked that 59 yard TD, GO!
Ace: Well, several expletives, followed by "we're not ready for this." That touchdown came when Indiana rushed to the line—as they always do—and caught Michigan's defense scrambling to get the playcall and get set; Raymon Taylor expected safety help over the top that never came because Thomas Gordon was still looking at the sideline at the snap. Brady Hoke flat-out stated in one of the pre-Indiana pressers that Michigan hadn't done anything different to prepare for Indiana's tempo, and ... well, it showed. I don't think that's an issue with Hoke or Greg Mattison as much as it is a problem with how the current offense is run; it's tough to simulate a team playing at ludicrous speed when your offense normally breaks out of the huddle with 15 seconds on the play clock, even with a week to prepare.
Michigan did actually force punts on four of Indiana's first five drives, but it was clear that their pace started to wear out the defense—especially the secondary—as the game went along.
Quarter 2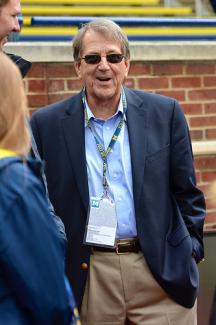 After the blocked field goal, Michigan forced a punt and the Jeremy Gallon show took over. The two teams traded touchdowns, UM getting two to Indiana's one, and Indiana was able to add a field goal at halftime. Defense was starting to become strictly optional. 28-17 Wolverines.
Johnny: This is where the game really started to go just straight up bonkers, and it somehow started with a blocked field goal? Life sure is weird sometimes, Ace.
Ace: Michigan didn't just have a field goal blocked in this quarter; Raymon Taylor somehow dropped a sure pick six directly into the hands of an Indiana receiver (unfortunate deja vu, ditto the field goal block) and the Hoosiers scored a touchdown on the very next play, turning a potential 28-7 Michigan lead into a 21-14 nailbiter. Oh, and Al Borges had ditched under-center running almost entirely in favor of spread runs and max protect passes to hilariously wide open receivers—mostly Jeremy Gallon as Indiana bugged out whenever Devin Funchess was on the field.
Weird doesn't even begin to describe this game, my friend.
Quarter 3
Had Michigan come out and scored a touchdown on their opening drive, that possibly could've been the back breaker Michigan needed to put the Hoosiers away. Instead, Fitz Toussaint fumbled, lost the ball, and Indiana subsequently converted for a touchdown. Despite Gallon and Gardner continuing to do their thing, Indiana outscored Michigan 23-14 in the third, and were a two point conversion away from tying the game. 42-40 Michigan.
Johnny: It probably wasn't a shock to see Indiana pass all over the Michigan secondary, but is this a result of Michigan having bad defensive backs or Indiana being actually good at throwing the ball? Asking for a slightly worried friend. That friend is me.
Ace: A combination of both (a cop-out, I know). This isn't the first time Michigan's corners have been exposed over the top; Tre Roberson also had some NFL-level throws that I wasn't aware he could make, and Indiana's got a very legitimate—and deep—group of receivers. The tempo of Indiana's offense had a lot to do with it as well—there are hurry-up offenses, and then there's their terrifying passing spread on crack. This is an offense that put up 28 on MSU, which is no small feat regardless of the pace of the game. If the Hoosiers had any semblance of a defense they'd be a really scary team to play; instead they're just frightening half the time and completely laughable the other half.
Quarter 4
Michigan finally seemed to get a handle on things after an early touchdown by Fitz, but Devin Gardner fumbled at the Indiana two yard line and have the Hoosiers hope. That lasted for literally 56 seconds because Nate Sudfeld threw an interception to Thomas Gordon, which was quickly converted into a Michigan TD. Indiana would respond, but Michigan scored the final two touchdowns of the game to somehow salt it away. 63-47 Wolverines.
Johnny: I've always known Jeremy Gallon was good. I knew that Devin Gardner had the capacity to do some insane things when given time to think. I did not think that I would ever see a stat line of 369 receiving yards and 503 passing yards. In like, any Big Ten game ever, not just a Michigan one in 2013.
Ace: Yeah, that was pretty nuts, to say the least. It was even more impressive considering Gallon actually had two very uncharacteristic drops in the first half—if he hauls those in, he might've set the NCAA mark instead of just smashing the Big Ten record. Al Borges came under a lot of (deserved) heat after the Penn State game; this was a very nice departure from that, and he emphasized just the right parts of the offense to exploit Indiana's generous defense. Most of Gallon's big gains came on two-man routes with Funchess as the other receiver while leaving everyone else in to protect, which gave Gardner all day to wait for two very difficult-to-guard receivers to find an opening—against Indiana, that wasn't too difficult. I'm not sure how well that'll go against better defenses (which is ... all of them left of the schedule, save possibly Nebraska), but it certainly worked to great effect in this one.
OVERVIEW
Johnny: I have no idea what the hell happened there. Part of it was having to watch bits and pieces of this game because it was on at the same time as the Ohio State game, part of it is because just look at the damn box score, and part of it was I am trying not to think too hard about it because it will keep me up at night in about a month.
Two things that I think are significant about this game: first, Michigan never trailed. It got close, but their playmakers obviously stepped up and went completely ham on one of the worst defenses in college football. Dismiss it if you want, but they went out and did what they were supposed to do. Al Borges ride or die baby.
Second, Michigan seems to have a game like this every once in a while where logic just gets thrown out the window. This game was basically a Mike Leach fever dream and it'll be interesting to see what, if anything, can be gleamed from it going forward.
Ace: I wish I had any more clarity than you about this game, but honestly it's tough to tell how much it really means. Yes, Borges made critical adjustments that led to a record-setting day; however, it came against an awful defense and Borges still needs to prove that he can drop the MANBALL thing for more than a game or two—especially on the road, where he's had most of his awful gameplans (2011 MSU, 2011 Iowa, 2012 OSU, 2013 PSU...), and a trip to East Lansing looms after the bye week. Devin Gardner only had one turnover and the running game was effective; can that continue against actual defenses? What happens when someone bothers to guard Gallon?
And that's without even talking about the defense, which had done a great job of limiting big plays until Saturday. I'm hoping that performance was the product of facing an offense unlike any they'd seen before; I'm worried that future opponents will realize that going up-tempo and attacking the non-Countess corners deep—especially with Michigan still lacking a consistent pass rush—is the formula for putting a lot of points on the board.
We're now seven games into the season and I don't think anyone has a real handle on how good this team really is—the only thing we know is they're definitely not an elite squad. Thankfully, the Big Ten is so bad that Michigan could still find a way to play for a shot at the conference title.