Ohio State fans and Penn State fans have a rather complicated relationship. Ohio State and Michigan have been the Big Ten's protagonist and antagonist for time immemorial, so when Penn State football arrived in the Big Ten two decades ago, Penn State fans felt like strangers in a strange land. Though Ohio State fans may not view Penn State as a rival, the enmity is growing with time; it is on the verge of a two-way rivalry, and the Buckeyes are vulnerable to the upset bug that spread around college football last week.
The Ohio State game is essential to Penn State's Big Ten history. Adam Taliaferro's injury, Joe Paterno's now-vacated 324th win, the 2005 White Out, beer peltings, the 2008 classic, the first post-Paterno victory... Penn State fans remember and care about the Ohio State game. As long as they remain in the same division and Penn State remains a powerhouse, Ohio State will return the hostility in kind.
The best game I've ever seen in person was the 2008 Penn State-Ohio State game. For those who don't remember it, Penn State was No. 3 and the best PSU team of the last two decades, while Ohio State was No. 9 and although overhyped an excellent squad. In night game featuring Ohio Stadium at its most electric, the two teams battled to a stalemate until one late freshman mistake cost Ohio State dearly. That's the best version of Penn State to remember: the challenger breaking our hearts, as the Buckeyes broke theirs in 2009.
The Nittany Lions' record against teams of value is suspect – a 20 point loss to Indiana, a loss to upstart Central Florida, nearly blowing the Michigan game – but they always get up for Ohio State, and Christian Hackenberg and Allen Robinson have what it take to work over the secondary. Ohio Stadium hosts another night game this weekend, the Buckeyes are 15 point favorites, and the atmosphere should be fantastic, but there's no way to suppress the worrisome little voice in the back of my head. That might be a sign of a rivalry.
IOWA PRESSER QUICK HITS. Ohio State coaches had plenty to say in the first press conference after the Iowa game. Some bullet points:
Like everyone else, Urban Meyer wants the NCAA to revisit the targeting rule and change how it is applied.
Meyer emphasized that he teaches his guys not to play with their heads down and that targeting ejections weren't meant for plays like Bradley Roby's.
Meyer said that Roby is playing below his 2012 level but still has some fantastic moments.
Ohio State never fully adjusted to Iowa's 13 (one back, three tight ends) formation, mostly because of a lack of preparation for it. 
Michael Hill could redshirt if his his shoulder is still injured for the remainder of the season.
Ed Warriner said that Marcus Hall has improved this year more than anyone. 
Meyer admires what Bill O'Brien has done at Penn State with the sanctions and scholarship restrictions.
Mike Vrabel said the confidence Allen Robinson has in Christian Hackenberg is what allows Robinson to make NFL-caliber plays.
Joey Bosa is able to have success so young because he's more physically developed and has a better sense of balance than most true freshmen.
Warriner said Chase Farris hasn't been switched back to offensive line yet; when will he switch?
Finally, Vrabel had this gem about the learning curve for making adjustments in advance instead of on the fly.
We understand we're not professional football players. I think the learning curve might not be as steep for them, but we've got to adjust. We've got to do it quicker. And we've got to get it to them and make them go out there and understand and play it with confidence and play at new looks with confidence. You're never going to be able to show them every single thing in practice. But you can give them confidence and fundamentals and go out and make adjustments. And that falls on us as coaches as well as we can't go out there and do it for them, but you've got to give them the confidence saying here's what they're going to do, let's do it and make them turn the page. Make them do something else that maybe we didn't prepare well enough during the week for it.
 MIAMI FOOTBALL FACES THE MUSIC. After two and a half years of scrutinizing Miami and several bungled investigation attempts, the NCAA will publicly announce its sanctions for the football program today at 11 AM. Since Miami has self-imposed postseason bans the last two seasons, it would be a surprise if Miami received something much worse than admonishment, time served and recruiting restrictions. Since this is the NCAA we're dealing with, be prepared for weirdness.
The stories about hookers and sex and drugs and whatnot have been fun, but at some point the quirky details like players making an extra thousand if they made pistol shooting motions after big plays start blending together. It's been an agonizing few years for Miami fans, and though they're not particularly sympathetic, having your school dragged through the mud for a few years is no fun. For their sake, one hopes the sanctions will be reformative in nature and not punitive.
 Scholarship losses could be in play, but the public sentiment is against the NCAA for now, and people would lose their minds if the Committee of Infractions came down hard after the corruption and incompetence associated with the case ravaged the NCAA enforcement division. Thanks to scandal fatigue, it's something fans are relieved to get over with.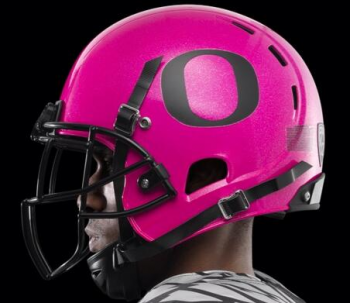 PINK FREAKOUT. October is Breast Cancer Awareness month, as you know from the pink flags, pink accents, pink everything on football fields. Oregon went the extra mile with a pink helmet, which they wore on Saturday against Washington State. It's a bit unusual, but since Oregon will auction some of those helmets off to charity to raise additional money for breast cancer research, it's hard to be offended by it. Well, unless you're this guy.
The editor of the official Oregon Ducks website GoDucks.com posted the voicemail one unidentified Oregon fan sent before the game, and hoo boy is it out there:
The guy's problem wasn't that the helmets were ugly or didn't feature the school colors, either of which would be an understandable objection. No, the objection was that somehow the color pink will embarrass players and make them less masculine. Why? After references to San Francisco, it's not hard to read between the lines.
There are so many of these tough guys worrying about the wussification of football and so few actually making the game better. The march of progress goes on, no matter who accepts it. Femininity is not something to shun, and nobody's going to make football better by restricting the color palate of one team's helmet.
 LORD I WAS BORN A GRAMBLING MAN. When Grambling's football team mutinied against its interim coach and administration, missing a practice and ultimately forcing the school to forfeit a game, it was the most extreme behavior by any team in decades. Now that the team has reached a compromise with administrators, the team will end its boycott.
The conditions at Grambling were severe: in a letter to Grambling administrators, team representative Naquan Smith detailed the poor conditions the team facilities were in. The school has been affected by funding cuts, and it had repercussions on the football program:
University spokesman Will Sutton said Grambling has endured a 57 percent cut in state funding over several years that has affected the entire campus.

The athletic department was asked to cut $335,000 this year from its overall department budget of $6.8 million. Sutton said football was cut by $75,000 to about $2 million.

ESPN obtained a letter detailing player complaints, which included mold in the locker room and improperly cleaned uniforms contributing to an increased likelihood of staph infections.

Sutton said that local health department inspectors, acting on an anonymous tip, recently visited Grambling athletic facilities and recommended changes to improve conditions, but did not deem those facilities a health hazard.
Meanwhile, this argument in the New York Times that the Grambling case is indicative of a problem across much of the NCAA is misguided. The National College Players Association usually has the right priorities, but they're just using the Grambling case as a springboard for their unrelated proposals. The Times fails to understand the economic disparity between athletic programs at well-funded universities and those at downtrodden historically black colleges and universities like Grambling; that's the bigger story here.
NBA JAMS IN COLUMBUS. The Cleveland Cavaliers tend to play a preseason game in Columbus each year, and that's a great decision; it energizes fans in Columbus and makes them more passionate for the Cavaliers. But last night's preseason game against the Philadelphia 76ers had something more: Evan Turner, 2010 national player of the year, returning to the city to play for the first time in years.
The Cavs won and Kyrie Irving victimized Turner and another 76er with a crossover dribble, but that's just the way it goes:
Turner talked after the game about what returning to the Schottenstein Center meant to him, and unsurprisingly he has fond memories of the arena and the university. Between seeing Turner in person, the Cavs winning, and the announcement that Cleveland would retire Zydrunas Ilgauskas's number, it was an excellent night for Central Ohio Cavaliers and Buckeye fans.
CASE MCCOY HAS A CASE OF THE MONDAYS. The less context for this quote from Case McCoy, the better:
Case McCoy with the Texas quote of the day. Asked why TCU is favored Saturday, he responded: "Probably because I"m the quarterback, right?"

— Chuck Carlton (@ChuckCarltonDMN) October 21, 2013
Somebody give that man a hug and an encouraging word.
LINKS AHOY. OSU is in center Myles Turner's top seven after an enjoyable official visit… Ole Miss's freshman textbook has some fun at Cardale Jones' expense… Pac-12 fines Oregon coordinator Nick Aliotti $5,000 for blistering comments toward Washington State coach Mike Leach… Some Purdue-Illinois football tickets cost less than $1… NFL running back Arian Foster doesn't just have stock, he IS a stock… Wikipedia's timeline of the far future is great, but where are the hoverboards?… I'm stuck on World 4 of Full Screen Mario... An amazing goal in the English Premier League… Washington's win makes a 12-layer cheese pizza possible... The Cincinnati Reds will probably make Bryan Price their new manager today… In honor of Jim Leyland's retirement, enjoy him cussing out Barry Bonds and extolling smoking… Washington Huskies legend Don James leaves a legacy in death … Andy Reid, the Kool-Aid Man… Spaniel L. Jackson... and SpongeBob gravestones exist!