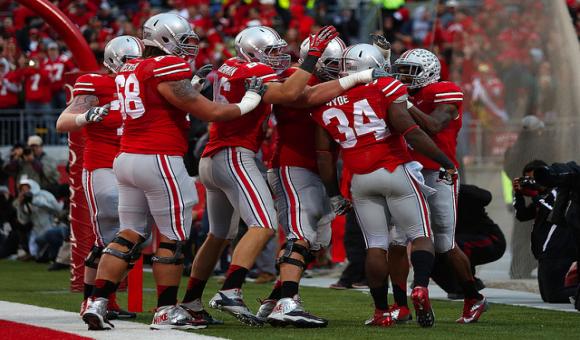 It's both glorious and, at times, the elephant in the room. Ohio State has now won 19 straight games, tied for the second-longest win streak in school history.
Head coach Urban Meyer hasn't tasted defeat in Ohio Stadium since Nov. 14, 1987, when he was a young graduate assistant. A safety on that team by the name of Mark (Bo) Pelini missed a tackle on 4th-and-23 that led to a game-winning Iowa touchdown. Earle Bruce was fired two days later.
Meyer hasn't lost a football game of any sort since late November of 2010, when he was the head coach at Florida. It marks 20 straight wins and makes Meyer the first coach in major college football history to have three win streaks of at least 20 games.
The Energizer Bunny keeps going and going and going. For Ohio State, its winning streak keeps growing and growing and growing. With the Buckeyes sitting at 7-0, one might think pressure would build because of the national championship hunt. Instead, pressure for the Buckeyes exists due to a winning streak reaching significant heights.
"I can feel sometimes pressure mounting on players when you streak," Meyer said. "You start hearing about streaks. It's my job as a coach and our coaching staff [to keep them focused one day at a time]."
The last two times Ohio State won 19 straight games, it lost the next time out. The Buckeyes won 19 consecutive games from 2002-03, capturing the 2002 national championship before losing at Wisconsin in October 2003. They won 19 in a row again from 2005-06 until, of all people, Meyer and Florida spoiled the party in the 2006 BCS National Championship Game.
According to some players, there's no issue with staying on task. When asked, Philly Brown didn't even know how many games in a row Ohio State has won. Braxton Miller was unaware the school record stands at 22, well within reach considering the difficulty of the schedule – or lack thereof.
A popular number counting game in Columbus is adding up the days since Michigan last beat the Buckeyes. That number isn't much bigger than 659 – the number of days its been since Ohio State lost a football game.
During the streak, Ohio State has needed overtime twice and won seven games by a touchdown or less. 
When Meyer Last Lost a Game...
Osama Bin Laden was alive.
WikiLeaks and the Arab Spring weren't things.
Chris Cicero was just a lawyer in Columbus.
Jared Sullinger was a freshman for the Ohio State men's basketball team.
Nate Dogg, Whitney Houston, Dick Clark and Neil Armstrong were still with us.
"It's a good honor, but that's not our ultimate goal," said Brown, about setting a new school record. "We don't spend much time on that. We just take it one day at a time. We don't really talk about the winning streak too much."
And they certainly don't mention the "L" word – losing. Brown said he knows an entire sporting nation is waiting for the Buckeyes to drop a game. They've become a polarizing program that's a target for critics.
Brown doesn't think they'll be happy anytime soon, though.
"With the way this team is working and playing right now, I just don't see that happening."
Only nine teams have won 21 games or more in the past two decades. Last season, the Buckeyes drew comparisons to the 1993 Auburn Tigers, the last team to finish undefeated while sidelined during the postseason in the NCAA's timeout chair. In 1994, the winning didn't stop for the Tigers until the season's ninth game, and even then, the result was a tie. They finally lost to Alabama the following the week – 21 games after the first win.
Ohio State wide receiver Evan Spencer wasn't aware of that bit of history. Even with a dad who played and coached in Columbus, Spencer didn't know all the specifics about where the current win streak stood in the pantheon of Buckeye football history.
"I know that we have to keep taking care of business and keep winning," he said. "It's unbelievable. I try not to think too much about it because we have to keep winning. But only two other teams have ever done it. The camaraderie we have with our team is great."
Pundits have diminished the Buckeyes' streak because zero opponents have been ranked in the top 15. By comparison, Tennessee has played five top-15 teams in the past 19 games and the Vols play No. 1 Alabama on Saturday. The highest ranked team Ohio State has faced in the past two seasons: No. 16 Northwestern. The Wildcats are now a three-loss team that lost at home to Minnesota.
| No. | School | Streak | Buster |
| --- | --- | --- | --- |
| 1 | USC | 34 | Texas (2006) |
| 2 | Miami | 34 | Ohio State (2003) |
| 3 | Miami | 29 | Alabama (1992) |
| 4 | Alabama | 28 | Tennessee (1993) |
| 5 | Nebraska | 26 | Arizona State (1996) |
| 6 | Boise State | 24 | Nevada (2010) |
| 7 | Notre Dame | 23 | Miami (1989) |
| 8 | Washington | 22 | Arizona (1992) |
| 9 | Florida | 22 | Alabama (2009) |
| 10 | Texas | 21 | Ohio State (2006) |
But 19 consecutive wins are tough to scoff at. Winning is still winning. The last two national champions have lost a game and six of the past 10 have faltered at least once along the way.
"I can get on here and start mothe f'ing people about it, but I don't make the schedule," tight end Jeff Heuerman said. "I can't change it. My opinion isn't going to get us rated higher in the BCS, so right now, all we can do is focus on winning all of our games and winning out the rest of the year."
Saturday night's primetime match up in Ohio Stadium is another opportunity for Ohio State to flex its muscle, Meyer said Monday. And from the sounds of the players, confidence is something that isn't lacking.
"No matter what the score is, there's never any doubt. We always know we're going to win the game," Heuerman said. "That's really special."
Said running back Carlos Hyde: "We refuse to lose. We're a group of brothers. There's not one point in time when we think that we're going to lose a game."
In the early- and mid-1990s, Mike Vrabel came to Ohio State at a time when the program had not been part of the national conversation for close to a decade. But his freshman year – 1993 – marked the resurgence of the Buckeyes. Prior to '93, it had been seven years since Ohio State had won 10 games in a season. In the 20 seasons beginning with '93, the Buckeyes have won at least 10 games 14 times.
Twenty years and an NFL career later, Vrabel is reliving the magnitude of Ohio State football at its highest form.
"Every game we play gets bigger and bigger," he said.