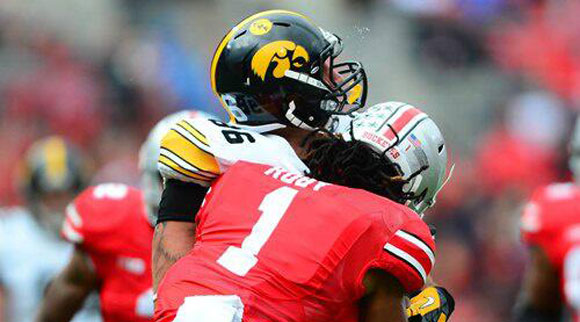 There were two topics that stuck out from all others at Urban Meyer's Monday press conference, and neither had anything to do with last Saturday's win over Iowa or this week's game against Penn State. Instead, targeting and the BCS took center stage.
On the first subject, Meyer was less than thrilled with Bradley Roby's ejection. He's consulted with officials and believes the NCAA has opened a Pandora's box. Meyer said he's all for player safety, but added the rule in question affects the outcome of the game too much.
"I think that the NCAA and everybody is going to want to re-look at that rule," Meyer said. "We at Ohio State are very concerned about player safety. We have gone to the nth degree with adjusting practice. Any rule for the safety of players, no question we support it.
"However, that was a game changer. To take one of your better players out of the game – that impacted that game. That rule was not put for that play."
Meyer was shy to be too conversational when talking about the penalty because he was fined during his tenure at Florida for criticizing officials. The price tag: $30,000.
"I don't need to get fined because of this conversation," Meyer told reporters. "I think my boss is in the back." To which Gene Smith said the reporter who asked the question would pay any fine.
Roby's struggles this season have been immense. He was suspended for the opener, ejected last week and in between was a mish-mash of ineffectiveness sprinkled in with a few good plays. But Meyer said he can sense Roby is nearing a breakout.
The team is unlikely to separate itself from other BCS contenders until the competition starts losing. Ohio State is ranked fourth, behind three undefeated teams. The Buckeyes' strength of schedule has been their biggest impediment, and it isn't likely to get better until the Big Ten Championship Game, if at all.
Don't tell that to Meyer, though. He spent part of Monday talking up Ohio State's win over 4-3 Iowa.
"It was a great team win," Meyer said. "Our guys are sore. It was a tough, physical game. Two sledgehammers going at each other."
After the release of the standings, Meyer spoke to his team. His message wasn't one of disappointment. Quite the opposite, actually. While many fans showed outrage at the Buckeyes' rankings, to Meyer it confirmed Ohio State is one of the elite teams in the country.
"We had our first state of the union address. It's the first time that I do talk about polls. They're going to hear that BCS thing came out. My comment was that we are, indeed, in the mix. Embrace it. 
"In the mix for what? Don't worry about it. We are in the mix, though. People think very highly of you. Maybe some people don't. You just have to go out and be the best team on the field on Saturday, not in the country."
The team on across the field this week is a Penn State team that's dealt with inconsistency this season. The Nittany Lions have felt the effects of scholarship reductions and what happens when you rely on youth. Still, Penn State beat Michigan and is a legitimate threat to the Buckeyes' undefeated season and 19-game win streak.
"We have to be ready, and we will be ready," Meyer said.