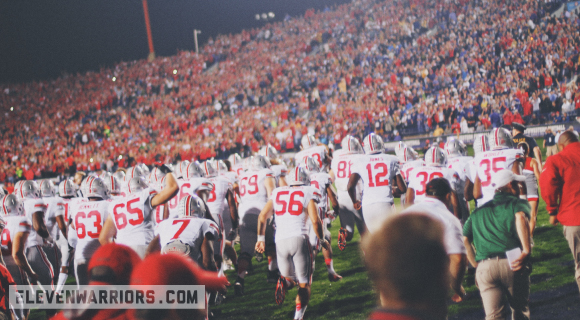 A major development inside the walls of the Woody Hayes Athletic Center last year was the issuance of iPads. Urban Meyer's was put to use Saturday evening as he sat inside J. Madison Brooks Gymnasium on the campus of East Tennessee State in Johnson City, Tenn.
As daughter Gigi was playing volleyball, Meyer stole peeks of the Michigan-Penn State game on his iPad. He wasn't the only one watching the game, so too were Ryan Shazier, Joel Hale and Philly Brown. Some may have even hinted at liking the final outcome.
All three – and Meyer – enjoyed a weekend away from football. Shazier tagged along with Hale to his hometown of Richmond, Ind. While there, Hale's mother fed them like kings, according to Shazier. The duo also feasted at local restaurants. Brown watched his 13-year-old brother play football for the first time. All the younger Philly did was touch the ball three times and score on each play.
But Monday meant game week. Life as usual. A return to normalcy.
The day started at 7 a.m. with team meetings and a weigh-in. The team practiced mid-afternoon Monday after the layoff and will practice in pads three times this week.
"I think we managed it well," Meyer said of the off week. "Once again, I evaluate that every year on how we do after bye weeks, and we gave them some rest. Six tough games, back-to-back night games, back-to-back primetime games against ranked opponents. I told them we would take care of them if they won, and they did a good job."
For a dozen seasons, Meyer has done virtually nothing but win. Undefeated seasons and national championships appear with near regularity. So it comes as no surprise that winning after off weeks is another Meyer staple. He's coached after being idle 36 times. Meyer's record is 34-2.
It's been a combined effort, according to Meyer. The entire coaching staff does its part in supervising the demands of a week when rest, fundamentals and improvement all collide.
"I've been very blessed to have really good assistant coaches, and I think we manage it well," Meyer said. "I think that's where my strength coach is very involved, or where I always seek guidance on how our team is doing. There's not some rigid program we have. I think we are just very careful how we manage everything."
Expectations point to his record after resting improving to 35-2. Ohio State is a 17-point favorite over Iowa. And a dominant defensive line will grow by one. Seven weeks after breaking his foot, sophomore Tommy Schutt will return to action.
He's a backup but plays with the quality of a starter. Schutt's return bolsters the line and adds another layer of depth. The unit can rotate so many guys that freshness in the fourth quarter isn't a concern. 
"He is a very welcomed back player," Meyer said. "He was a guy that might not have had the title of starter, but was a starter for us. He went down to training camp and worked his tail off. Coach Marotti says he's one of the best at taking care of his business and getting ready, so he should be a go Saturday."
Jordan Hall's status for the game is still up in the air, but both Meyer and running backs coach Stan Drayton indicated he would practice the entire week.
At the midway point of the season, Meyer believes his team stacks up well against the rest of the nation. He took time over the weekend to watch Oregon, Clemson and other teams in the national title conversation. It also brought forth the realization that each game is fragile and going undefeated remains a difficult feat.
"We have to find a way to win this Saturday," Meyer said. "It's not easy. We're 6-0 and doing the best we can to get first downs and stop people.
"I think we're right there [nationally]. I think we're a good team. I do. Some of these teams are real explosive teams. I watched Clemson really closely, and every once in a while you play football against a very well-prepared team and they take away some of that explosiveness. It happens. It's not necessarily what Clemson did wrong, it's what Boston College did right. We run into the same things. That's something, if I had to grade us, we're not explosive from the first to the fourth quarter."
Part of that equation is something as simple as taking the foot off the gas, while another factor are the players themselves. Meyer stressed the need last week for Dontre Wilson to become a more well rounded player. On Monday, Philly Brown made it clear he wants more playmakers on the offense.
"Dontre is a valuable guy," Meyer said. Problem is he's a novelty right now as opposed to a full-time player. Full-time players have to go block Sam linebackers and those kind of things, and we are not quite ready. But we are working at it. There's other ways that we can be creative in getting him involved.
"He deserves to play. He works hard. You know, this time next year, he's going to be a rocked up, 350-pound benching guy – we hope. Percy [Harvin] was a 400-pound benching guy that when he blocked you, he blocked you. So that's where we have to get with [Wilson]."
If it doesn't come to form in the next three weeks, another bye week beckons.