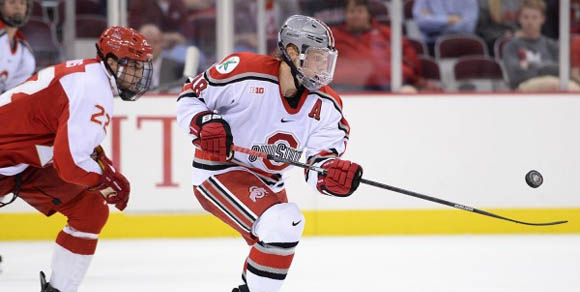 New coach Steve Rohlik's debut was a bumpy one as the No. 2 Miami RedHawks throttled Ohio State 6-2 last night at the Schottenstein Center.
Miami jumped out to a 2-0 lead on two separate 5-on-3 goals in the first period, but Ohio State scored twice in the first three minutes of the third to tie the game. Junior Darik Angeli netted the first Buckeye goal, with junior Chad Niddery notching the equalizer. And that's when the wheels fell off.
29 seconds after Ohio State had tied the affair, Miami scored to retake the lead, 3-2, and then added three more for, you know, insurance.
"We know we have a good team," Steve Rohlik, in his first year at the helm of the Buckeyes, said. "We have a good locker room. Our guys are disappointed with the result and I think our guys felt we were right there, but in the blink of an eye, against a very good team, a 2-2 game ended up 6-2. We give them credit."
The two teams will conclude the series Saturday at 7:05 p.m. in Steve Cady Arena in Oxford, Ohio.