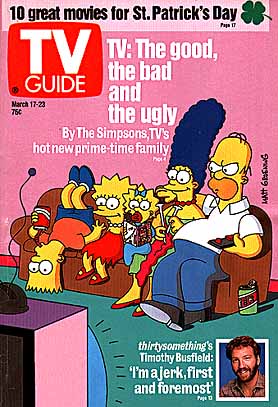 Ohio State is mercifully in one of its two bye weeks this season, which should ideally give the Buckeyes enough time to rest, heal wounds, and figure out some semblance of a pass defense for a secondary that should do something other than allow opposing Big Ten quarterbacks to complete 45 of 64 passes for 638 yards through two weeks of conference play.
Maybe it's controversial to say that I love bye weeks for that reason. Beyond allowing opportunity for the coaches to recruit and troubleshoot, and for players to heal, it's fun to watch a college football weekend where Ohio State is undefeated and can't lose.
So, gather on the couch like the Simpson family and watch the following games this weekend. I checked. Sadly, like Ohio State, Springfield A&M and Springfield U are on byes as well.
Here is your schedule for this weekend.
Thursday
Rutgers @ Louisville (ESPN, 7:30 p.m.). Thursday night football is another triple-header, starting at 7:30 when Rutgers' game against Louisville kicks off.
I mentioned Louisville's plight in yesterday's Skull Session. Its Sugar Bowl win last season was one of the most convincing wins of the entire 2012-13 bowl season. It didn't just beat the Florida Gators of the mighty SEC. It effectively routed them.
A lot of that roster returned this season, including Teddy Bridgewater, the consensus top quarterback prospect for the 2014 NFL Draft. It also added a playmaker like Michael Dyer, the wayward Auburn tailback and MVP of the 2011 BCS National Championship Game. Louisville is a better team this year than it was last year. It's still undefeated this season.
Still, no one is taking Louisville seriously. If Ohio State fans are feeling nationwide shade tossed at them for their conference affiliation, Louisville fans are getting it worse. It's hard to argue the Big Ten is an elite conference full of great teams this year. It's almost impossible to argue the American Athletics Conference is presentable. Its highlights include Rutgers losing at Fresno State, and Cincinnati, a ten-win team from last year, getting routed by a mediocre-at-best Illinois team.
Charlie Strong seems to know that an undefeated Louisville team is not going to Pasadena in most scenarios. It's why he's pleading with his players to use the few opportunities that Louisville has for playing on national television to their advantage.
As for Rutgers, it still has a 2-0 series advantage over Arkansas, including the 28-24 come-from-behind win in Piscataway this season. #karma
San Diego State @ Air Force (CBS Sports Network, 9 p.m.). It's a short turnaround for both teams. Air Force played last Saturday, losing a Commander-in-Chief Trophy game to Navy. San Diego State played last Friday, beating Nevada 51-44 in overtime.
San Diego State started the season losing its first three, including that blowout loss against Eastern Illinois that did Ohio State no favors. Air Force has lost five straight. Its only win of the season came in Week 1 against Colgate.
Arizona @ Southern California (FOX Sports 1, 10:30 p.m.). If it seems like Lane Kiffin's dismissal at USC seemed to coincide with the Trojans dropping off the face of the earth, it's because Kiffin's firing happened to be before USC would be on a bye anyway. This will be Ed Orgeron's debut at USC.
Orgeron's debut as interim coach of USC will be a game in which it hosts Rich Rodriguez. Part of me is wondering what this would have looked like if Orgeron's Ole Miss Rebels played Rodriguez' Michigan Wolverines. My guess is it would have looked like this.
Friday
Temple @ Cincinnati (ESPN, 8:30 p.m.). Cincinnati just lost to a South Florida team that was previously winless and routed by McNeese State in Week 1. Temple is winless on the season. Now you know the reasons why Louisville drinks.
Saturday
Missouri @ Georgia (ESPN, 12 p.m.). Here's a fun exercise: name all the undefeated teams in the SEC. Alabama is one, obviously. Missouri is the only other one. The Tigers are 5-0 on the season and just cracked the AP Top 25 this week. Its prize is a trip to Athens, to play the no. 7 and walking wounded Georgia Bulldogs. Thereafter, Missouri hosts Florida and South Carolina in succession.
Oklahoma @ Texas (ABC, 12 p.m.). ABC's game of the week is at noon.
I think I've nominally tilted toward Texas in a rooting interest for this rivalry. "Boomer Sooner", and the 1977 Oklahoma-Ohio State game, precludes me ever liking Oklahoma. However, the level of institutional rot in Texas, complete with how that game at Iowa State ended, has me wishing Oklahoma hammers Texas for the third year in a row. Oklahoma has won the last two installments in this series by a combined 80 points (118-38).
Iowa State @ Texas Tech (FOX Sports 1, 12 p.m.). The noon games this week are rather grim. Speaking of grim, Iowa State getting hosed by Texas Big XII refs put them behind the 8-ball for bowl eligibility this season. It still has that Week 1 loss to Northern Iowa on its record, and a loss at home against Iowa. At 1-3 on the season, it's beginning a stretch of games that includes trips to Texas Tech this week, at Baylor the next week, and home against Oklahoma State. It still has to play at Oklahoma later in the season. Iowa State isn't going bowling this season.
FOX Sports 1 is also advertising Kansas at Texas Christian in this same noon kickoff window.
Pittsburgh @ Virginia Tech (ESPNU, 12 p.m.). Again, these noon games are grim.
Indiana @ Michigan State (ESPN2, 12 p.m.). Here's a game that's interesting, at least from an Ohio State fan's perspective. If we're sweating what our pass defense conceded to Wisconsin and Northwestern, we might be anxious what Indiana can do to our defense.
Indiana is a weird team this year, again. They were weird last year. It would be positively #B1G if Indiana farted its way into a Gator Bowl berth this season. It would also make perfect sense if it finished 6-6, which would be the safe bet.
This is Indiana's first road game of this season, and the first of four. Every one of Indiana's road games this season is unforgiving. After this week in East Lansing, it returns to the Mitten State to play Michigan. It goes to Madison and Columbus in succession in the middle of November.
Nebraska @ Purdue (BTN, 12 p.m.). The 11W readers have spoken. This is, by far, the least interesting Big Ten game of the week.
Boston College @ Clemson (ABC/ESPN2, 3:30 p.m.). Clemson hosts Florida State next week in what will be ABC's game of the week next week. Florida State is currently on a bye.
As weird as it is that a fan base should ever have anxiety over Boston College, Clemson fans generally get weary of this matchup. Clemson has won the last two games in this series, but the series is an even 4-4 since Boston College joined the ACC.
Florida @ LSU (CBS, 3:30 p.m.). The Florida-LSU series has been arguably the most enjoyable series in the SEC over the past ten years, and it's all a function of the expansion to 12 teams in 1992. It locked this series as a permanent cross-divisional game.
Will Muschamp is an easy guy to dislike since he, at times, seems to confuse "shouting" with "competent coaching". Still, his defense is one I covet. Conceding just 217 yards a game this young season, Florida is the no. 2 total defense behind Michigan State. Last week's 30-10 mauling of Bert's Razorbacks gave a glimpse as to how Florida does it. It's a solid, fundamental defense prone to making big plays for itself. Loucheiz Purifoy, the reigning Walter Camp National Defensive Player of the Week, was all over Arkansas' offense. Florida's defense dominates games.
Meanwhile, LSU's balance has clearly gravitated from defense to offense. After a losing a roster full of future NFL talent on defense last season, LSU is relying on its offense to overwhelm teams. LSU's defense went from no. 8 nationally last year to no. 44 this year, a difference of roughly 60 yards a game. However, its offense climbed from no. 87 last year to no. 23 this year, a difference of over 100 yards a contest.
Baylor @ Kansas State (FOX, 3:30 p.m.). Dude, Baylor's winning the Big XII this year. Baylor. Yes, that Baylor. Baylor, Baylor. Really, only Oklahoma stands in its way, and Baylor hosts the Sooners.
Northwestern @ Wisconsin (ABC/ESPN2, 3:30 p.m.). I feel for Northwestern. A week after a deflating loss against Ohio State, in which it led most of the contest, it draws this matchup in Madison. I don't think it's a favorable one for Northwestern either.
This is a signature game in the Big Ten schedule. If Wisconsin drops this game, it almost guarantees Wisconsin does not make the Big Ten Championship Game. It's already in a bind. It needs to basically win out, and it needs Ohio State to lose twice. This is a plausible scenario, if perhaps improbable. If Wisconsin drops this game, it needs Ohio State to lose three conference games. That scenario seems impossible, at least for this Ohio State fan's wishful thinking.
Two conference losses for Northwestern also makes its fortunes for the Legends Division crown difficult to envision. The two losses would be to teams in the Leaders Division, and it has yet to play a team in the Legends Division. So, there's still hope. However, Northwestern would need to win out against Nebraska, Michigan, and Michigan State. It also needs all three to cannibalize each other for an additional conference loss on top of that if Northwestern is to play for the Big Ten championship.
Virginia @ Maryland (ESPNU, 3:30 p.m.). Oof. No thanks.
Oregon @ Washington (FOX Sports 1, 4 p.m.). I think most Ohio State fan's rooting interest in this game is for Washington. Ohio State needs the Pac-12 removed from the picture if it is going to play in the BCS National Championship Game this season. The most likely scenario toward that end is the winner of the Oregon-Stanford game having another loss on the conference schedule.
So, what gives this game? Washington has arguably had the tougher and more impressive schedule, playing games at Illinois (in Chicago) and at Stanford. It dropped the most recent contest in Palo Alto, but looked formidable in defeat.
Meanwhile, Oregon has erased every team it has played this season by a combined margin of 296 to 59, all without playing a good team. Its best win was against Tennessee in Eugene. However, Tennessee's abjectly terrible this year, its effort against Georgia last week notwithstanding.
Michigan @ Penn State (ESPN, 5 p.m.). This game looked much better in the preseason than it does now. Who knows, it could still be interesting. It just won't be high quality football, all else equal.
Penn State enters this game after losing to Indiana for the first time ever. It wasn't just a loss, but a beatdown. Penn State looked hopeless in the second half. I still think a lot of this is a function of the scholarship restrictions. Penn State just has no depth on the roster. Last week, I likened Penn State to being 70% of a good team as a result of the scholarship crunch. I deliberately use the term "good" in lieu of "great", because even partially great teams should be able to beat Indiana. There's a fear in State College that Bill O'Brien is regressing toward his mean.
Meanwhile, I'm still envisioning a scenario in the near future when stadium security gang-tackles Mark Harmon as he tries to rip his dad's no. 98 "Legends" jersey off Devin Gardner's back. Michigan had no issue with Minnesota last week, but I'm not sure that means all is well. I'm still not impressed with Fitzgerald Toussaint, or Devin Gardner. I am impressed with Devin Funchess. He is one of many excellent tight ends the Big Ten has right now. He is increasingly being split wide to drag a linebacker from the box, or to overwhelm a safety in coverage.
This game will finish under the lights in Happy Valley. If Michigan nearly wilted at Connecticut because of that aspect of the game, this one could get interesting.
Stanford @ Utah (Pac-12 Network, 6 p.m.). I wish I had Pac-12 Network. I'd flip through this.
Alabama @ Kentucky (ESPN, 7 p.m.). Here's my preview of this game. How fortunate is Alabama's SEC schedule when its cross-divisional opponents are Kentucky and Tennessee? Last year was Tennessee and Missouri as well.
Georgia Tech @ Brigham Young (ESPNU, 7 p.m.). This is another game that looked much more interesting a few weeks ago than it does now. Georgia Tech will step from ACC play to face Brigham Young in Provo.
While this interests the fan in me that loves non-conference games between two teams from random parts of the country, the luster came off this matchup when Georgia Tech dropped its two latest games to sit at 3-2 on the season. Brigham Young has won its last two games after starting the season 1-2, but the losses at Virginia and at home to Utah look worse now than they did when those games concluded. The win against Texas doesn't look that great now either.
Texas A&M @ Ole Miss (ESPN, 8:30 p.m.). It's odd that the two teams that beat Texas this season have played like garbage afterward. This is applicable to Brigham Young, which followed that rout of the Longhorns in Provo with a deflating loss to a meager Utah squad. This is true of Ole Miss as well, which has lost two straight since routing the Longhorns in Austin. Maybe it's understandable that Ole Miss should lose to Alabama in Tuscaloosa, but that 25-0 final score is hard to accept. It followed that with a 30-22 loss at Auburn, a decent but not good team. LSU is next for Ole Miss, which is now looking at a four-game losing streak.
California @ UCLA (ESPN, 10:30 p.m.). The good news is that Ohio State whipped California in convincing fashion. The bad news is that California may win one more game this season, at Colorado later in November. It certainly will not be this game. Thanks for nothing, Cal.