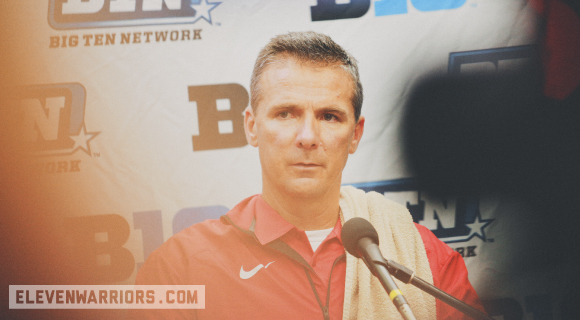 Urban Meyer has made the color blue completely off limits at the Woody Hayes Athletic Center. So much so that he's made NFL scouts change clothes. But on Wednesday night, it was Meyer who got caught red-handed. Or blue-handed.
When he approached a cadre of reporters, Meyer was clutching a blue Gatorade. It did not go unnoticed. When a writer pointed it out, Meyer responded with a stunned expression and simply said, "Ew."
With the jokes aside, Meyer laid out his relaxing week. Coaches will be on the road recruiting, he'll get to take in a couple Florida Gulf Coast volleyball games and a small practice focusing on Iowa will be held.
The No. 1 item to improve during the bye week is pass defense.
Notes:
Meyer termed Joey Bosa's future at Ohio State "silly." That's a good term for those wondering. Luke Fickell added that Bosa is mature beyond his means. Said physically and mentally he's better than the average freshman. Bosa's dad and uncle played in the NFL. He's definitely a football lifer.
Dontre Wilson is still a novelty, Meyer said. That's why he didn't get into the game on Saturday. Meyer said he needs to learn to play multiple positions and block, among other things. Tom Herman echoed those thoughts. Herman said teams know exactly what Wilson is going to do right now and really key on it.
The bye week is coming at a perfect time, Meyer said. The coaches and players need some time off to regroup. Great that it's coming at the midway point of the season. Meyer wants his players to get away from football this week.
Philly Brown said he hopes guys stay out of trouble. He said it'd be devastating if someone did something to mess with Ohio State's season. If it did happen, he said something would really have to be wrong with that person.
The loss of Christian Bryant is still affecting Meyer. He said Bryant is a juice guy, along with Jordan Hall. Meyer said Hall's knee injury is a joint issue, though he added that Hall practiced in a limited role on Wednesday.
Meyer thought Pittsburgh Brown played well, but he still wants Vonn Bell and Tyvis Powell to become more involved with the defensive gameplan.
The pass defense has struggled some the past two weeks, according to Meyer, because the No. 1 plan was to stop the run. That allowed Wisconsin and Northwestern to take advantage of one-on-one coverage.
Herman is not surprised of the O-line play this season. He knew what they were capable of after last year.
The relationship between Herman and Braxton Miler is a constant work in progress, according to Herman. He said all relationships are that way. Said he and Braxton are good with each other, have solid relationship.
When Braxton struggled Saturday, Herman said his demeanor remained good and upbeat. He said he was always confident on the headset and showed good body language on the sideline.
Brown said inserting Kenny Guiton would have energized the team, before adding he was fine with Meyer's decision.
Herman said this week will involve a lot of self-scouting. He wants to improve the quarterbacks getting the ball to the wide receivers on the run more. Said there's a chance for game-breaking plays.
There's no panic in the defensive meeting room, Fickell said. He knows they have to get better. But the end goal is to win. That's the most important part of the process.
Fickell said the biggest concern with the pass defense is teams scoring when Ohio State drops eight guys in coverage.
Curtis Grant is a guy who Fickell continues to be impressed with. Said Grant is still growing and doing a good job.  In the past, Grant struggled mentally with his confidence.
Adolphus Washington's ankle was injured at Northwestern. He should be fine for Iowa. Fickell also said Tommy Schutt should play next week.
Bosa said his last-play touchdown was icing on the cake Saturday. He said he entered the season with no expectations and just goes to practice each day ready to work.
The weeks are flying by, but Bosa said he's starting to get used to all the different techniques.
He's productive – and a freshman. So upperclassmen are still picking on Bosa.
Doran Grant said the missed tackles are something to work on, but everyone is still running to the ball. Converging is good.
He's replacing Travis Howard, an all-conference player from a year ago. Grant said he's been OK so far. He wants to improve on taking better angles to the ball.
When Kain Colter dropped back in the fourth quarter, Grant said he knew he was going to intercept the pass. It was a play he saw on film during the week.
Grant went to St. Vincent-St. Mary. Said he's a huge LeBron fan. He raved about all the good things LeBron has done for the city of Akron. Said he's an inspiration and proof that you can make it if you're from Akron. Grant said the statistics say otherwise.
Brown pleaded ignorance when the winning streak was brought up. "How long is it?" he asked. Brown said Urban has them so focused on one game at a time that he forgot it's 18.
Wide receivers, tight ends, running backs, quarterbacks – Brown said it's difficult for defenses to gameplan.