It's a bye week and while we don't have the euphoria of Buckeye football in which to revel, we do have a stress-free weekend of sitting back and trolling everyone else while we root for the other undefeated teams to stumble.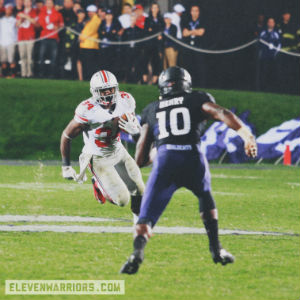 We can also bask in the glow of two consecutive wins over Top 25 opponents and some of us can finally catch our breath after back-to-back 11W events in Columbus and Chicago.
After several attempts to find anyone even remotely connected to the Bye program, we gave up and simply decided to look for the most impressive celebrity guest we could find. Lo and behold, we found our very own Vico, who is as impressive as they come.
After Johnny and I break down the Northwestern game and talk about the season to date, Vico joins us and gives us his insight on those topics and much, much more.
And of course, we not only let you ask us anything, but we also attempt to answer the questions that keep you up at night (and quite honestly, some of these questions should keep you up at night). You can ask your questions by e-mailing us at elevendubcast@gmail.com!
You can grab this week's Dubcast and get a full breakdown of the show after the jump.
Here's how everything went:
0:30- Johnny and I discuss the ins and outs of Ohio State's clash with the Northwestern Wildcats. We sing the praises of Carlos Hyde, give you our most pleasant and unpleasant surprises from the first half of the season, and Johnny even gives you his pick for Ohio State vs. Bye.
22:30- Vico joins us to lend his perspective on how the game went in Evanston, as well as his overview of the first half and what to expect the remainder of the B1G schedule. And it's never too early to discuss The Game.
43:40- Ask Us Anything, in which we are asked questions about the 2014 Eat Too Brutus, as well as some actual football questions for a change.
54:20- A special shout out to those who helped us raise lots of coin for DownSyndrome Achieves. Thanks so much for your support.
If you like what you hear, be sure to visit us on iTunes and give us some positive feedback.
And that'll do it for another Eleven Dubcast. The music this week was Run Like Hell by Pink Floyd, Lonely Boy by The Black Keys, and Sugarglass by Blue Gillespie.