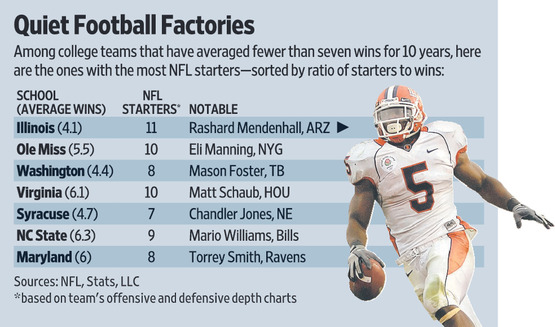 From the WSJ:
A huge number of NFL starters hail from traditional powers like Alabama, Georgia and Southern California. But several schools have mysteriously, and steadily, produced a gaggle of pros despite struggling on the field themselves.

No school exemplifies this more than Illinois. There are 11 former Fighting Illini currently starting in the NFL, yet the school has averaged 4.1 wins a season for the past 10 years.

There are other programs with a lopsided ratio of win totals to alumni starting on Sundays. Ole Miss is typically an SEC doormat, but it has produced 10 starters, including Giants quarterback Eli Manning and 49ers linebacker Patrick Willis. And Virginia produced 10 current NFL starters, more than Notre Dame and Michigan.
Somewhere in the distance, Ron Zook takes a hit of his corncob tobacco pipe and nods wistfully.